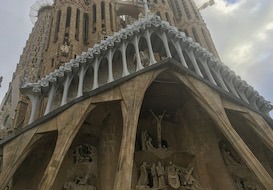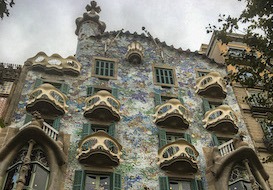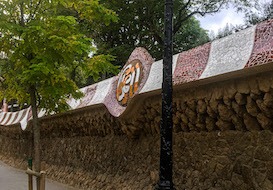 You cannot miss the Sagrada Familia, located in downtown Barcelona. It's the city's must-do activity. This cathedral built over several years and still unfinished today is an architectural and magnificent feat. Unfortunately when we went there, we could not visit the interior because, victim of its success, it is necessary to reserve the entrances before.
But Gaudí not only did a Cathedral in the city center, he also has several works located in Barcelona. You can visit Casa Batlló and get a closer look at Gaudí's architecture in a building. The rooms are empty but thanks to SmartGuide that we give you there, you can imagine what it looked like before. You also have the Casa Milà (or La Pedrera) which is a work of Gaudí.
And finally, you cannot miss Park Güell. Part of the garden is free and allows you to walk around the central part. When we went there, there were renovating all over the paid part, so we decided not to go but to have done it before, the whole garden is beautiful and worth a look.
Sagrada Familia single entry price: € 20 (Click here to book your ticket in advance)
Entrance fee Casa Batlló: € 25
Entrance fee Parc Güell: € 10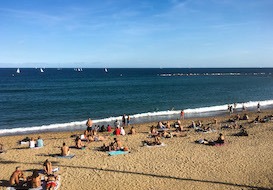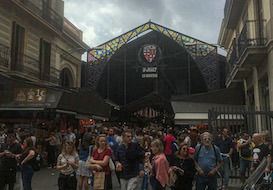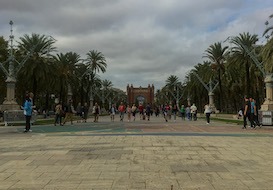 Discover the different large squares including Plaza de Catalunya and Plaza de España. These places will lead you to large avenues including for example the Rambla. It is a large avenue (certainly touristy) but lively during the day, with human statues all along. This will also allow you to go through the Boqueria market where you can have a good lunch at various typical Spanish stands. A real treat. You can also go through the Gothic quarter (Barrio Gótico) and stroll through the various small streets, and visit the Cathedral of the Holy Cross in Barcelona (Catedral de Barcelona).
At the end of the Rambla, you will find the port and the bay with the beach of Barcelona, more commonly called Barceloneta. A nice walk to do by the sea. A lively area day and night.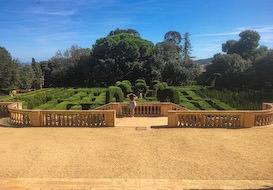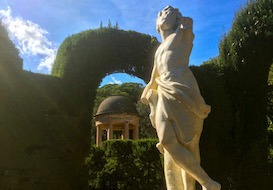 Inside the Horta Labyrinth Park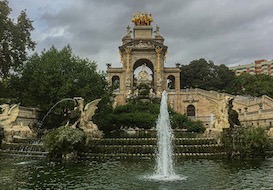 We visited a park that is not very touristy and yet worth a detour, the Horta Labyrinth Park (Parc del Laberint d'Horta). A small park just outside downtown Barcelona (accessible by metro) with, as its name suggests, a small labyrinth inside. But not only, you can discover fountains, sculptures, etc.
In the city center you have the Ciutadella park with a magnificent fountain inside. Not far from this park is the famous Arc de Triomf.
Entrance to the Horta Labyrinth Park: € 3
Personally we did not have time to visit everything in Barcelona, which is why there are missing a lot of activities to do in this article. The city is very popular (more popular than Seville), you can find all the information you need on the internet and on site.
Barcelona is a very popular destination, you will have a lot of people in summer (July and August).
| Jan | Fev | Mars | Avr | Mai | Juin | Juil | Août | Sept | Oct | Nov | Déc |
| --- | --- | --- | --- | --- | --- | --- | --- | --- | --- | --- | --- |
| | | | OK | OK | OK | OK | OK | OK | OK | | |
I will say 4 days maximum. This leaves time to visit the various museums, monuments, parks, stroll around the city. Downtown Barcelona is large and it takes time to get from one point to another.
MY 3 TIPS
Book the Sagrada Familia upstream
Stroll through the streets of Barcelona
Take the metro pass, you will certainly need it