THE BEAUTY OF BONITO AND AROUND
WHAT TO DO IN BONITO? MY JOURNEY
Bonito's a very pleasant city to go out to eat and have a drink in the evening. But it's above all a city where to sleep to make all the excursions that are around. Here's what we did.
BURACO DAS ARARAS AND FLUCTUATION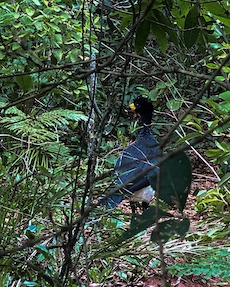 While walking to the Buraco das Araras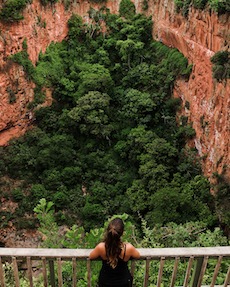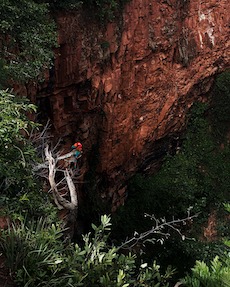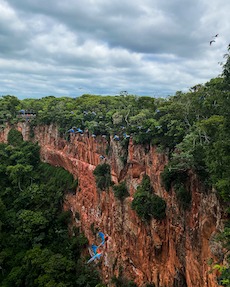 Red Macaws flying over Buraco das Araras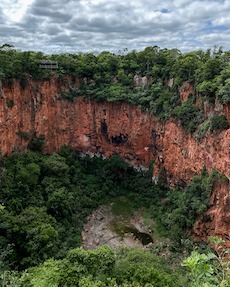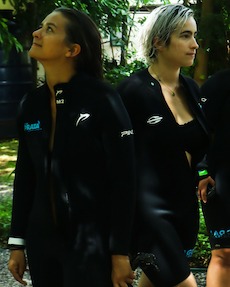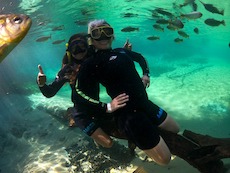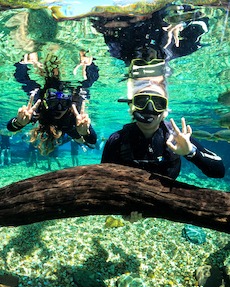 And I'll start with the day that I enjoyed the most in Bonito. The van picked us up at around 7 am at our accommodation for 1h30 drive towards Buraco das Araras. Upon arriving, a guide waits for a group of more than ten people to form to begin. The guide speaks very good English (which isn't common in Brazil, you'll see). It therefore brings us to this famous crater. After a few minutes of walking, we arrive at the viewpoint. And there, the magic happens! We see a huge 100m deep hole with red cliffs. But above all, there are about fifty scarlet macaws that are perched on the trees at the top of this crater. Sometimes they all fly overhead together, and it's just such an amazing sight! One of my best memories from Brazil! And again, it wasn't the season when there were the most! What also impressed me about this crater is that there's life down there. Yes, there are animals that live such as a monkey and a caiman that live together in this hole among the trees and in a small lake. Sometimes it's even possible to see a boa. There are two points of view where the guide takes us while explaining the origin of this crater, the macaws, and some anecdotes. As you can see, I really enjoyed this one-hour visit! In my opinion, it's a must-do!
The day continues. We take the car to go to lunch at the park where we're going to do our next activity, the fluctuations. After registering and having our schedule, we eat at the buffet. It was very good, with Brazilian culinary specialties. After a little nap, it's our turn! They equip us with a wetsuit, life jacket, mask, snorkel and water shoes. Then we take a little tour of the vegetable garden where they explain us how they work. We go in a jeep and arrive at the beginning of the tour. I had never seen such transparent river water! I did not expect it at all in the region (especially after being in the Pantanal). We do a little test tour where the guide explains how to let the current carry us to observe the fish and the bottom of the river. For 2 to 3 km, we let ourselves be carried by the current to observe this shallow seabed and see many things. It's a really great activity. It's wonderful ! During the course we made 2/3 stops where we could take off our life jackets and enjoy it a bit. There are also photographers who take pictures of you underwater. The photos make it really good, first time I couldn't resist and bought it haha. It makes a nice memory. The activity lasts a total of 4 hours, and it was super fun, I really liked it. This is the activity not to be missed in the area.
Price of the excursion with transport, guide, lunch, equipment, entrance: reals 280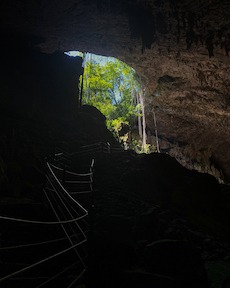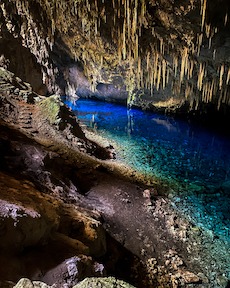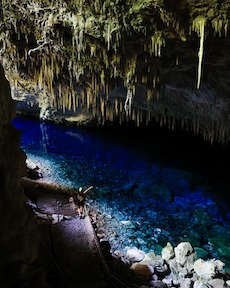 Let's go for another very nice excursion. We leave at 7:30 am for 1 hour by car to the entrance of the Lago Azul cave. We show our reservation to the reception who gives us a number. So we're waiting for them to call us for a security brief. Yes, helmet and mask are mandatory (not because of COVID, but because of the air quality in the cave). Then the guide takes us into the cave explaining the formation of it (doesn't speak English, but speaks Spanish). We descend little by little in it until we're near the lake. And there, a blue lake that I had never seen! The water's both transparent and dark blue, it's amazing! We stay a good twenty minutes down to admire the lake and take some pictures. The visit was well done because there were about fifteen of us at the bottom, and we met other groups on the way up. They space the groups well so that we can fully enjoy it without being too crowded. The visit lasted about 1 hour. The cave is definitely worth a visit!
Price of the excursion with transport, guide, entrance, equipment: reals 130
HORSEBACK TRIP TO PARQUE ECOLÓGICO RIO FORMOSO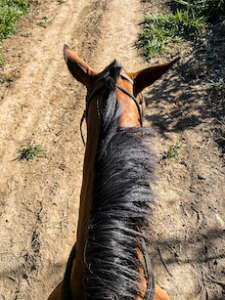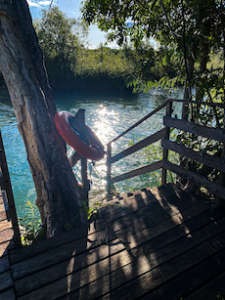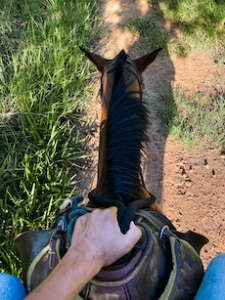 We had a little fun, a little horseback riding in the Rio Formoso ecological park. We arrive at the park in the early afternoon to relax by the lake before starting our activity. The lake's very nice, there's a zip line, kayaks, paddles. We go to be equipped for the activity. The guide chooses the horses according to our level, I asked to have the smallest haha. We were about ten people following each other all the way. The trail was good, sometimes in the forest, sometimes in the middle of the plains, very flat. I found it to be accessible for all skill levels. We did 1h45 with a 15-minute stop by the river.
Price of the excursion with equipment, guide, transport: reals 148
HORSEBACK TRIP TO PARQUE ECOLÓGICO RIO FORMOSO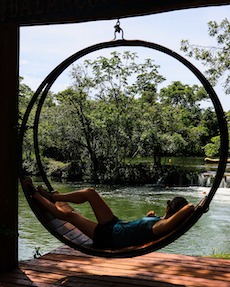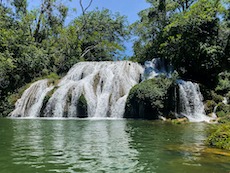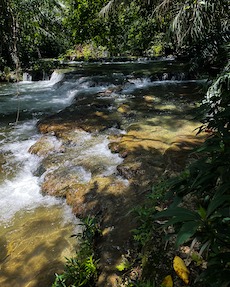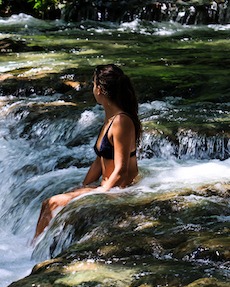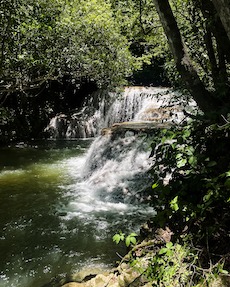 One of Bonito's main activities is the excursion to the Serra da Bodoquena waterfalls. We leave at 7am from our accommodation to arrive at the resort at around 8:30am. It looks a bit like a large leisure base. We register at the entrance to wait our turn. Gathered by 10 or 15 people, the guide gives us some explanations. On the other hand, everything was in Portuguese, but by chance we met a Brazilian who translated us into English. The first fifteen minutes we stop at the edge of a river where there's a zip line and spaces to relax. Then we go rafting to see a small waterfall. But it was more of a water fight with the other boats than anything else. Expect to get soaked so don't take anything valuable with you for this step. Then we go on a walking tour of several hours with the guide where we stop at several waterfalls, all very different from each other. The journey isn't complicated. We can take advantage of several minutes to bathe in most of the waterfalls. It was a really nice excursion. Some stunts were impressive. We also go to some viewpoints. The water has a good temperature, and it's sometimes transparent. It's a very nice excursion in good weather. Groups and times are well organized so that we aren't too much in the same place. I liked it. Then we have lunch at the park (a buffet) and we enjoy the place until we wish. There are several cars that leave in the center, you just have to ask them for the timetables. The park is pleasant enough to relax for several hours.
Price of the excursion with transport, guide, entrance, lunch: reals 268
I really liked all the excursions we did in Bonito. They were all very varied, and magnificent! It's quite expensive, but some are really worth it!
We were there at the beginning of January and the weather was wonderful. On the other hand it was the summer holidays for the Brazilians so it can be crowded.
| Jan | Feb | March | Apr | May | June | July | Aug | Sept | Oct | Nov | Dec |
| --- | --- | --- | --- | --- | --- | --- | --- | --- | --- | --- | --- |
| | | | | OK | OK | OK | OK | OK | OK | | |
Bonito's quite expensive. So it all depends on your budget and what you want to do. 4 days is good to do the main activities around the city.
WHERE TO SLEEP? MY ACCOMMODATION
CASA FAMILY
1465 Rua Luis da Costa Leite Apartamento,
Bonito, CEP 79290-000, Brasil
Price: €28 / night for a room with a double bed and private bathroom.
Click here to book it.
If you're 2 people traveling together, it's not expensive. Breakfasts are included but on the other hand there's no common kitchen that you can use. A fridge's available but that's it.
MY 3 TIPS TO VISIT BONITO
Go with a budget because the activities are expensive but really worth the detour!
See with an agency to help you organize all excursions.
Try to go in the right time for the weather as most activities are outdoors.