WHAT TO DO IN BRYCE CANYON? MY JOURNEY
Bryce Canyon National Park is included in the "America The Beautiful" annual pass. Many car parks are available in the park, and there are also shuttles that can take you to different points in the park.
WALKING THROUGH BRYCE CANYON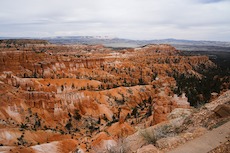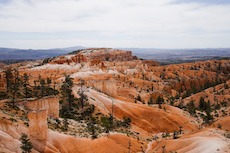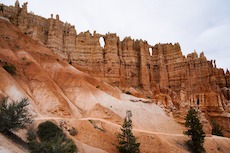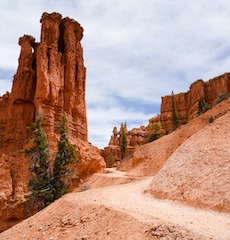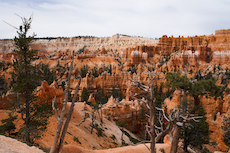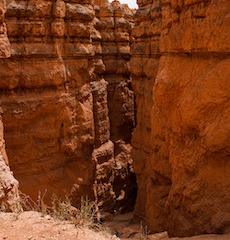 To properly visit Bryce Canyon and have different beautiful viewpoints, I strongly recommend you to do the Figure 8 trail which brings several hikes together: the Queen's Garden, the Peek-a-boo loop, and the Navajo trail. These 3 hikes give very different views of the Canyon, each of them as beautiful as the other.
To do this hike, I started at the Sunrise point which gives an incredible view on a part of the Canyon. This is one of the best views in the park! Then, I followed the Queen's Garden which allows to descend into the Canyon. We walk through this orange landscape, in the middle of these rocks, with sometimes views of these columns of rocks. Then, I did the Peek-a-boo loop in reverse, which is the best way to go. Walk to Bryce Point (it takes a short detour) which is one of the most beautiful viewpoints in the park (along with Sunrise and Sunset Point). That's wonderful! On this loop, you will be in the middle of the forest at the bottom of the Canyon. It is extraordinary to have this mix between forest and columns of desert rocks. Then, continue on the Navajo Loop through The Wall, if that part is open. I think my body hated me at this part. A fairly steep zig zag climb. But once up there, the view is great. The passages at this place are a little bit exposed but the paths are still quite wide. On this part of the hike it was crowded. I met a guide who advised me to be there before 7.30 am if you don't want to have anyone there. On the other hand, on the rest of the Figure 8 hike, I met very few people. Once at the incredible Sunset Point, I followed the Rim trail to return to Sunrise Point and finish the loop. The hike has a few ups and downs, but it's not very hard. It is a very nice hike to do. Sometimes being next to huge cliffs, sometimes in a forest, sometimes at the top of a viewpoint. It offers a variety of landscapes that I would have never imagined. In addition, this hike allows you to take a great tour of Bryce Canyon and enjoy it to the fullest. It took me 5 hours to do it.
OTHER POINTS OF VIEW AT BRYCE CANYON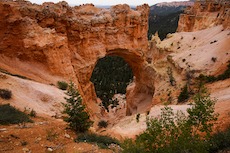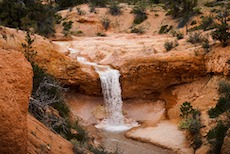 Waterfall next to Mossy Cave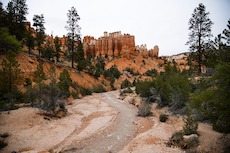 After my hike, I went to one of the well-known viewpoints of Bryce Canyon, the Natural Bridge. You will have guessed it by its name, it is a huge arch that can be admired from above. It's beautiful, it's worth the detour!
Then I went for a walk to Mossy Cave. There is a small parking lot at the start of the hike. As I was there towards the end of the day, I only waited 5 minutes before a place became available. The hike is a round trip of less than an hour. First you get to Mossy Cave which I don't think is worth it. I have seen pictures in winter, it is surely more impressive at this time of the year. If you walk down the path a bit more, you will get to a super beautiful waterfall, a bit in the middle of nowhere. The landscape is really beautiful! The color mix is ​​amazing. I recommend this short hike to the waterfall.
When I planned my road trip in the American national parks, I admit that at the beginning I had not really considered doing Bryce Canyon. But talking about my itinerary to other people, everyone advised me to do it. So I took a day to visit it, and no regrets! I have not seen this landscape elsewhere. Endless columns of rocks with a mix of greenery. It's very beautiful !
I was in Bryce Canyon in early June and the weather was perfect. It was starting to get hot but it was largely bearable.
| Jan | Feb | March | Apr | May | June | July | Aug | Sept | Oct | Nov | Dec |
| --- | --- | --- | --- | --- | --- | --- | --- | --- | --- | --- | --- |
| | | | | | OK | OK | OK | OK | | | |
I think a good day is enough to fully enjoy the place. The second day may be a bit redundant in terms of landscapes.
WHERE TO SLEEP? MY ACCOMMODATION
PINE LAKE CAMPGROUND
Dixie National Forest
Price: $28 – €26,8 / night for a tent spot
Click here to book a night.
The campsite is basic, nothing special. There is no shower. On the other hand, the road to get there is not easy for several minutes.
MY 3 TIPS TO VISIT BRYCE CANYON
If you do a hike that goes into Bryce Canyon, bring lots of water, there are not many water points.
Get to the Wall Navajo Loop early because it gets crowded. And it will allow you to find a parking space more easily.
Didn't get a chance to do it but the sunrise and sunset at Bryce Canyon looks amazing.