THE CITY WITH COLORFUL FACADES
WHAT TO DO IN CAMPECHE? MY JOURNEY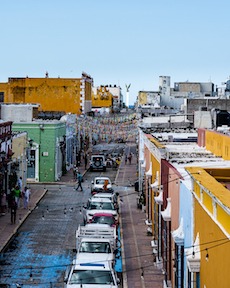 View from the Balustre San Francisco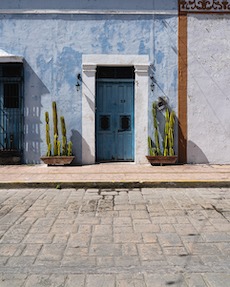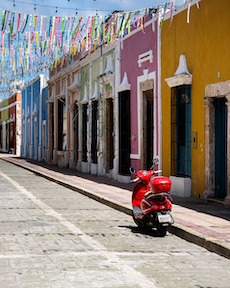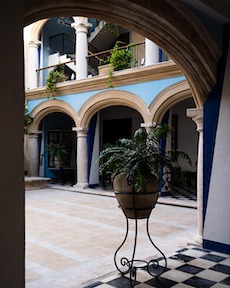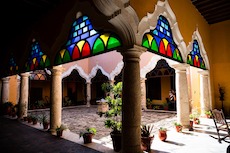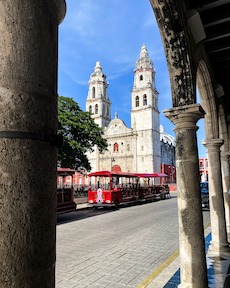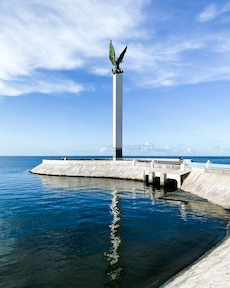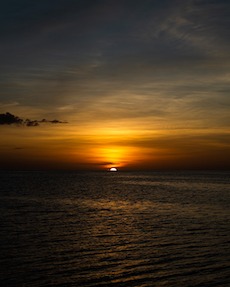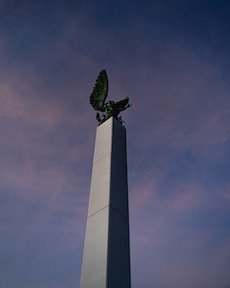 I fell in love with downtown Campeche! The streets are so colorful, and each facade has a different color. It's super pretty! Don't hesitate to stroll around the city to see its charm. The street not to be missed is calle 59 which has the most beautiful facades in the city, in my opinion, but also has shops and several restaurants. An animated street. There's also an unmissable square, Plaza Independencia. Several places can be visited from this place, such as the Catedral de Nuestra Señora de la Inmaculada Concepción which has a sober architecture, inside and outside. There's also the Palace Museum (Museo El Palacio) which I really enjoyed. This museum tells the history of the city, as well as trade and maritime life. It's quite an interesting museum. Explanations are in English and Spanish. You'll have done the museum in an hour. Around this square, we visited Casa 6. This museum consists of seeing the interior of a luxurious house with a beautiful interior courtyard. Some objects of the time are exposed so you can imagine what it looked like before. You can also see a beautiful inner courtyard in Cuauhtemoc. Its blue interior and its architecture make the place unique! I really liked what he got out of it. Not far from Campeche's main square are the government and municipal palaces (Palacio de Gobierno and Palacio Municipal). A mix between old and new architecture. It's weird but charming.
One of the places not to be missed in the city center are the walls of Campeche, known as Balustre San Francisco. These 18th century ramparts were created because the city was the target of several attacks for years. You can climb on it. To access it, go to the entrance of Puerta de Tierra to pay. Then, a person will accompany you to open another door for you and be able to go on the top of the ramparts. The view of the city center from these ramparts is super beautiful. We see all these beautiful colorful facades! Count about thirty minutes to go around the ramparts. To get out of the ramparts, you have to ring the bell so they reopen the door for you. I liked it, it's original.
A little outside of the historic city center (without going too far either), there's a large market where you can find everything there (like in most markets in Mexico). Fruits, vegetables, meat, objects, a lot of things. But I didn't find the small stands to eat very appealing, unlike those in Mexico City or Oaxaca.
On the other side of the city center, there's the Malecón of Campeche. A nice little walk along the water. There isn't really a place to swim, but the walk is pleasant. For the sunset, stop at the Ángel Maya statue. This is THE spot to do this activity. And if there aren't too many clouds, honestly it's beautiful! One of the most beautiful in Mexico. The colors are amazing! After admiring the sunset, head to Fuentes Marinas Poesía del Mar, a park with a large fountain. When we were there, there was a free 30-minute sound and light show at 8 p.m. Honestly, it was super fun to watch, with some Mexican music. Ask the locals if the show is still going when you're there.
Price of the entrance to the Palace Museum: free
Price of the entrance to casa 6: 20 pesos
Price of the entrance for the walls of Campeche: 40 pesos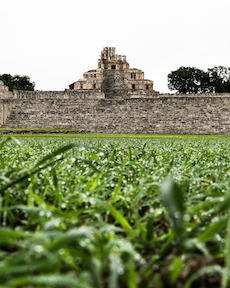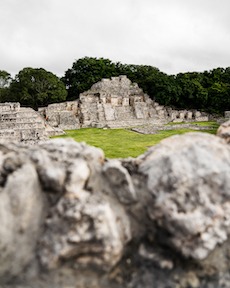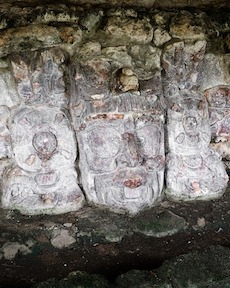 Next to Campeche there are small Mayan ruins, Edzná. To get there, there are collectivos that leave between calle Chihuahua and calle Nicaragua, and take about 1 hour. The archaeological site opens around 8 a.m., and I advise you to go there at this time because being alone in this large space is extraordinary! Before arriving at the ruins, you have a short walk in the jungle (bring mosquito repellent). And suddenly there are these ruins appearing in the middle of a jungle! It's incredible! A huge temple overlooking the archaeological area, and a large plain in the middle of these ruins. The architecture is still different from what I've seen in Mexico. You can climb on some ruins to have a view a little higher. These ruins date back to 600 BC. And was one of the most important pre-Columbian cities in western Campeche. Thousands of people have lived there for hundreds of years, in an area of about 25 sq km. On the site, you can see statues up close. Some explanations are present in French and Spanish. At the entrance to the archaeological area, there's a small room with some exhibits.
We stayed at the ruins for about 1h30. The site isn't very big compared to Teotihuacán for example. To return to Campeche, don't stay in the car park, the collectivos don't necessarily go there. Proceed along the road to an intersection. Normally there's a sign indicating the entrance to the ruins at this place. Wait a few minutes for a collectivo to pass.
Round trip by collectivo from the Edzna ruins: 90 pesos.
Entrance to the archaeological site of Edzná: 85 pesos.
Campeche is one of my favorite! The city center is magnificent with all these colorful facades! The sunset is also one of the most beautiful I've seen in Mexico. It's for me a destination not to be missed. And it isn't yet overcrowded by tourists.
We were there around mid October, and we had great weather!
| Jan | Feb | March | Apr | May | June | July | Aug | Sept | Oct | Nov | Dec |
| --- | --- | --- | --- | --- | --- | --- | --- | --- | --- | --- | --- |
| OK | OK | OK | OK | OK | | | | | | OK | OK |
Two days are enough to visit the city and go to the nearby ruins.
WHERE TO SLEEP? MY ACCOMMODATION
HOSTEL CASA QUETZAL
C. 55 x 14, Zona Centro,
24000 Campeche, Camp., Mexico
Price: €10 / night / person in a 10-bed mixed dormitory.
Click here to book.
A hostel in the city center, ideal for visiting the city quietly. The kitchen and the common room aren't very big but for one night it's fine.
MY 3 TIPS TO VISIT CAMPECHE
Stroll through the downtown streets, there are super cute.
Check the opening days and hours of museums and ruins.
Go to the market during the day to buy cheap food.