THE ISLAND WHERE YOU GO SLOW
WHAT TO DO IN CAYE CAULKER? MY JOURNEY
PLACES TO SEE ON THE ISLAND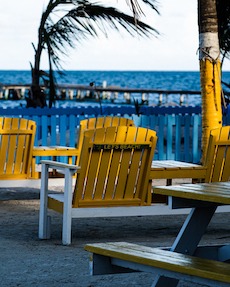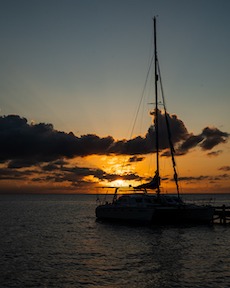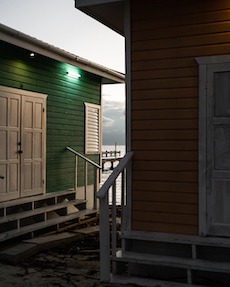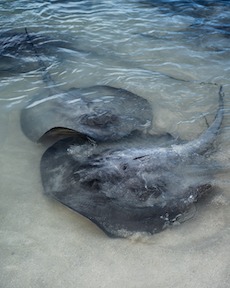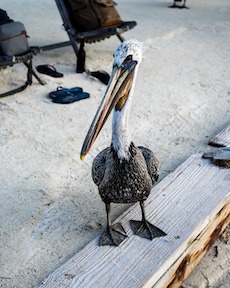 Pelicans at Iguana Reef Inn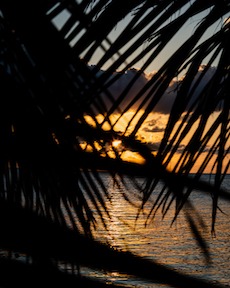 When you arrive on the island, you'll immediately feel a unique atmosphere that will instantly relax you. No wonder the island's slogan is "Go Slow". There's a main street where you disembark by boat. This is the street where there are the most restaurants, as well as supermarkets. Pedestrians and golf carts on unpaved roads, there are no cars here. Restaurants on the beach, accommodation everywhere but not the tourist factory with the large all-inclusive resorts. The parallel streets are good for finding cheaper and local restaurants. The main street will take you to the Split. In 1961, a hurricane passed over the island of Caye Caulker and split it in two. Today it's a place to meet over for a drink and take a dip from a high platform. It's super nice. You can also admire the sunset from the Split. We didn't visit the northern part of Caye Caulker because we met several people who did and they told us that everything was currently under construction and that it didn't have much charm.
To admire the sunset, I recommend the Iguana Reef Inn. A perfect spot to have a drink, or not necessarily, while watching the sunset that gives beautiful colors to the sky. And a few hours before, a surprise awaits you. Around 4 p.m., the owner of the place feeds the rays. This means that about ten rays come to the edge of the beach. They are so big, it's impressive to see. If you've never seen them in the wild, you can observe them here (and for free, you don't need to have a drink). There are also seahorses and pelicans you can see. To admire the sunrise, which is also super beautiful, I recommend that you go and land on a pontoon on the main street. The colors are gorgeous! And obviously there are few people, so you'll be quiet to observe it. There isn't really a white sand beach where you can swim without having the boats near you. But surprisingly, it didn't bother us at all.
To eat, there are really very good restaurants on the island, and a bit of everything. Here are my favorites:
Willy wish: you eat a delicious half lobster at the back of a house on picnic tables for only 20 Belize dollars. The chef is adorable and frankly it's a great value for cheap.
Chef Juan: a small restaurant that offers local specialties for not too much money. The terrace isn't very big but you'll find a small place to eat.
Ice'N'Beans: well, it's not really local, but their waffles and bagels are super good, and their smoothies are incredible. It's a change from local food, but it's good. And the fact that it's by the beach is ideal.
Sports Bar: not really a restaurant but more a bar for going out at night. From 9:45 p.m., it turns into a dancing bar, a good atmosphere. There are a lot of internationals but a few locals as well.
FLIGHT OVER THE GREAT BLUE HOLE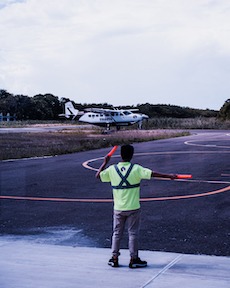 Flight over the great blue hole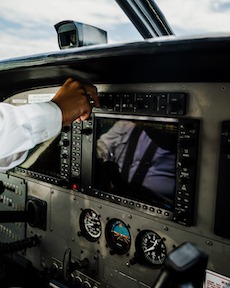 Flight over the great blue hole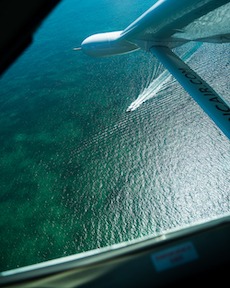 Flight over the great blue hole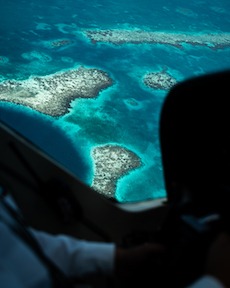 Flight over the great blue hole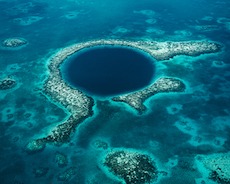 Flight over the great blue hole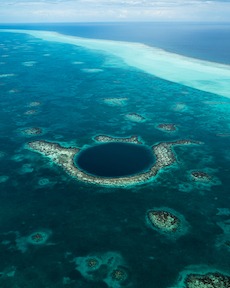 Flight over the great blue hole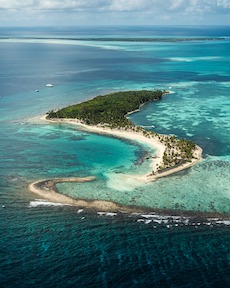 Flight over the great blue hole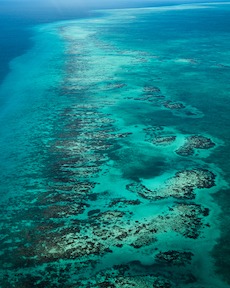 Flight over the great blue hole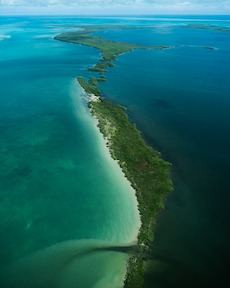 Flight over the great blue hole
One of my dreams was to see this famous perfect round blue hole in the middle of the ocean. And for that, we took a flight with Tropic Air to see it from the sky. So why this agency, which isn't the cheapest, rather than another? Quite simply because other travelers had done it and were very happy with it. So we had booked a flight online. And after the experience we had of having to reschedule the flight because of the storm that was arriving on the island, they were kind enough to reschedule the flight without any problem, and at no cost. Be aware that if you're flying with other people, there are certain times and days of the week that they're flying. So organize yourself well according to availability. Click here for all the information.
So we went to the airport on D-Day. The entrance is at the end of the main street. We had to show up 20 minutes before the flight. When we were there they checked our temperatures and we signed a document related to COVID. Then they gave us a boarding pass and we waited until the plane arrived from San Pedro. And off we go for boarding a 14-seater plane! They ensure that everyone has a seat with a window, and the plane makes 2 turns on each side. So don't panic, you'll see it no matter where you're sitting. I was lucky to have had the place of the co-pilot. If you can, try to ask for this place, it's incredible!
The flight lasts an hour in total. And even the journey to get to the blue hole is just beautiful! We saw islands in the middle of lots of shades of blue. You can also see the coral reef from the sky, it's super beautiful! Then we arrived on this famous blue hole that we see in the distance! The closer the plane gets to this hole, the more you can see this natural beauty. As I said before, it makes 2 turns on each side above the blue hole (be careful, you may get motion sickness, my friend unfortunately had it during the flight). To see this perfectly round dark blue hole in the middle of turquoise water is just amazing! I don't have enough words to describe what I saw. I let you judge by the photos. It's truly an experience that I'll never forget in my life!
It's also possible to go scuba diving in the blue hole. We had met people who did it, they liked the feeling but it isn't the most interesting to see fish. However, the experience is quite unique. The island offers a lot of scuba diving (apart from the blue hole), don't hesitate to go around the agencies to see which one would suit you.
Price of the flight with Tropic Air: 292 US$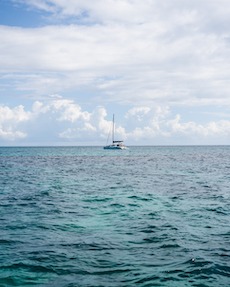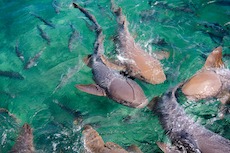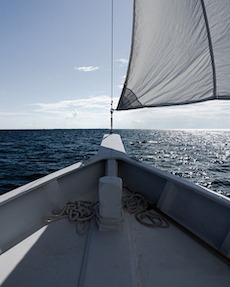 If there's one activity not to be missed on the island, it's the snorkeling excursion (if you don't like scuba diving) in the second largest barrier reef in the world. For this excursion, we had chosen to do it with EZ Boy Tours which has a shop on the main street. They do tours with sailing boats that accommodate a maximum of 16 people. We had with us two guides and an apprentice.
Let's go, at 9am we tried the equipment (masks, snorkels and fins) and be able to leave at 9:30am. On the way out, they use the engine to go as quickly as possible to the different spots to avoid the crowds. The first stop, we put on our equipment in the hope of seeing a manatee. And how lucky we were! He was there, swimming calmly. The guide made us respect a distance with the manatee to don't be too intrusive. Then second stop, a place where we had free time with our masks and snorkels to observe marine life. It's quite pretty but the best awaits us later. So we got back on the boat to go to the third stop which is the observation of nurse sharks. So yes, to attract them, they feed them. They throw pieces into the sea, and there are about twenty sharks. It's impressive to see! It's possible to observe the scene in the water, while respecting a distance because they are still sharks! After several minutes of stopping, we move forward while having lunch, towards Hol Chan Marine Reserve which is part of the coral reef. There, we were divided into groups of 8 people with a guide and we stayed underwater for a good hour observing the fish and these magnificent corals. Honestly, I loved seeing all of this. It was really nice ! And I had never seen that before. We were also able to see a huge turtle under the sea. After this beautiful excursion, we return to the boat which takes out the sails for the return. We tasted a good little ceviche with one, or more, homemade rum cocktails.
Overall, there was a good atmosphere on the boat, the guides explained well when we had questions, the food was good, frankly it was great. I recommend without hesitation with friends or travelers.
Price of the excursion with guide, transport, lunch, drink (including alcoholic), equipment: 90 Belizean dollars.
One of my favorite destination! An island that offers plenty of activities, accommodation and restaurants for all types of budget. An atmosphere that I had never experienced before. It's for me a destination not to be missed in Belize.
We went there in early November. We had to delay our arrival for 2 days because a storm was passing the day we arrived near the island. But otherwise we had great weather every day!
| Jan | Feb | March | Apr | May | June | July | Aug | Sept | Oct | Nov | Dec |
| --- | --- | --- | --- | --- | --- | --- | --- | --- | --- | --- | --- |
| OK | OK | OK | OK | | | | | | | | OK |
I will tell you minimum 3 days to have time to go on excursions, to walk a little on the island, to take the time. But quite honestly, you could easily stay there for a week and still enjoy it. It's up to you to see once there.
WHERE TO SLEEP? MY ACCOMMODATION
GO SLOW GUESTHOUSE
Calle La Posa, 3rd House on the Left Hand Side,
Caye Caulker, Belize
Price: €21 / night / person in a mixed dormitory for 4 people, with private bathroom.
Click here to book.
A hostel where life's good. The hostel is in the atmosphere of the island, relaxing, calm, and easy to meet other travelers.
MY 3 TIPS TO VISIT CAYE CAULKER
Plan a good budget for excursions and restaurants.
Go to the island and see how long you want to stay there without planning too much in advance.
Don't hesitate to see with the people you meet to see if they're interested in excursions so you can negotiate the prices easier.