THE PINK FLAMINGOS RESERVE
WHAT TO DO IN CELESTUN? MY JOURNEY
To visit Celestún, I advise you to go only one day, from Mérida. There are few activities to do, but not enough that are worth spending the night there. With the Oriente bus company, you have buses that run approximately every hour. Go to the central bus station to check the schedules.
BOAT TRIP IN CELESTUN BIOSPHERE RESERVE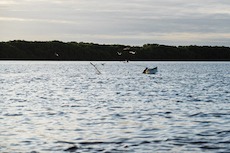 Ría Celestún Biosphere Reserve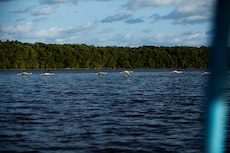 Ría Celestún Biosphere Reserve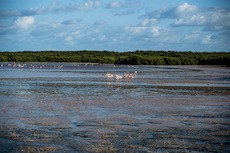 Ría Celestún Biosphere Reserve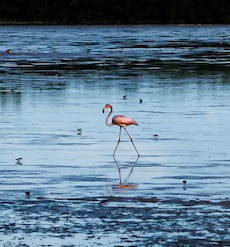 Ría Celestún Biosphere Reserve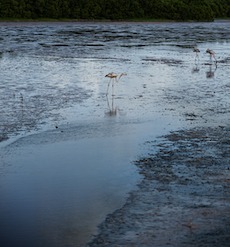 Ría Celestún Biosphere Reserve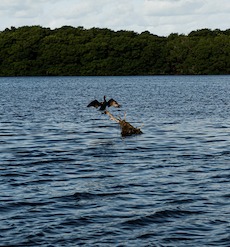 Ría Celestún Biosphere Reserve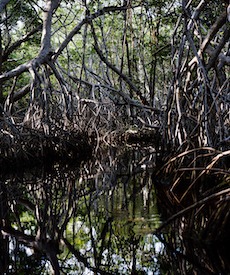 Mangrove at Ría Celestún Biosphere Reserve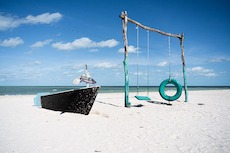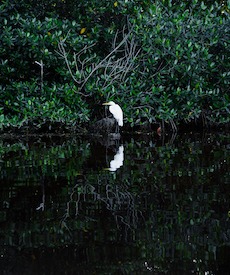 Ría Celestún Biosphere Reserve
The main attraction of Celestún is to take a boat trip in the Ría Celestún Biosphere Reserve to see dozens, even hundreds of flamingos! And to optimize this visit, go early in the morning to see as much as possible. For example, we started around 7am – 7.30am. But at this time, you may pay the captain directly if the official cashier is closed. Normally he's supposed to give you a bracelet for the excursion. The price is fixed per boat, no matter how many people you are, with a maximum of 6 people. So before being there, try to find people who would be interested in sharing the boat because in low season there are really not many people. To get there, if you come by bus, ask the driver to drop you off just after crossing the bridge to get to the Parador Turístico Celestún. This is where you'll see several captains waiting for tourists. Once you've found your captain, go for a 1 to 2 hour boat ride (it all depends on the guide and the group) in the reserve. The captain passes by fisherman who are  feet in the water trying to untangle their nets. Then he takes you to several places where you can see flamingos!! It's so beautiful to see these birds in a group. I find them very majestic. Don't expect to be able to be 1 meter away from them, but you're close enough to observe them quietly without disturbing them. The guide spoke only in Spanish and explained different things to us about the flamingos. Then he dropped us off at the start of a wooden trail. After a few meters, we arrive at an observation platform where there are hundreds of flamingos roaming free! Young and adults eating, flying, landing, walking… It's impressive to see all this animal life in front of you. After a few minutes of observation, the guide takes you by boat to the mangroves. The water is a little dew, it's very strange. A special atmosphere but super pretty! Afterwards, head to a cenote called Ojo de Agua. When we were there I must admit that the water wasn't at all transparent! But apparently sometimes it is and you can swim in it. The excursion ends with this last step. To see the flamingos, it's really a place that I recommend. There were so many when we were not at all in the right season. I can't even imagine the other months. In addition, we could see other species of birds as well. It was really great.
Return bus price from Mérida to Celestún with the Oriente company: 130 pesos
Price / boat for the excursion: 1,800 pesos
Downtown Celestún isn't amazing. There aren't many streets to visit. In the city center, you can take a photo in front of the Celestún letters, and then have a bite to eat at the city market which is just opposite. It is a small market that has several small local restaurants that are not too expensive. If you have a little time too, you can land on the beach. Perfect for Instagram photo spots with the swings in the sand. But honestly it's not the most beautiful beach I've seen in Mexico. In addition, during the week in low season, there are almost no vendors on the beach. 
We were there towards the end of October, and we had great weather, and not too hot. Not the best time to see flamingos but we saw a few anyway. And since it was not the right time, the advantage we had was that there was only our boat.
| Jan | Feb | March | Apr | May | June | July | Aug | Sept | Oct | Nov | Dec |
| --- | --- | --- | --- | --- | --- | --- | --- | --- | --- | --- | --- |
| OK | OK | OK | | | | | | | | | OK |
A short day is enough to visit the reserve and the city. It's not very big and there's not much to do.
MY 3 TIPS TO VISIT CELESTUN
The price of the excursion depends on the number of people you are. Be sure to go with several people.
Go early in the morning to see the animals, even if the checkout opens at 8am, you can see with one of the captains to leave whenever you want on the spot.
Make the round trip from Merida, not much interest in staying there one night.