CLIMBING THE HIGHEST PEAK IN COSTA RICA
WHAT TO DO IN CERRO CHIRRIPÓ? MY JOURNEY
If you want to do a little challenge and you like hiking, then let's go to the highest peak in Costa Rica, the Cerro Chirripó, with a height of 3,820m above sea level. Personally, it was the first time that I climbed so high, and I could feel it. It really wasn't an easy hike but the reward was wonderful. Come on, I tell you what to expect in this article. 
Before going there, there's a little logistics to do. It's possible to do it in one day but that means that you're in a very good physical condition and that you're used to hiking. So before planning to do it in one day, make sure you can. If like us, you decide to do it in several days, here's what to do. First of all know that it isn't possible to camp in the national park (whether wild or in a delimited place). There's only one refuge throughout the national park. So if there is no more bed in this refuge, you have no other way to sleep in the park. If you go there in high season, be aware that you have to book several months in advance. We were there around mid-November, which isn't yet high season, and we had the last places at the refuge, booking it a week before. To book, you must go to the SINAC website. After creating your account, select the San Gerardo sector. It's the main entrance to climb from San Gerardo de Rivas (which is easily accessible by bus). You can then select whether you take a day or several days. By taking several days, they assume that you spend the night in the Crestones Base Camp, that's why the number of places is much more limited. They say they will send you an email to confirm accommodation and food, but personally we never received this email. Try to call them if this is also your case to ensure that your reservation is confirmed. Note that you'll have to go to the office in San Gerardo de Rivas to take your entrances from the national park, and then to another office to take the tickets from the accommodation and for the food (you've the choice between 3 dishes). All people must be present with their passports. I advise you to have dinner and breakfast to not carry too much weight. And for lunch, plan your meal with you for the two days. If you don't want to be dependent on the opening hours for your departure, I advise you to go to the offices the day before. Be careful, they close quite early. You'll find all their information here. 
Entrance to the Cerro Chirripó National Park: 21 US$
One night in a mixed dormitory for 4 people: 21,900 Costa Rican Colón
Dinner at the refuge: 7,051 Costa Rican Colón
Breakfast at the refuge: 6 210 Costa Rican Colón 
DAY 1: SAN GERARDO DE RIVAS – CRESTONES BASE CAMP
13.5km – 9h with breaks – 2 025m of positive elevation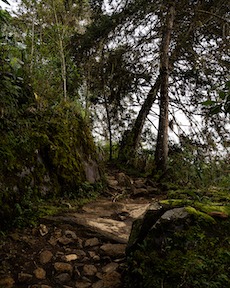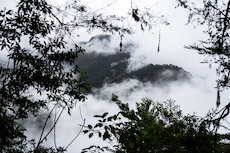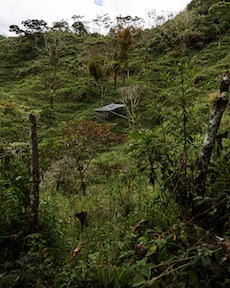 Now that you have everything, that your bag is ready, let's go for the hike! Try to ask your host if you can leave things to him for one night. In general, they accept without any problem. If you have a car, you can get as close as possible to the park entrance. There aren't many parking spots. So try to be there early in the morning, you'll also have to give some money for the parking lot. Otherwise departure from the city center, which adds a good 45 minutes walk. Then start your hike. The first part is hiking up in a huge forest, with more or less different elevations. You have a sign at every kilometer, the refuge being between km 13 and 14. The part in the forest is quite pretty with all this huge vegetation! The path can be a little muddy if it rained or if it rains. We had a little rain for 2 hours of the ascent but not much. Around km 7 there's a small house that sells some food but where you can sit down to eat your meal even if you don't buy anything. It's perfect for taking a short break before resuming the climb. It's around km 10 that the view begins to clear and you leave the forest. The magic of the mountain is beginning to work. Incredible views of the mountains! If the weather's nice, you can also have a super beautiful sunset! Then you arrive at the refuge! Yeah, you made it! Honestly I found it to be the hardest day because it went up all the time and sometimes with a fairly significant elevation. In addition with the weight of the bag, it doesn't help. The refuge is good. The showers are very cold! There's no provision for you to recharge your electrical equipment, have an external battery. There's wifi, except obviously when they turn off the electricity during certain hours of the night. For the night, even if they give blankets, I was still quite happy to have taken my sleeping bag, and to be very warm. Meals are at specific times, try not to miss them. It looks like they can put it in a bag but I'm not sure, ask the office just in case. The meal's good. And they have a good tea or a good hot chocolate. 
Price of the parking for 2 days: 6,000 Costa Rican Colón 
DAY 2 – PART 1: SUNRISE AT CERRO CHIRRIPÓ
10km round trip – 3h one way without break – 2h return without break – 580m positive elevations in total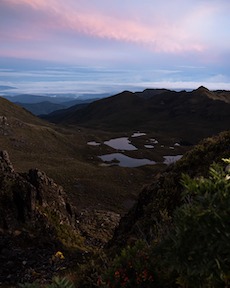 Sunrise at Cerro Chirripó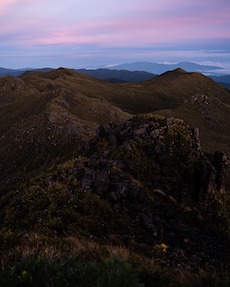 Sunrise at Cerro Chirripó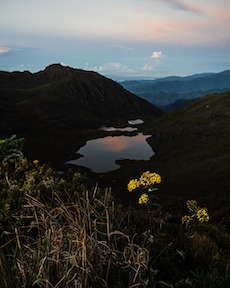 Sunrise at Cerro Chirripó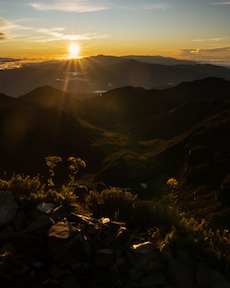 Sunrise at Cerro Chirripó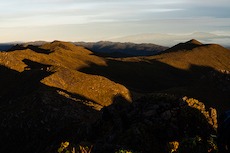 Sunrise at Cerro Chirripó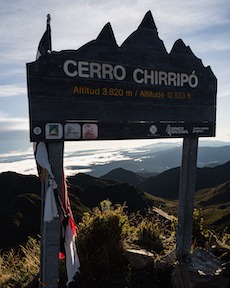 Panel at the Cerro Chirripó peak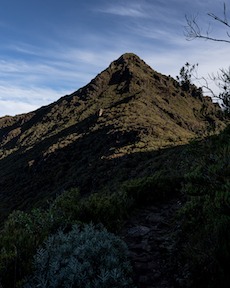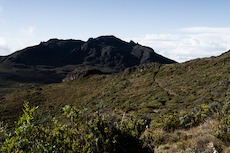 Going down of the Cerro Chirripó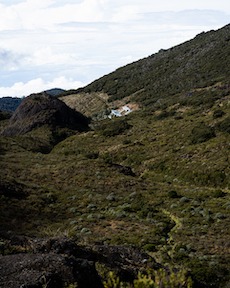 So if there's one essential advice I can give you, it's to plan well the time it takes to get to the top in time to admire the sunrise. The staff had told us 2 hours but we took 3 hours, especially since for us it was the first time for us that we were so high. When you look at the sunrise schedules, plan half an hour before to have the beautiful colors on the mountains before the sun comes out. So wake up at 2 a.m. for a departure at 2:30 and be up there for the sunrise at 5:30 for us. Let's go, headlamp recharged to the maximum, a very warm sweater on us, we go towards those last 5 km which separate us from this summit. We leave with a very clear starry sky. We can even see the Milky Way. The trail is well marked and sometimes there are even small poles on the ground reflecting the light to show us the way. One moment you'll come across a sign that indicates several paths, follow the direction of Cerro Chirripó. The first part is quite simple, not too much elevation. But it's when arriving at the top that things become serious. The last half hour is to climb rocks. Take your time well here. This is the least funny part if you 're scared of heights, but it's doable. This is the last step before you get to the top, so you don't want to stop there! And this summit has one of the most beautiful views I've seen from all over the country. You have a 360-degree unobstructed view of all the mountains. It's just amazing! Don't forget to sign the book when you arrive, and take a picture in front of the sign. And now admire the sun rises and gives extraordinary colors to the mountains and lakes around you. It's just amazing! I don't have the words. It was a great time, and we didn't have a lot of clouds. It was really beautiful. We stayed up there for a good hour before going back down to the refuge to have our breakfast and take back our bags. The descent towards the refuge is very pretty too. The landscapes at the top are breathtaking. A short vegetation that reveals the rocky mountains that surround us. 
DAY 2 – PART 2: CRESTONES BASE CAMP – SAN GERARDO DE RIVAS
13.5km – 7h with breaks – Little elevation gain
After a good breakfast, here we go again to go down the same path as the day before, with a short stop at km 7. Starting from our lunch break, we had a huge rain for 2 hours! The ending was really not a lot of fun for us because we were afraid of slipping on the muddy path, although we were a little protected by the large trees in the forest. Arrived soaked in San Gerardo de Rivas, it's therefore the end clap of this beautiful hike. There are a few restaurants in the center if you want to treat yourself to a good little dish as a reward. 
IN TOTAL: 38km – 2,886m of positive elevation
Even if the hike wasn't easy for me, I found it harder than the one at the Grand Canyon, I keep this great memory of the sunrise seen from the summit. The colors were incredible and the view of these mountains, just beautiful! A moment that I will never forget. There are several hikes that start from the refuge. If you can, stay one more day to discover the other mountains, and why not watch a sunset from one of these peaks. 
We were there around mid-November. The first day of hiking we had a little rain but it was ok. On the other hand, on the second day we had a huge rain in the afternoon, it was really not pleasant. 
| Jan | Feb | March | Apr | May | June | July | Aug | Sept | Oct | Nov | Dec |
| --- | --- | --- | --- | --- | --- | --- | --- | --- | --- | --- | --- |
| OK | OK | OK | | | | | | | | | OK |
We did the hike in 2 days. It's possible to stay one or two more days at the top refuge and do the different hikes. 
WHERE TO SLEEP? MY ACCOMMODATION
Here's the accommodation in the city of departure, San Gerardo de Rivas, to take one night before and after the hike. 
HOSTEL CASA TERBI
Rivas, San Jose, Costa Rica
Price: 25€ / night / person for a private room. It's cheaper if you book directly with the owner.
Click here to book.
A good place to sleep before and after the ascent. The owner's kind! It's even possible to take fruits and vegetables from your garden. A quiet place where you could stay there for several days. It was also possible for us to leave some things with him during our hike. 
CRESTONES BASE CAMP
Price: 21,900 Costa Rican Colón for one night in a mixed dormitory of 4 people.
Click here to book.
At Cerro Chirripó, it isn't possible to camp. You've only one refuge available. This is why you have to book well in advance because you have no other choice. Cover up well because at night it can be quite cold. 
MY 3 TIPS TO VISIT CERRO CHIRRIPÓ
Take one more day in San Gerardo de Rivas to rest after the hike
If you've the time and you like hiking, take one to two more nights to do the other hikes upstairs

 

Try to go outside the rainy season because the hike under the rain, it's really not nice