WHAT TO DO IN CIENFUEGOS? MY JOURNEY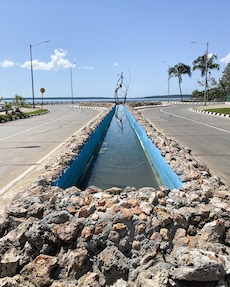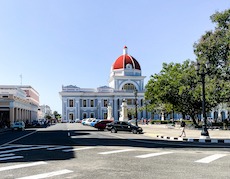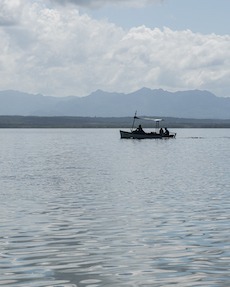 Start with José Martí Central Park, a large and very beautiful park with magnificent buildings. The square is surrounded by the famous Nuestra Señora de la Purísima Concepción cathedral, and the Tomás Terry theatre. If the windows are open, you'll be able to see the beautiful interior of the theatre. Around the square there is also the Palacio de Gobierno and the Museo de las Artes Palacio Ferrer which are two very beautiful buildings.
Then walk in the pedestrian Bulevar street. It's nice to walk around, there are a few shops. Do not miss the Palacio de la Artesania which has lots of small craft stalls. Stroll through the streets adjacent to the square to get the feel of the city. The city center can be visited in an hour, or even 2 hours if you go to museums.
Entrance to the Tomás Terry Theater: 250 Cuban pesos
Not far from the city center, there is the Muelle Real pontoon with a work of art at the end. From this pontoon, you can reach the Malecón which goes to Punta Gorda. Along the way, there are beautiful buildings converted into hotels. Once you arrive in Punta Gorda, there is a park open to the public at certain times of the day. The view of the bay is very pretty! It takes a good hour to get to the tip from the city center.
You also have day trips to El Nicho waterfall. I haven't done it, but ask your casa if they have any contacts.
I won't lie to you that Cienfuegos did not conquer everyone. And yet I think it's still nice to be able to go there if you have time. The architecture is different from what you can see in Trinidad or Santiago de Cuba. Afterwards, as you have seen in this article, there are not many places to visit.
I was in Cienfuegos mid-September, it was hot and humid. But at the end of the day there was a heavy rain for about thirty minutes.
| Jan | Feb | March | Apr | May | June | July | Aug | Sept | Oct | Nov | Dec |
| --- | --- | --- | --- | --- | --- | --- | --- | --- | --- | --- | --- |
| OK | OK | OK | OK | | | | | | | | OK |
I advise you to stay there half a day to visit the city. It's nice to walk around but there's not a lot to see or do. Plan an extra day if you do the El Nicho waterfalls.
WHERE TO SLEEP? MY ACCOMMODATION
HOSTAL TERESA
5 minutes from Viazul bus station, and 10 minutes from downtown.
Price: €10/night for a room with a double bed and private bathroom.
Click here to book it.
A casa very well located, between the bus terminal and the city center. An exceptional and kind host. I recommend.
MY 3 TIPS TO VISIT CIENFUEGOS
Do not stay more than one day in the city.
Take good shoes because the city is big.
Take accommodation in the city center to be close to everything on foot.