AN ANIMATED CITY &
THE SALT MINES OF TURDA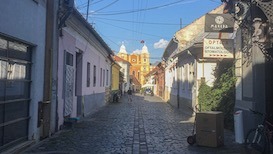 In the street at Cluj-Napoca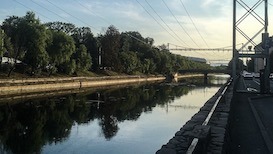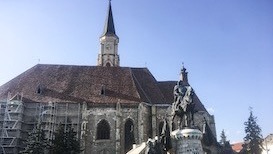 Saint Michael's church at the Union Square
A unique city center with beautiful architectures. The squares of the city are magnificent thanks to the various statues and fountains, in particular at the main square Piata Unirii (Union Square) with its large Saint Michael's church. The churches are as beautiful inside as outside, do not hesitate to enter. Cluj is a bustling city with many restaurants and bars to have a good time with friends.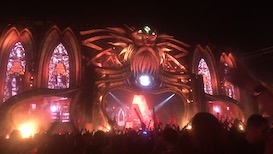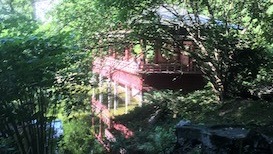 Alexandru Borza Botanical Garden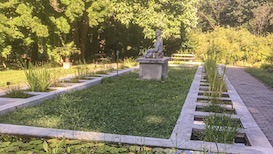 Alexandru Borza Botanical Garden
During my stay in Cluj, I went to a 4 days festival, UNTOLD. A festival not to be missed if you like all kinds of electronic music. It was held in the Central Park and the organizers had highlighted this one. Beautiful buildings and a well landscaped park. You also have a park not to be missed which is the Cetatuia Park. This one allows you to have an incredible view of the whole city of Cluj. Good restaurants up the hill to admire this incredible view. With my friend, we also visited the Alexandru Borza Botanical Garden which is one of the activities to do in the city. A diverse and varied vegetation and a big park which makes it possible to forget that one is in town.
Entry price for Botanical garden : lei 10 / € 2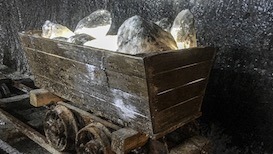 An old carriage in the mine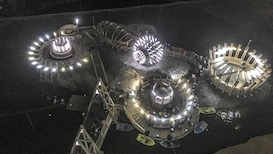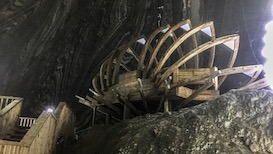 The salt mines of Turda is one of the key attractions in Romania. These mines are completely refurbished, and you will find explanations on how it used to work. At 80m depth, activities have been arranged (boat, mini golf, a wheel …). You can reach it by the stairs or by the elevator. It's really to see with your own eyes. Go early. The mines are visited in 3 hours. And if you take a little time, visit downtown Turda which is charming.
Entry price for salt mines: lei 40 / € 8.50
My road trip in Romania had started with Cluj-Napoca. An animated city with lots of activities to do. Not a beautiful city that I've seen in Romania but it allows you to discover the Romanian culture and to visit the salt mines in Turda. 
Months with a favorable weather to visit Cluj-Napoca.
| Jan | Feb | March | Apr | May | June | July | Aug | Sept | Oct | Nov | Dec |
| --- | --- | --- | --- | --- | --- | --- | --- | --- | --- | --- | --- |
| | | | | OK | OK | OK | OK | OK | | | |
Honestly no more than 3 days (included the salt mines of Turda). It is a big city that you can visit in a short time.
WHERE TO SLEEP? MY ACCOMMODATION
The Spot Cosy Hostel
Piața 14 Iulie 25,
Cluj-Napoca 400000, Romania
Price: lei 60 / € 12,50 per night
A cheap hostel, a bit far from the city center but you can easily get there on foot or by bus.
MY 3 TIPS
It is a bowl-shaped city. Plan for good shoes
Go early to the salt mines, this place is very visited
At the salt mines, you can ask at the reception for a taxi, they will help you