WHAT TO DO IN DEATH VALLEY? MY JOURNEY
I drove through Death Valley from Sequoia to Las Vegas. It is a huge desert in the United States, known for its unique landscape and extreme temperatures in summer. I advise you to avoid going there in summer, it is too hot and it can even be dangerous. Death Valley is included in the US National Parks Annual Pass. If you don't have it, here's how to pay for entry (click here). As I did the driving in one day, I only stopped for a few minutes at certain points but there is much more to do and see. Here are the main points I saw on the road through Death Valley.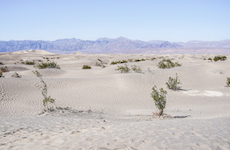 Sand dunes at Mesquite Flat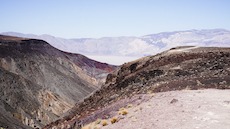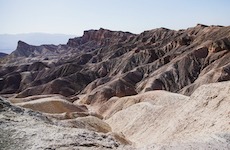 One of my favorite stops is at the Mesquite Flat sand dunes. I had heard a lot about Death Valley, and honestly hadn't researched what to see there. So you can imagine my surprise when I arrived in this huge sandbar. It's amazing to see all that sand in the middle of a rocky desert. You can walk there, but be careful not to get lost because everything looks the same. And the sand is very hot!
One of the viewpoints not to be missed is Zabriskie Point. You have parking at the start of the short hike to access the viewpoint (less than 5 minutes). Once up there, you will be able to see wavy rock formations with different colors. It's very pretty to see.
And another point of view that I really liked is Dante's view. At the top of a hill, accessible by car of course, you can admire an incredible view of Death Valley.
There are also 3 main points to see that I unfortunately could not do for lack of time and energy. Because traveling alone is good but when you do a lot of roads, after a while I have to admit that you get tired. The three points to see are Badwater Basin which is a layer of salt from an ancient lake, Artists drive where you can see different landscapes, and Devil's Golf Course which has a different geological formation than you may have seen so far here.
Death Valley is best visited by car. I drove through it from Sequoia to Las Vegas and the scenery is fantastic. We enter a desert place, it is magnificent! There are a few points to see that I mentioned to you that are pretty. If you have the opportunity to go there, I recommend it.
I was there at the beginning of June, and it was already starting to get hot. My car thermometer read 101°F (equivalent to 38°C).
| Jan | Feb | March | Apr | May | June | July | Aug | Sept | Oct | Nov | Dec |
| --- | --- | --- | --- | --- | --- | --- | --- | --- | --- | --- | --- |
| | | | OK | OK | OK | | | | OK | | |
The interesting points of Death Valley can be visited in one day.
MY 3 TIPS TO VISIT THE DEATH VALLEY
Do not go there in the summer, already at the beginning of June it was starting to get hot, I can't even imagine during summer.
There are gas stations in Death Valley but very few, I advise you to fill up before going there.
Take the time to look at the points you want to see before driving. This will allow you to manage your time and your visits well.