A BEAUTIFUL TUNISIAN ISLAND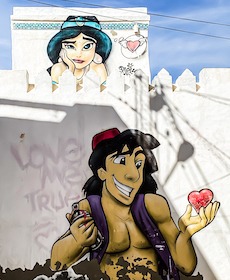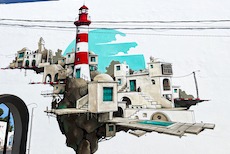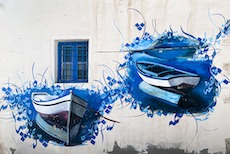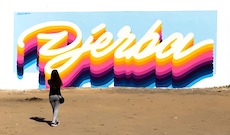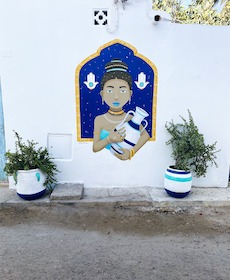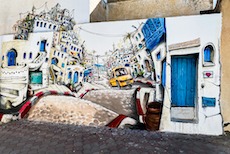 When you go to Djerba, the unmissable visit in my opinion is Djerbahood! This open-air museum located in Erriadh will amaze you. Since 2014, many artists have been doing street art on different walls in the city, which makes the whole thing extraordinary! I loved going there and getting lost in all these little streets. Everything can be done on foot. If you are in high season, go early to be quiet, some streets are narrow. To get there, you can take a taxi. He will surely offer to wait for you but there are so many there that you don't need to. A good 2 hours will be enough to see all the works.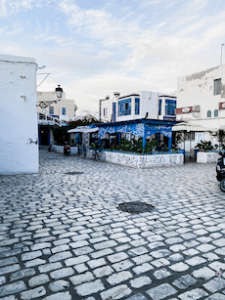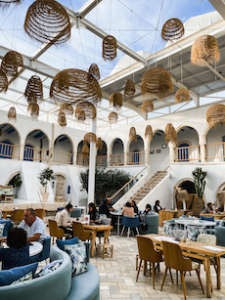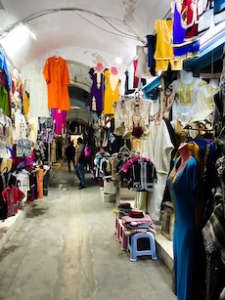 Do not miss to visit Houmt Souk, one of the main cities of the island. Get lost in the local market area. Many vendors will show you the wonders of Tunisia. It's really nice to see all this diversity of products. Do not hesitate to negotiate prices in stores. After your shopping, go to the Foudouks district to enjoy a good mint tea. A very lively neighborhood. Count a small half day to visit the whole quietly.
If you have time, take the day trip on the pirate ship that will take you to the Flamingo Island. A very beautiful island, but I especially loved the boat trip to get there. The water is magnificent, a real mirror! So much that it was sometimes difficult to distinguish the sky and the sea. I had never seen that before. That's sublime ! The tour organizes a good lunch on site and some entertainment. It's fun to do. The price varies depending on where you take the activity.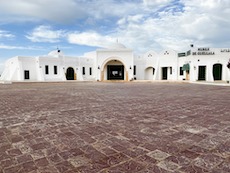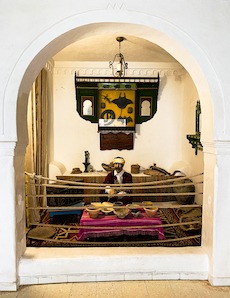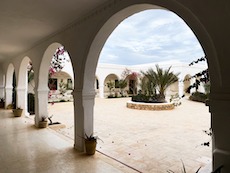 We didn't have time to do a lot of the museum because we were there rather in a quiet and restful mode, and we didn't want to rush too much. We did the Guellala museum which is a museum on the traditions and heritage of Djerba. I learned a lot of things, it was very interesting. There is not necessarily a need for a guide because the explanatory panels are very complete. It takes a good 1h or 2h depending on the time you take to visit. To get there, we took a taxi from Djerbahood. We negotiated the price to have him meet us at the museum and take us back to the hotel.
Guellala museum entrance price: TD10 / €3 
We went there in November, and it was just perfect! The temperature was not too high, not enough to jump into a swimming pool, but the weather was great. A little jacket in the evening was wanted.
| Jan | Feb | Mar | Apr | May | June | Jul | Aug | Sept | Oct | Nov | Dec |
| --- | --- | --- | --- | --- | --- | --- | --- | --- | --- | --- | --- |
| | | | | OK | OK | OK | OK | OK | OK | OK | |
3 days are enough to visit the island of Djerba. But there are many excursions to do outside the island. So if you want to visit the surroundings, a good week is better. Plan a small budget to take full advantage of it and do the various activities offered.
WHERE TO SLEEP? MY ACCOMMODATION
There was a great promotion on the website www.lastminute.com. If you go in low season like in November, do not hesitate to look on similar sites. Many offers are made. And we understand why, not even half of the hotel was complete. Don't miss the opportunity.
Hotel Welcome Merdiana Beach (4 stars)
R2HR+973,
Djerba Midun, Tunisia
Click here to book a room. 
Accommodation is really good. A very beautiful decor. They offer many activities, do not hesitate to take a tour and look at what they organize.
MY 3 TIPS
Take a taxi, it's really cheap and you can get to places faster, the island is big
Go with a good budget so you can enjoy all the excursions and not get frustrated
Go early to tourist spots to keep the visit enjoyable