THE BEAUTIFUL CUBAN CAPITAL
WHAT TO DO IN HAVANA? MY JOURNEY
OLD HAVANA – LA HABANA VIEJA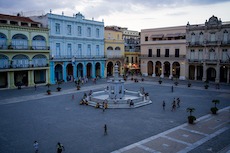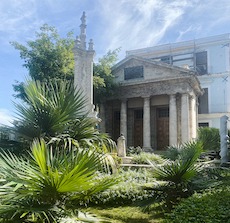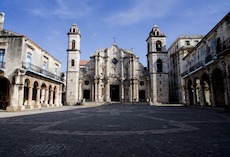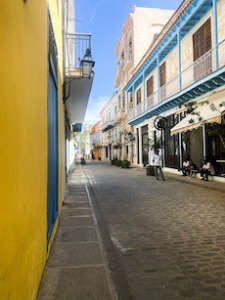 Street in the historic center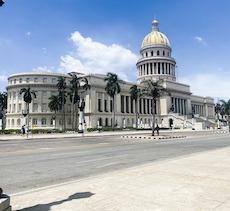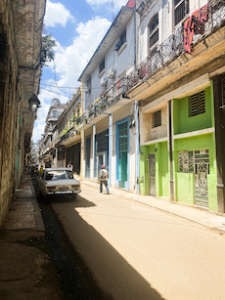 Street in the historic center
The most beautiful district (and the most touristic of course) is Habana Vieja. Many pedestrian streets with colorful facades, that's what everyone imagine when they think of Havana. On the Plaza de Armas, there are various guides who are at your disposal to offer you tours by car, horse-drawn carriage or on foot. If you go by car or horse-drawn carriage, be aware that the tour is different from the one on foot because you will not see the pedestrian center with the guide. But you will see other nice areas of Havana. We chose the walking tour which lasted a little over an hour. It gave us some details about the city and the neighborhood, but I found the visit to be not very complete, and I had the feeling that we could have done it alone. I learned very little about the history of the city or the local traditions. We were able to enter 2/3 closed places thanks to him but that's it. Maybe it depends on the guide you have.
There are various beautiful squares that you can discover on foot in this small neighborhood.
First of all there is the Plaza de Armas with the statue of Carlos Manuel de Cespedes, the first President of the Republic of Cuba. The square is made up of a small square with trees and benches to sit on, and is surrounded by beautiful historic buildings, such as the Palace of the Captains General. There is also the temple (El Templete) which has a very beautiful painting inside. It is quite original to see a small temple in the middle of the city. The museum of the city (Museo de la ciudad) is also located in this square. At the entrance of this museum, you can see steeples. These are the remains of a church that burned down several years ago. At the museum, only the ground floor is open. The interior courtyard is truly magnificent, with a statue of Christopher Columbus surrounded by large palm trees! There are not many rooms to visit. Some have horse-drawn carriages, it's nice to see. On the other hand, all the explanations are in Spanish, and there are few. It takes about thirty minutes to visit the whole thing. If you have time to visit why not, but it is not a must for me. On the other side of the museum, you have the Real Fuerza castle which is one of the oldest buildings in Havana. The castle has been transformed into a maritime museum where many objects are on display, as well as miniature replicas of certain boats. The museum is in Spanish and English, and tells the marine history of Havana, it's super interesting! It is very well done and gives a lot of details. This one is more complete compared to the other museums we did in Cuba. It takes about an hour to visit it.
In Oficios Street, you can see a wagon. Curious isn't it? It's there because it's one of the first countries in Latin America to have the train. Surprising when you see that today nobody travels by train in the country.
One of my favorites in the neighborhood is the old square (plaza vieja) which is super beautiful! This is the newest square in the neighborhood. It is very colorful and well maintained. Very nice to have a good time there. There are several restaurants with balconies (prices are expensive for the city) from which you can enjoy the sunset while having a drink on the terrace. A restaurant that I recommend on the corner of the square is La Vitrola. A great atmosphere, certainly touristy but rather nice to do.
Another place to see in the neighborhood is the Cathedral Square (plaza de Cathedral) which is very beautiful with gray buildings all around. You can enter San Cristobal Cathedral from Havana. The interior is very pretty with very colorful statues.
Another well-known square in the city center is San Francisco de Asis Square, which is also a beautiful large square in the old town.
When you walk around the city center, you will notice that there are a lot of small museums where you can have a look (for a fee of course). Most museums are small so check first if it's worth it or not.
We wanted to do the Rum Museum, but no luck, closed every time we wanted to go there (the opening days and times are not really fixed in reality).
After a long walk around the neighborhood, stop at la bodeguita del medio bar, where many celebrities used to go for a drink or a meal, such as Ernest Hemingway. When we went, they only made mojitos at the bar. There was a good atmosphere with musicians and people dancing. The room is small but many people drink their glasses in front.
What is pleasant in the old quarter is to get lost in the different streets. Some are full of life and you can see the daily life of Cubans, others are very colorful with lots of restaurants and souvenir shops. The streets not to be missed in my opinion are Amargura, Muralla, Chacon, Aguacate, and Espada streets. Some doors are open, you can see inside the buildings (try to remain discreet anyway). Sometimes there are super beautiful interior courtyards, or unusual museums. So yes, there will be plenty of people on the street asking if you want to exchange your currency, or accosting you to take excursions, but if you can manage to not pay too much attention to it, you can take full advantage of your visit. I never felt unsafe in this neighborhood during the day.Price of the guided walking tour: €15 / person
Entrance fee to the temple: free
Entrance fee to the city museum: 130 Cuban pesos
Price of the entrance to the castle of the real fuerza: 20 Cuban pesos
There are a few places to visit outside Old Havana.
In some streets, you can see a strange building in the distance, with a golden dome. Get closer… Yes, you saw correctly, it is the Capitol of Cuba (El Capitolio). I found that it had a big resemblance to the one in Washington. It's impressive, nothing to do with the rest of the city. The building is very well maintained! It stands out well with the rest of the architecture of the city. From this place, they offer excursions in old American cars to visit the city (outside of old Havana as this district is pedestrian).
From the Capitol, you can take Paseo del Prado street. A very large avenue with the pedestrian center. Sometimes there are a few craftsmen selling paintings or handicrafts, but it depends on when you pass by, I don't know if there is a particular day or time for that. At the end of the street you will come to the start of the Malecón walk.
Not far from Paseo del Prado street, there is the Museum of the Revolution (Museo de la Revolución). As with many museums in Havana, part of it is under renovation. The exterior was open, there were a few cars used in the revolution. There are few explanations about the history of the revolution. The tour will take about thirty minutes. A nice museum but if you don't have the time, I don't necessarily recommend it.
Entrance to the Museum of the Revolution: 200 Cuban pesos
IN FRONT OF HAVANA – CASABLANCA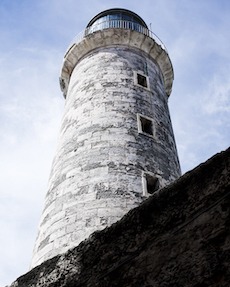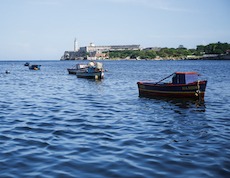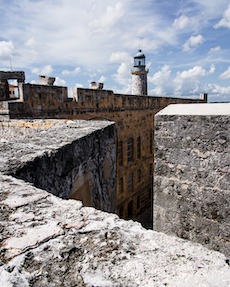 Tres Reyes del Morro castle
When you are at the beginning of the Malecón, you can see the Christ of Havana (Cristo de la Habana) and the Tres Reyes del Morro castle, opposite. You have two ways to access it, by taxi (1,000 Cuban pesos) or by ferry (2 Cuban pesos). Yes the price difference is huge! We did both because it is impossible to do it on foot (pedestrian access prohibited in the tunnel). The ferry, you can take it at the emboque de Luz, not far from the Rum Museum. We will have to wait a good half hour for us (the timetables were not really displayed) before taking this small boat which makes the crossing in about ten minutes. I warn you, you will surely be the only tourists to take it. Then you walk a little bit to get to the Christ, which doesn't seem that big in the end when you're in front of it (20 m). There is a great view of downtown Havana. Be careful, if you are offered to take your picture, they will often ask for money afterwards.
Then, continue your walk to Tres Reyes del Morro castle for a good half hour. The monument is very pretty to see. Inside there are some explanations of the history of the building (in Spanish and English). You can see the lighthouse up close, which is huge! The castle and its surroundings are really beautiful! Worth going there.
Ferry to Casablanca: 2 Cuban pesos
Taxi from Casablanca to Old Havana: 1,000 Cuban pesos
Access to Christ of Havana: free
Entry to Tres Reyes del Morro castle: 200 Cuban pesos
OTHER THINGS TO SEE IN HAVANA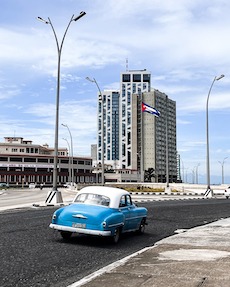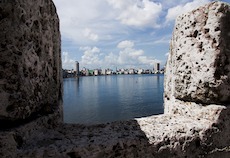 View on the Malecón, from the castle
The Malecón is a promenade along the coast. We started from Castillo de la Punta to Paseo Street. Besides, we don't hear much about this street, but it is super beautiful! Colorful houses and a central avenue with trees to walk around. It's worth a look. You can continue the Malecón further if you wish, to the Miramar district. We had looked at the reviews, and to be honest, we weren't too interested in seeing a residential area. It is a pleasant walk along the water. It makes you discover other neighborhoods than the tourist areas. There is a mix between color facades some well maintained, and others completely abandoned.
On the walk along the Malecón, take a left turn at some point to enter a neighborhood that is not at all touristy. We went there to see the Callejón de Hamel. It is a very small artistic pedestrian street starting with a gate that announces the color. Decorated objects everywhere, street art, sorts of galleries. An artistic bubble of a few meters. It's a bit of an artistic catch-all that makes the street original!
If you continue along Paseo Street, you will arrive at the Revolution Square (Plaza de la Revolución). A huge square with works of art representing Che Guevara and Fidel Castro, set on two huge facades. And behind you there is the monument dedicated to José Martí. It is impressive to see! Especially when the place is empty. To return to the Old Havana district, if you do not necessarily want to spend money on taxis, I advise you to walk back to Avenida Salvador Allende (Carlos III). A large avenue full of life that passes through Havana Centro. I saw another side of Havana.
Havana is a very pretty capital, especially La Habana Vieja. It's nice to walk there. A big bustling city!
We were in Havana at the end of August. It was humid and hot, with sometimes a few hours of rain. But during the day it was fine, we could visit the city quietly.
| Jan | Feb | March | Apr | May | June | July | Aug | Sept | Oct | Nov | Dec |
| --- | --- | --- | --- | --- | --- | --- | --- | --- | --- | --- | --- |
| OK | OK | OK | OK | | | | | | | | OK |
I think 3 days are enough to visit Havana.
WHERE TO SLEEP? MY ACCOMMODATION
I don't necessarily have an address to recommend because the first one we did was expensive for what it was, and the second one was good but there were mice.
Try to sleep in, or not far from, La Habana Vieja because that is where the visits are the most interesting.
MY 3 TIPS TO VISIT HAVANA
Visit Havana on foot to best discover the city.
If the museum is open, go visit it right away, because the opening hours and days are not really fixed to be honest.
Do not be fooled by the restaurants that offer wifi, they are not necessarily the best ones I went to. Check out before.