AN ISLAND WITH BEAUTIFUL BEACHES AND HIKES
WHAT TO DO IN ILHA GRANDE? MY JOURNEY
Ilha Grande is an island that has no cars, has lots of shops and restaurants on the main street, but most of all has many beautiful beaches and hikes. Here's what we did during our stay.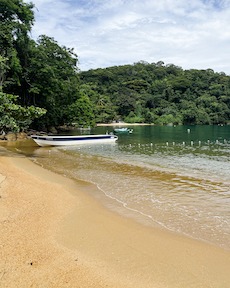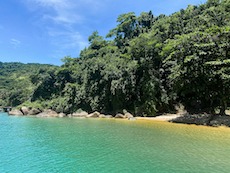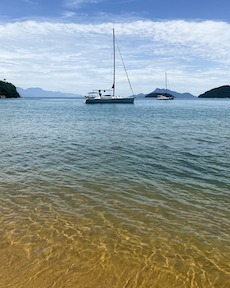 We started our discovery of the island with one of the easiest hikes. For about thirty minutes, and with little elevation, you cross beaches and forest. The trail's very easy. Well, I'm not going to lie to you that when we were doing it, there was a certain smell of rotten jackfruit on the ground, it didn't smell very good. Here are the beaches we went through:
Praia do Abraão: the main beach in downtown Vila do Abraão. It's generally a large beach with lots of small bars and restaurants. Very nice if you want a bit of entertainment in the afternoon or at the end of the day.
Praia da Julia: a very cute little beach. But as it's close to Vila do Abraão, it can quickly get crowded. There's a small restaurant on the beach, and a shop where you can rent kayaks.
Praia da Bica: a small beach with a small waterfall flowing along a rock. It's nice enough to sit for a few hours. There aren't many people in the morning, a little more in the afternoon.
Praia do Abraãozinho: a large beach with one or two restaurants, and the possibility of being able to get in the shade.
Praia Comprida: we didn't really see the beach because we were there during high tide.
As you can see, the walk is done quite quickly. If you've time, choose a beach (or several) to relax in the sun and swim. The beaches are all very pretty.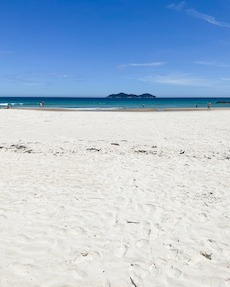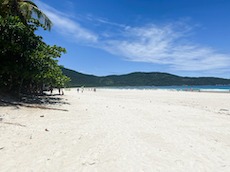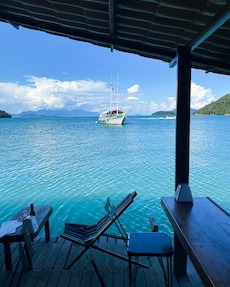 Restaurant at Pouso beach
If you want to do a nice hike, the one to go to Praia do Lopes Mendes from Vila do Abraão is for you. It takes about 3 hours (depending on your pace of course) to get there, with 345m of elevation gain over 6.9km. To get there, head to Praia da Julia. On your way you'll see a sign for Praia Lopes Mendes to the right. Follow this path. The hike crosses a small part of the island through the forest. If it rained the day before, it can be quite slippery. It was also very humid. On the trail, there's a beautiful view of the Brazilian coast and the islands in front. Then, you'll arrive on Palmas beach where you can stop for a nice fresh coconut! But you're only halfway, continue to Pouso Beach, passing through the forest. A very beautiful beach where there are all the taxi boats and a restaurant in the water. Keep the address of the restaurant for the return, it's super nice. Count another twenty minutes through the forest to finally arrive at the famous Lopes Mendes beach! It's considered as one of the most beautiful beaches on the island, and I understand why! Fine white sand, transparent water, it's magnificent! As on the whole island, in high season there are a few people but the beach is so big that if you walk a little to the right or to the left, you won't be next to the others. A nice place to relax for a few hours. For the return, either you return by the path, or you go to Pouso Beach to take a taxi boat. When you meet them on the way out, ask for the last departure to not to miss it because for us the last was at 5pm. It's possible to pay by card, I won't lie to you that he gave us the "no signal" trick but when he realized that we had no cash, the signal miraculously came back… The ride is done in about ten minutes and the views are very pretty.
Return price by taxi boat: 40 reals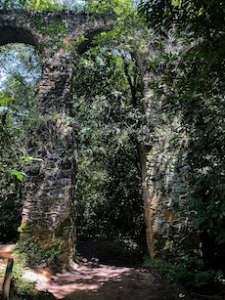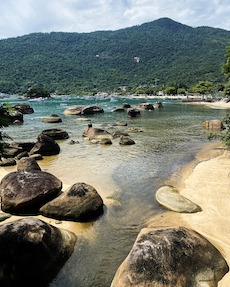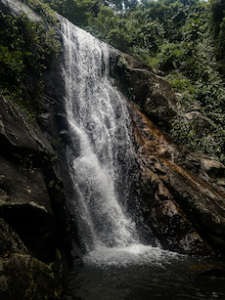 A hike a little more difficult than the others because of the humidity and the heat. To go to the waterfall, it takes 3.5km with 150m of elevation gain. The hike itself is fun, but the most beautiful part is this 15m high waterfall. It's possible to swim there and enjoy the place. However, there may be a few people. Then you can continue on Praia da Feiticeira, a beautiful beach where there was hardly anyone! A real pleasure to be able to rest there for a few hours in the morning. Then to come back, you have to take the taxi boat at Praia da Camiranga. No luck for us, it's 1 p.m. and it doesn't pass until 3 p.m.…
Return price by taxi boat (this time only in cash): 35 reals
For the more athletic ones, there's the Pico do Papagaio hike which lasts about 6 to 8 hours (round trip) with an elevation gain of 921m over a total of 9.7km of hiking. I didn't do it so I can't I can tell you more, but I met a traveler who did it with an agency to be up there at sunrise. According to him it was worth it! If you decide to go alone at night, be careful because there are snakes on the island.
Ilha Grande is an island that combines well the mix between hiking and beaches. Even though it's a car-free island with restaurants and shops on the main street, I found it still had a very different vibe compared to Caye Caulker or Holbox.
We were there around the end of January and had mixed weather. Beautiful days with occasional rain. There was quite a bit of humidity as soon as we were in the forest. And it was also the holidays for the Brazilians so there were a lot of people.
| Jan | Feb | March | Apr | May | June | July | Aug | Sept | Oct | Nov | Dec |
| --- | --- | --- | --- | --- | --- | --- | --- | --- | --- | --- | --- |
| | | | OK | OK | OK | OK | OK | OK | OK | OK | |
To do the main attractions, I think 3 days are enough. But honestly there are plenty of hikes and beaches to see on the island. You could stay there for a week and discover a new place of the island every day.
WHERE TO SLEEP? MY ACCOMMODATION
HOSPEDAGEM OCEAN VIEW ILHA G
Rua Getúlio vargas Abraão 610 alameda dia lindo,
Abraao, CEP 23968000, Brazil
Price: 12€ / night / person in a mixed dormitory booking directly with the owner because we were three staying there and we were staying for a good week.
Click here to book it.
A hostel with a super nice view over the sea. The place's nice to settle down.
MY 3 TIPS TO VISIT ILHA GRANDE
The schedules and stops of the taxi boats aren't easy to understand, ask each time where they go and the schedules of return.
Bring cash, there is no ATM on the island.
The weather is quickly changing on the island, take advantage of it as soon as it's sunny.