WHAT TO DO IN IRAZU AND POAS VOLCANOES? MY JOURNEY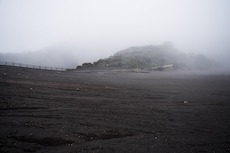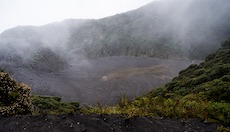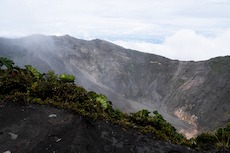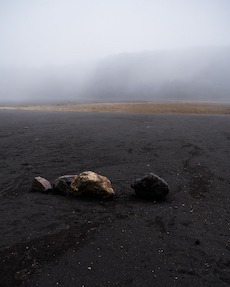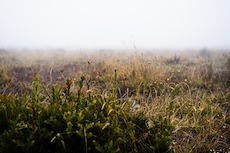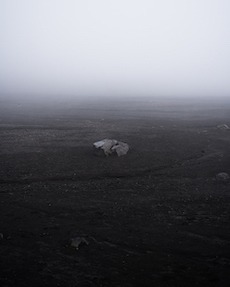 To visit the Irazú volcano, you've to buy an entry ticket online in advance on the SINAC website. Places are limited and entrances are per arrival time. I read in a few Facebook comments that agents accept when you enter earlier, but not necessarily after the hour. So plan wide for your transportation time. If you're there in low season, and you go there on weekdays, taking the ticket the day before should be enough. On the other hand, in high season, you'll surely have to do it a few days before. Then, to go to the volcano, the easiest way is to sleep in San José and do the round trip during the day. The bus stop that goes to the volcano is located opposite the Gran Hotel in San José. You'll see a sign with the Irazú Volcano stop marked. The time and exact address can be found on the SINAC website. Be careful, there aren't many buses during the day so don't miss it. It'll take about 2h15 to get to the entrance. They look at the entrance tickets directly on the bus. If you don't have it, they get you out of the bus until you buy it (if there are places left of course). On the way down, ask for the return bus schedules so you don't miss it.
Once there, you've only one path to follow that takes you to the crater viewpoints, 3,310m high (take a sweater because it can get cold). The walk isn't very long, and easy to do. You have to follow the path for a few minutes then you walk along wooden barriers (don't pass them) which gives you super beautiful views of the Diego de la Haya and Laguna del Volcano craters. Today there's no more water in these craters but it remains impressive to see these huge gray and red rocky holes. We had a lot of fog. If this is also your case, be patient because the fog can dissipate in a few minutes if you have a little luck. That's what happened to us and it was a great show! We then walked along the barrier until we were in the middle of this black sand which has a little vegetation in places. With the fog, it gave a mystical side, it was quite pretty. If you have a good weather, honestly in an hour you'll have done the visit.
For the return, we didn't have the bus directly. We had to make a change in Cartago. But the drivers tell us where to go to take the bus back to San José. 
Irazú Volcano Entrance Price: $16.95
Roundtrip by bus to Irazú Volcano: 5,930 Costa Rican Colón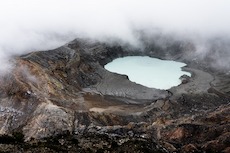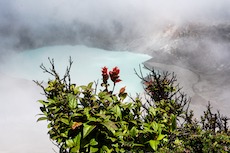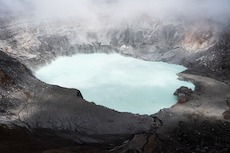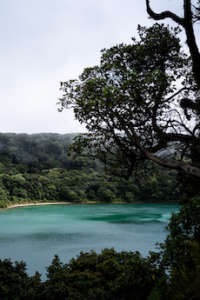 Small hike in the national park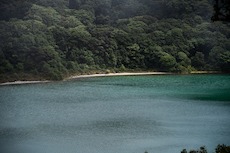 Small hike in the national park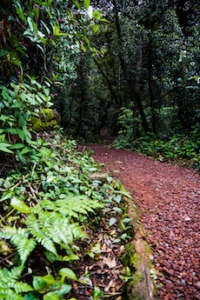 Small hike in the national park
Before going to Poás volcano, you have to also buy a ticket online on the Sinac website. I'm not going to redo the speech for you because it's the same as the Irazú volcano for the place of accommodation and the arrival times, when and how to book your entrance ticket. However, to go there, that's another story. You have to take a bus that goes to Alajuela at a bus terminal in San José. Then you have to take another bus that goes to the Poás volcano. Bad luck for us, no bus going to the volcano. So we took a bus that got to it as much as possible (Poasito). Luckily, we met 2 tourists who were also going there. So we were able to share a taxi to go to the entrance. It took about 2h30 in total.
Once there, follow the paved road that goes directly to the main viewpoint on the Poás crater. And you won't be disappointed by this incredible view! We can see this huge crater (which is one of the largest in the world) with a turquoise blue lake in the background. The colors are amazing and beautiful! We had a bit of fog when we went but waiting a bit, it cleared from time to time. A beautiful natural show. Frankly if you have to choose between one of the two volcanoes, I advise you to choose to visit this one. It's really impressive to see! Then, if you have a little time, there's a nice little walk to do. To get there, go back a few meters from the viewpoint and you'll see a trail begin on your left. This one allows you to see another beautiful lake. You'll be in a forest all along with explanatory panels sometimes. It's quite pleasant. Count about forty minutes to go around. The trail is really not complicated.
For the return, we asked the staff who work at the entrance to order a taxi from us because no Uber wanted to come to us. You'll have to be patient for the return. 
Entrance fee to Poás Volcano: US$16.95
Price of the round trip from San José to the Poás volcano: around €12
This was the first time I saw craters of this shape. It's super beautiful, and it's really worth the detour! For me, Poás volcano is my favorite. 
We were there around mid-November. In San José it was sunny and warm but on the craters it was much colder, and we had a lot of cloud. We had the views of the craters only a few minutes. 
| Jan | Feb | March | Apr | May | June | July | Aug | Sept | Oct | Nov | Dec |
| --- | --- | --- | --- | --- | --- | --- | --- | --- | --- | --- | --- |
| OK | OK | OK | OK | | | | | | | | |
It's necessary to plan a day for each volcano but no more. There are short hikes to do but there aren't long. 
WHERE TO SLEEP? MY ACCOMMODATION
COSTA RICA BACKPACKERS
Avenida 6, Calle 21 Y 23,
10104 San José, Costa Rica
Price: €10 / night / person in a 8 bed mixed dormitory.
Click here to book.
It's a little bit of the factory and the kitchen is far too small for the number of people it welcomes. But in general, it's quite correct for the price. 
MY 3 TIPS TO VISIT THE VOLCANOES
Sleep in San José to be able to go to the volcanoes in one day
Even if the weather is nice in San José, take a sweatshirt to visit the volcanoes because you lose a few degrees

 

If the craters are in the clouds, wait a bit, you might have a few minutes all clear. You'll have to be patient

 

And bonus: for the 2 volcanoes, you have to book in advance on the Sinac website