IN THE NORTHERN CANADIAN ROCKIES
WHAT TO DO IN JASPER NATIONAL PARK? MY JOURNEY
As like other Canadian national parks, if you stay there for several days, I advise you to buy the discovery entry card pass, which you can buy at national park entrances.
In this article, I will tell you about the points of interest where I went to share my experience with you. I will give you a link at the end of the article with all the points to discover if you want to visit more things.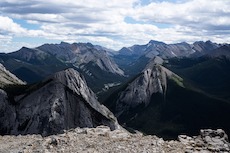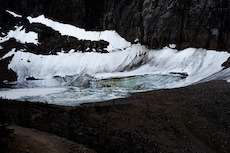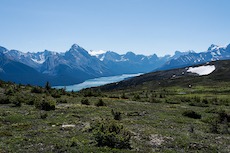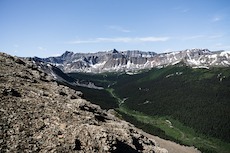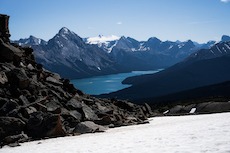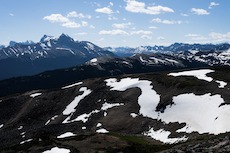 The bald hills trail (5 km loop / 780 m elevation gain) is one of the most beautiful hikes in Jasper National Park. If you want to be alone, start the hike early because it can get crowded. To go to the loop at the top there are two paths, a moderate trail and a more difficult trail. For the climb, I advise you to take the moderate path, which is certainly longer, but you will go easier than doing the other one. Then, you have a big loop that gives you the choice to go over the ridges or not. If you are scared of heights, the passage on the ridges is not the best choice to be honest. Afterwards, you will arrive at a super beautiful viewpoint accessible by a round trip. I really advise you to go all the way because the view of Maligne Lake and the mountain peaks is just incredible! It is truly one of the most beautiful views in the national park. It's breathtaking! Then, go back down by the more difficult path to have a beautiful view of the lake. The whole hike took me about 4 hours but it all depends on which path you take, and your pace.
Another great hike in Jasper National Park is the Sulfur Skyline trail (7.9 km round trip / 653 m elevation gain). This hike is still quite hard because it climbs non-stop for about 1h30, depending on your pace. If you are in good physical condition you should be fine. The whole climb is in the forest, until about twenty minutes before reaching the summit. When we were there, it was not easy because there was a lot of wind on the last part. But the view at the top is amazing! A super nice 360 ​​degree view on the mountains. The hike took us about 3 hours in total. At the end of the hike, take the opportunity to reward yourself for this hard hike by going to the Miette Hot Springs at the bottom of the hike. You have several outdoor pools, including one at 40 degrees. After a good hike, it feels good!
A much easier and different hike from the other two is the Valley of the Five Lakes trail (4.7 km loop / 162 m elevation gain). This 1h30 trail takes you through 5 different lakes (as its name suggests). The colors of the lakes are extraordinary, green and turquoise blue. That's wonderful ! The water is transparent! A hike not to be missed.
A hike that we could not do because it was closed but we were able to access the viewpoint in about ten minutes, it is at Edith Cavell. From this point, it is possible to see a glacier and a lake up close, which in July still had frozen parts, as well as snow at the edge of the lake. It is very beautiful! We see waterfalls coming from the glacier, it's impressive!
Entrance fee to the Miette Hot Spring thermal baths: CA$7.75 / €5.86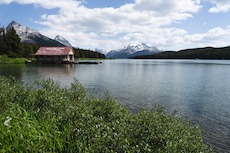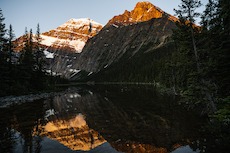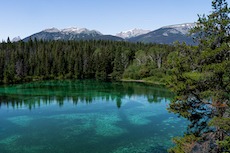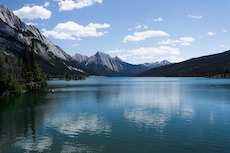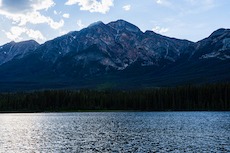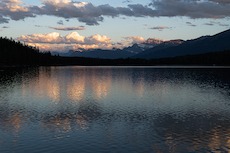 One of the most beautiful lakes in Jasper National Park is Maligne Lake! A huge lake very peaceful. You can walk around the edge of the lake for several minutes if you wish, in order to have different points of view. One activity that I could not do due to a lack of money, was to go see Spirit Island, which is the unmissable view of the lake. Click here for more information on how to access it.
Another very pretty lake to do during sunrise or sunset is Pyramid Lake. I advise you to go to the small island accessible by foot via a bridge, which gives an overview of the lake and Mount Pyramid which has an incredible red color, like I had never seen elsewhere. To go around this small island, you will need about twenty minutes. The sunset is really beautiful!
And for the sunrise, I also recommend Cavell Lake. From the car park, you will have to go down a path until you reach a bridge. Then, sit down and admire the sun giving a pink color to the mountains, with a mirror effect on the water, it's magnificent!
A super nice lake for swimming is Horseshoe Lake. There are quite a few people who go there to jump from a small cliff. A good place to rest a bit.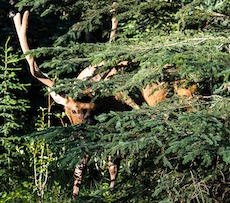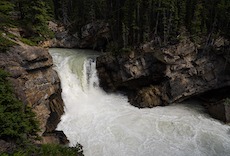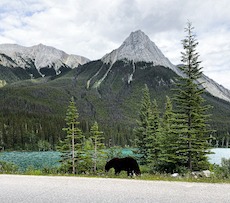 Because in the Canadian Rockies there is always a waterfall to see somewhere, you have the Athabasca falls. Very impressive falls accessible from the parking lot.
You can also discover the Maligne Canyon. Cliffs with a large flow of water that continues to carve these cliffs every day. It takes about 1h30 to go around to the 5th bridge. But honestly turn around from the 3rd bridge. The rest is nice but not the best part.
I wasn't sure what to expect at Jasper National Park. I was a little afraid of being disappointed or that it would be too redundant after having been to Banff National Park, Yoho and Kootenay. And not at all, it is a national park that has a landscape very different from the others. A real beauty not to be missed!
I was there around mid-July and the weather was perfect. It wasn't too hot but I had great weather.
| Jan | Feb | March | Apr | May | June | July | Aug | Sept | Oct | Nov | Dec |
| --- | --- | --- | --- | --- | --- | --- | --- | --- | --- | --- | --- |
| | | | | | | OK | OK | | | | |
In my opinion, 3 days minimum are necessary to discover the park. But if you can stay 2/3 more days, I think they won't be too much.
WHERE TO SLEEP? MY ACCOMMODATION
WHISTLERS CAMPGROUND
67 19, Jasper, AB T0E 1E0, Canada
Price: CA$30.75 – €23.25 / night for a camping spot without the possibility of lighting a fire.
Click here to book for a night
A decent campsite with sanitary facilities, close to the town centre. I had a spot without the possibility of making a fire, but there is a common space where you can make it under a hob.
MY 3 TIPS TO VISIT JASPER NATIONAL PARK
Do the big hikes early if you are there in summer to avoid the heat.
Find out beforehand what to do in case of encounters with a bear because there are many in the area.
Leave no trace of your passage and pick up your garbage.