AND ITS FAMOUS ARENAL VOLCANO
WHAT TO DO IN LA FORTUNA? MY JOURNEY
VIEW OF THE ARENAL VOLCANO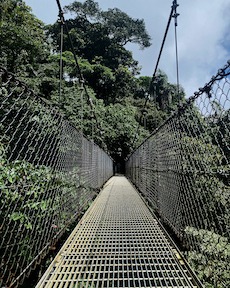 Mistico Arenal Hanging Bridges Park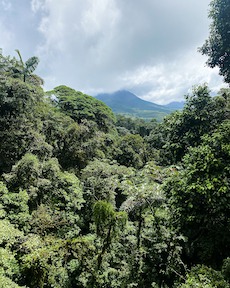 Mistico Arenal Hanging Bridges Park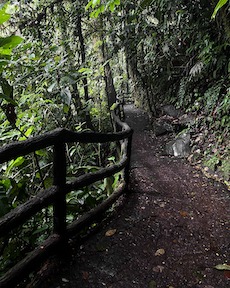 Mistico Arenal Hanging Bridges Park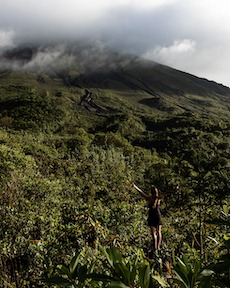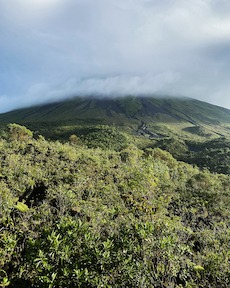 The main tourist attraction of La Fortuna is to see the Arenal volcano. It's not possible to go on it but there are several places where you can admire it. I give you here two places we went to.
The first is a trail at Arenal Ecologic Park. The main trail, Sendero Perezoso, is quite easy, even if it climbs a bit. Much of it is in the forest. You may be able to see animals. At the end of the trail, you've a beautiful view of the Arenal volcano. Bad luck for us, it had clouds at its top. But we were still able to see part of the volcano. It's impressive to see these traces of gray flows mixed with the vegetation of the volcano. It's very beautiful, and the landscape around too. To go back down, go through the gray trail. This one goes down to the lake and runs along it a little. It's a pretty cool 2 hours walk.
The second view is from the suspension bridges of Mistico Arenal Hanging Bridges Park. It's a 2 hours walk in the forest where you can see a lot of animals while strolling on the main trail. The park also has several suspension bridges which allows you to have beautiful high views of the park and sometimes of the volcano. If you're scared of heights, I thought it was fine but I wasn't taking big breaks on the bridge. There's also a beautiful waterfall to see in the park. If you haven't done Monteverde, it's a good alternative for building suspension bridges in a forest. 
Entrance fee to Arenal Ecologic Park: US$15
Entrance fee to Mistico Arenal Hanging Bridges Park: US$28 
AND BESIDES ARENAL VOLCANO?
You can go to La Fortuna waterfall. We didn't because I heard more negative reviews than positives. But you can do your own opinion on that one.
Otherwise you have the free hot springs. You can find them easily on Google Maps by typing "free hot springs". We had a car for La Fortuna so it was quite simple for us to go. A person keep an eye on the cars in a parking lot next to the entrance. You have a small entrance that goes directly to these natural hot springs. And yes, the water has a really nice temperature. There are like small pools created by people, with stones. Try to take a break somewhere and relax. There are several hot springs in the city but the others aren't   cheap. 
Price of the car park: 3,000 Costa Rican colón for the car 
La Fortuna was not my favorite destination. It's nice and there are a few walks to do around, but without a car I found it to be a bit complicated. Moreover, I often had the impression of having to pay for each hike or for the slightest activity, a little disappointed on that side. 
We were at the beginning of December and the weather was mixed. We had good weather but also a lot of rain. 
| Jan | Feb | March | Apr | May | June | July | Aug | Sept | Oct | Nov | Dec |
| --- | --- | --- | --- | --- | --- | --- | --- | --- | --- | --- | --- |
| OK | OK | OK | OK | | | | | | | | OK |
2 to 3 days depending on your budget to be honest. As I said, everything is paying and not necessarily accessible from the city. It's up to you to see what you want to do. 
WHERE TO SLEEP? MY ACCOMMODATION
ARGDIVAN HOSTEL
200 mts on del Redondel y 20 Metros Oeste,
Casa Verde, 21007 Fortuna, Costa Rica
Price: 13.50€ / person / night in a mixed dormitory for 8 people.
Click here to book.
A hostel run by Argentinians. A good atmosphere in the hostel and easy to meet other travelers.
MY 3 TIPS TO VISIT LA FORTUNA
Go with budget to do activities
If you can, rent a car to easily go to the different places
Sleep in the city center to be at the center of activities