THE CAPITAL OF ENTERTAINMENT
WHAT TO DO IN LAS VEGAS? MY JOURNEY
If you visit Las Vegas by car (which I recommend you because I have not seen a lot of buses in the city honestly), know that there are casinos that have free parking lots. Click here to have the list of these car parks.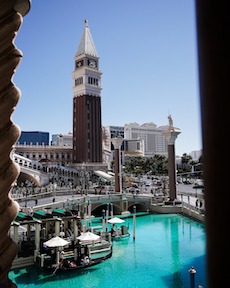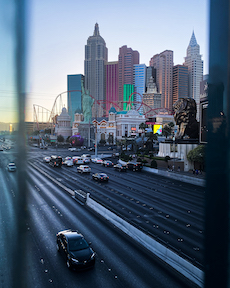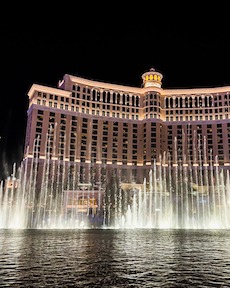 Start your visit with the famous Las Vegas sign! Expect a small queue to have your photo, you won't be the only ones.
Las Vegas is the city with the most casino in the world. And here I will list you the most impressive to see on South Las Vegas Boulevard (also called Strip Boulevard)!
Venetian: one of my favorites. You can embark on a pagoda by the canal in front of the hotel, then arrive in a mini Venice inside the hotel. The interior of this hotel is the most impressive for me.
Ceasars Palace: the theme is Italy, you have impressive fountains inside and outside the casino. There are also many beautiful Roman statues.
Paris: direction the small Eiffel tower in front of the casino. Inside, you have a beautiful reconstruction of Paris with its metro stations, the architecture of the buildings. Knowing Paris very well, I found the interior quite well done and realistic.
New York-New York: The hotel facade is just impressive! Buildings like in New York with a small statue of freedom in front, and a roller coaster that crosses everything, just that. The outside of this hotel is worth the detour.
Excalibur: a very original medieval atmosphere inside this hotel. For the facade it looks like a huge inflatable castle but the interior is more realistic.
Luxor: We go to Egypt this time with a pyramid and the lynx in front of the hotel. I did not do the interior, but from the outside we can guess the Egyptian theme.
Some hotels offer free shows every 30 or 15 minutes depending on the hotels. Here is what we have seen:
The Bellagio fountain: a synchronized choreography between fountains and music. Very beautiful to see!
The mirage volcano: a simulation of a mirage volcano eruption. The show is incredible.
Wynn's Lake of Dreams: When you go back to this hotel, go to the lake. Set up to a table (if there are not too many people, the server lets you sit down without ordering anything). I have the impression that there are several sound and light shows because we saw two different in an hour. But honestly, these are the most weird shows I have ever seen. It's up to you to see and judge.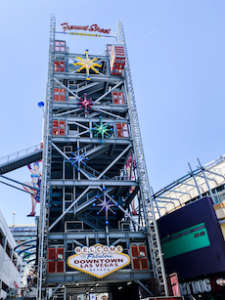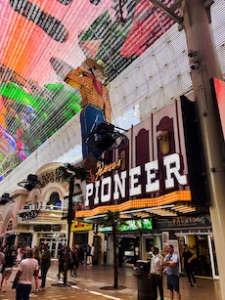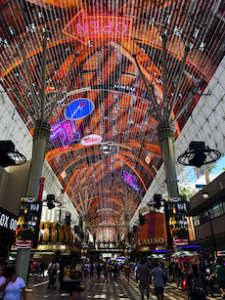 Fremont Street Experience
After seeing the Las Vegas today, go to Old Vegas at Fremont Street. Old casinos throughout the pedestrian street, ceiling screens all over the avenue, and a Las Vegas sign at the entrance of the street. Two completely different atmospheres but always in this spirit of party and casinos. It's very nice to see.
Not far from Old Vegas, you have the Container Park which is a small place with stores and some restaurants built in containers. It changes a little atmosphere, it's not bad.
There is also the neon museum in the area. Twice I go to Las Vegas, twice I can't do it because it is closed. The hazardous of the trip! But I heard about it a lot. If you have already been there, do not hesitate to leave a comment to tell me if it's worth it.
Las Vegas is for me a city to see with its own eyes. We like it or we don't like, the atmosphere is unique, day and night. There are so many activities to do in Las Vegas, casinos, shows, evenings, restaurants, and all various and varied activities. You can't get bored in Las Vegas.
When we were there in early June, the heat was bearable. And anyway, you don't spend much time outdoors to be honest.
| Jan | Feb | March | Apr | May | June | July | Aug | Sept | Oct | Nov | Dec |
| --- | --- | --- | --- | --- | --- | --- | --- | --- | --- | --- | --- |
| | | | OK | OK | OK | | | OK | OK | | |
2 nights and a day. I never specify the number of nights, but Las Vegas is to be seen day and night. I think you can stay there longer, but personally after 2 nights I wanted to see something else.
WHERE TO SLEEP? MY ACCOMMODATION
WONDERFUL PLACE IN LAS VEGAS
3420 Samsara Cir, North Las Vegas
Las Vegas – NV 89032 – USA
Price: $57 – €55 / night for 2 persons
Click here to book a night.
It's a bit like an Airbnb, we are in someone's house. We have a bedroom and a shared bathroom. There are transports that go downtown but I didn't, and I haven't seen many buses in Las Vegas to be honest. The arrival can be done in self check-in, to see with the host.
MY 3 TIPS TO VISIT LAS VEGAS
If you have a car, move away a bit to get cheap accommodation.
If you want to play in casinos, plan a little money, the minimum you can play are high.
Try to see Las Vegas day and night, a unique experience.