A BEAUTIFUL EUROPEAN CAPITAL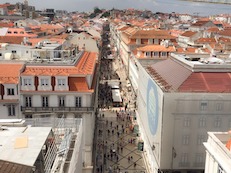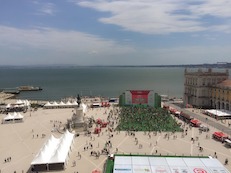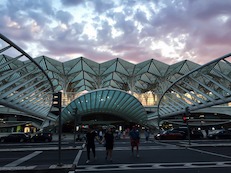 To start your journey, go back in time by visiting the Castle of St. George (Castelo de São Jorge) located above a hill in downtown Lisbon. From up there, you will have a breathtaking view of the whole city. You can also discover the interior and learn about the castle history.
Then, go down along the streets of Lisbon to arrive at the commercial square (Praça do Comércio). When we were there, there was the 2018 soccer world cup. They had installed a huge screen with refreshments. We were able to watch a game and the atmosphere was incredible. From there, you can access the Triumphal Arch (Arco de Triunfo). A different view than from the castle but just as beautiful. Then stroll down the pedestrian Augusta Street (Rua Augusta) while eating a chorizo ​​bread and buy your souvenirs.
There are so many cute streets in Lisbon, and especially the Da Bica de Duarte Belo street (Rua Da Bica de Duarte Belo) known for its vertical drop and accessible only by tram or by foot. The perfect street for a typical Lisbon souvenir photo. The best districts to have a walk are Alfama, Baixa and Bairro Alto. Colors everywhere and pleasant neighborhood lives. Near our accommodation, we even had a neighbor who was cleaning his pig on the street.
Feeling hungry ? Go through the Time Out Market in Lisbon, a compulsory visit. An old market where many food stalls have settled there. Perfect if you are many people because you can choose what you want to eat and then find a table in the center. And if you go to a Portuguese restaurant, try the Francesinha, a Portuguese version of a croque monsieur, a treat. Portugal is a country where you will not be disappointed with the food.
Entrance fee to the Castle of St. Georges: € 7.50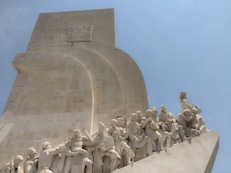 the monument to the Discoveries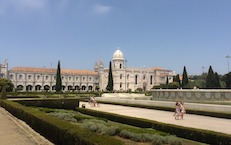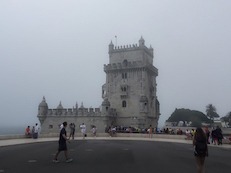 You cannot go to Lisbon without taking a tour at Belém for a day or half a day depending on your visits. When you arrive in the city, you cannot miss the imposing Jeronimos Monastery (Mosteiro dos Jerónimos). Unfortunately we didn't visit it because of the crowded entrance, but I've only had positive feedback about the interior. The exterior facade is impressive.
Continuing your way, you will come across the monument to the Discoveries (Padrão dos Descobrimentos) which faces the Tagus. This represents the great Portuguese discoveries made during the 15th and 16th century. When you are behind this monument, lower your eyes to discover a map of the world at your feet. Further, you will find the Tower of Belém (Torre de Belém). Honestly I found it small but I loved its unique architecture. If you are in Belém, you cannot miss the famous Pastel de Nata de Belém. Pastry very well known in Portugal, and excellent!
Entrance price to the Jeronimos Monastery: between € 10 and € 16 depending on the formula
Entrance price to Belém tower: € 5
We did not have time to do it but you will see it in all the tourist guides, the city of Sintra and its colorful Pena National Palace (Palácio Nacional da Pena). A nice visit that will take you a whole day.
The advantage of Lisbon is that if you need to take a break and get away from the bustle of the city, just take the train and in no time you are at the beach. The most beautiful beaches are towards Cascais. It is possible to do a one day trip to the beach.
We clearly haven't seen everything of Lisbon, and especially the surroundings. But this is a city for which I have excellent memories and I can't wait to go back!
Favorable weather to visit Lisbon. Lisbon is nice in June because there are a lot of district parties.
| Jan | Fev | Mars | Avr | Mai | Juin | Juil | Août | Sept | Oct | Nov | Déc |
| --- | --- | --- | --- | --- | --- | --- | --- | --- | --- | --- | --- |
| | | | | OK | OK | OK | OK | OK | | | |
I would say ideally 5 days to enjoy the city center, the surrounding cities and have a relaxing day at the beach. But if you can stay longer, I recommend it because it is good living city.
MY 3 TIPS
Go to Belém early to visit the monuments, they are quite popular
Walk around the different districts of downtown Lisbon
If you are not in a hurry, stay longer in Lisbon