I left for about 3 weeks in Martinique. I had the opportunity to be able to work at home and continue with 2 weeks of vacation to quietly enjoy Martinique. I did not do a road trip there, we had a fixed place and we took the car to go where we wanted on the island. The pace was quite calm with some rest days. So that's why I'm not going to tell you about a road trip to do in Martinique but rather about the visits to do (we didn't have time to do everything, but at least you will have an opinion on the visits that I did).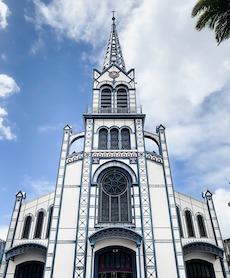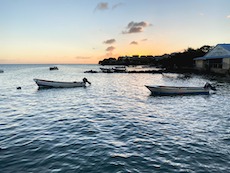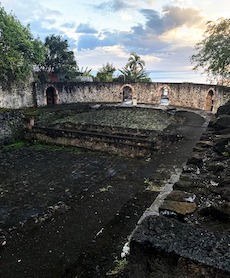 SAINTE-ANNE
One of my favorite villages on the island, located in the South. We had passed through different villages, but this one is very cute. Many colorful houses with beautiful street art, including one that I really love (pictured above). The village is both lively without being too crowded. There are several bars and restaurants that allow you to enjoy the evenings, and shopping streets to walk around during the day. I really loved this village, it is good to live there and spend several days.
SAINT-PIERRE
The town of Saint-Pierre, in the north of the island, is unique. It was completely destroyed during a volcanic eruption in 1902. There are still some remains, but overall the city has been rebuilt. You can see some ruins in some areas, as well as an old theater. This one is very nice to visit because there are several explanations that show how it must have looked like. The city is nice to walk around. Half a day is enough to visit it, but there are several activities around, so why not stay there for 3/4 days.
FORT-DE-FRANCE
The biggest city in Martinique, but not necessarily my favorite to be honest. It is very different from other cities in Martinique, many people in the streets. There are a few places that I liked and that are worth seeing. For example, the spice market where you can smell all the smells of Martinican cuisine. Take the opportunity to buy some spice if you like to cook. In the city center, you have a few shopping streets, but above all a main square with the Saint-Louis Cathedral and its famous bell tower, which is magnificent! In the same vein, a beautiful building from the outside is the Schloelcher library.
During my stay in Fort-de-France, I had the opportunity to visit the regional museum of history and ethnography which is very interesting. You learn a lot about the history of the island, but also about the different customs. The city can be visited for a day. Don't stay too long, otherwise you will quickly go in circles and there are many beautiful places to visit on the island.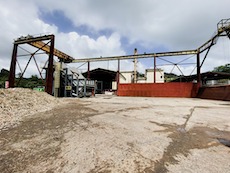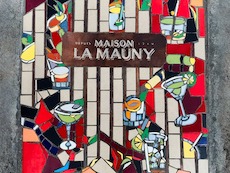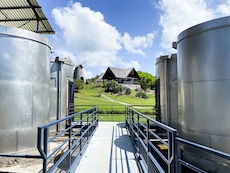 LA MAUNY
Of the two rum distilleries that I was able to visit during my stay in Martinique, it was La Mauny. We were able to attend a guided tour of about 45 minutes. This was very informative and we learned a lot about the history of La Mauny, as well as how rum is made. What was nice is that the rum distillery was in operation, so we could observe part of the making of the rum. We obviously end the visit with a tasting at the shop. A complete tasting that allows you to taste the different products of La Mauny. The products they sell are quite nice, and you can come back with great memories (not to mention the rum of course). Little preference for La Mauny spicy rum.
Price for a guided tour in La Mauny: €8
La Mauny website for visiting hours: https://maisonlamauny.com/en/come-see-us/ 
LES TROIS RIVIERES
This rhumerie is smaller than La Mauny. We weren't able to do the guided tour but we were able to visit it. The rum maker was not working when we went there. There are a few signs explaining how rum is made. The tour of the rum distillery is done in less than an hour. At the end of your visit, of course, go through the tasting. They have very good rums and you can taste a good variety. The tasting was very interesting, with lots of explanations about what we were tasting.
Price to visit Les Trois Rivières: €5
Website: https://www.martinique.org/distillerie-trois-rivieres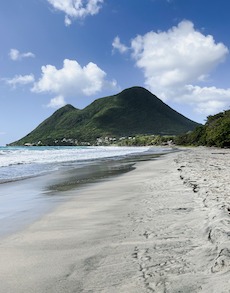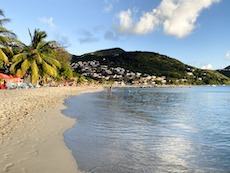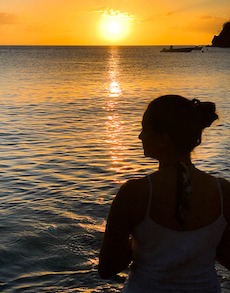 DIAMOND'S BEACH
Have you ever seen sand shining in the sunlight? Personally no, I was quite impressed by this effect. It's just wonderful ! Diamond Beach is a large beach with a view of Diamond Rock. If you like the waves for bodyboarding, you will find what you are looking for on this beach.
LES SALINES
From Sainte-Anne, you can take a walk of around 1h30 to access one of the most beautiful beaches in Martinique. We pass in front of one of these famous swings in the water. But to have a chance to sit there, go early, you quickly get a queue of people going there to take pictures, the wait can be long. The walk is very nice, you go along several beautiful beaches. It is very pleasant to walk near the water. And once you arrive on Salines beach, you won't believe your eyes. White sand, turquoise water, endless palm trees, magnificent! On the other hand, go there during the week or early in the morning, the beach is very quickly occupied by people.
ANSE DUFOUR
If you want to be sure to be able to admire the turtles, go to Anse Dufour. There are about two or three "resident" turtles that stay in this beautiful bay all the time. When you go swimming, try to spot a flock of snorkelers, they are surely below them. Stay away from turtles so as not to disturb them too much in their natural habitat. It's funny to see these turtles very close to us and the beach, making their quiet life. The beach is not very big, go there rather during the week.
ANSE D'ARLET
A beautiful quiet beach with calm water. But you surely know it thanks to its pontoon and its church at the end, a famous photo of Martinique. There is a place where you can admire different fishes. There are 2/3 rocks underwater and a beautiful natural aquarium has formed. Very easy to see in snorkling.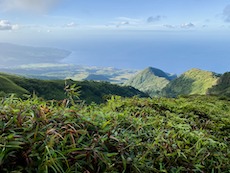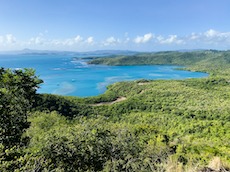 View from the Caravelle Peninsula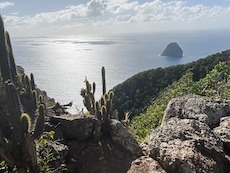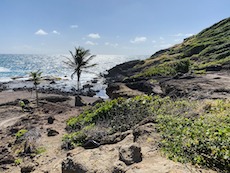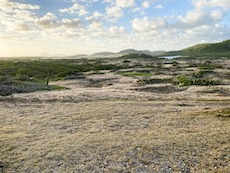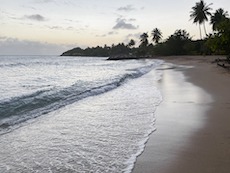 CARAVELLE PENINSULA
The Caravelle peninsula (Presqu'ile de la Caravelle) is a very beautiful place to admire different landscapes of Martinique. You can go around this peninsula via the largest path, in about 3h30, depending on your rhythm. What is nice with this trail is that sometimes you find yourself in the forest to arrive on a beach at once and then in the mangroves. One moment, you will even be able to cross a sandbar overpopulated by crabs. Very original. A nice walk to do, I recommend.
MORNE LARCHER 
Be ready to face a steep climb for 45 minutes in the forest. To do this hike, go early and before it gets too hot, as it can quickly become an oven inside. From the beginning you just go up to the top. But once up there, the effort is well deserved. A magnificent view of one end of the island and the Rocher du Diamant. It's really worth it !
MOUNT PELEE
Mount Pelee (Montagne Pelée) is very often in the clouds. There are only a few days in the year when you will be lucky enough to have a clear view up there. Watch the weather every day, it changes quickly. You can hike from several starting points. The climbs are quite steep, but I found it to be less difficult than Morne Larcher. Be careful, there are a few passages I was scared of the height, especially during the descent. Once up there, I didn't make it to the top because we couldn't see anything and the wind was blowing really hard! During our ascent we were still able to enjoy a beautiful view.
THE PETRIFIED SAVANNAH
A small corner of the island very different from the other walks you can do in Martinique. A desert landscape by the water and cacti. You can do the tour in about 3 hours. I did it at sunset and it was really beautiful!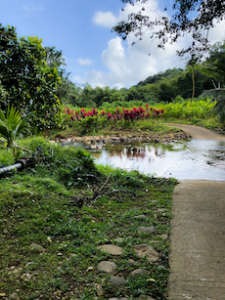 Bô La Riviè botanical garden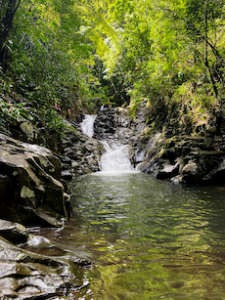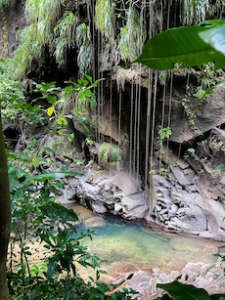 CARBET WATERFALL
The Carbet waterfall (Cascade du Carbet) is a well-known waterfall. It is also nicknamed the slide waterfall because there is a natural slide thanks to the slippery rock. This is very fun. It does get crowded though, try to get there early. To get there, you will have to walk near the river for about twenty minutes. The path is very easy to do.
BÔ LA RIVIÈ WATERFALL
To access the waterfall, you have no choice but to go through the guided tour. And it's very interesting because to go to the waterfall we go through a path with very different plants and the guide shows us all the benefits of each plant. And he knows a ray there. After an hour, we arrive at the largest waterfall in Martinique, which is magnificent. She is not tall in height but very beautiful.
Entrance price for Bô La Riviè: 12€
Martinique has, for me, been full of surprises in terms of landscape diversity. The south has heavenly beaches while the north of the island is populated by forest, waterfalls and mountains. A very nice discovery!
Favorable weather to visit Martinique.
| Jan | Feb | March | Apr | May | June | July | Aug | Sept | Oct | Nov | Dec |
| --- | --- | --- | --- | --- | --- | --- | --- | --- | --- | --- | --- |
| OK | OK | OK | OK | OK | OK | | | | | | OK |
2 weeks to go around the island I think it's good. You can easily alternate in the same week between beach, hike, visit and walk in the city. You won't be bored.
WHERE TO SLEEP? MY ACCOMMODATION
I think Sainte-Anne is a nice village to stay in. You can do a lot on foot, and easily take the car to go on the island.
MY 3 TIPS
Rent a car otherwise you will quickly be blocked and will not be able to go where you want
For Mount Pelée, go early in the morning to try to avoid the clouds (I say try haha)
Get up early to make the most of the day, the sun sets early in Martinique
MY 5 FAVORITES
Anse Dufour
Sainte-Anne
The petrified Savannah
The Caravelle Peninsula
Visit to the La Mauny rum distillery