THE ANIMATED MEXICAN CITY
WHAT TO DO IN MERIDA? MY JOURNEY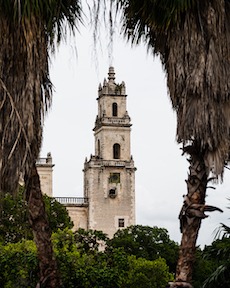 Cathedral of San Ildefonso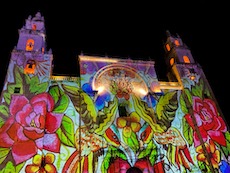 Cathedral of San Ildefonso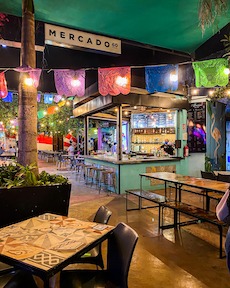 Mérida is a city that I really appreciated due to its atmosphere and all its entertainment. We spent several days in this city to visit it, and also to make excursions around it, and we were never bored. There's always something to do, either during the day or the night. Small concerts in the city, learn salsa at the Fundación de mezcaleria, an event in a neighborhood. The city is very lively! A very festive atmosphere. I wasn't expecting that at all.
Mérida is a city where it's good to walk around. To start the tour, go to Plaza Grande, a huge square with several places to visit around it. This is where there's the famous Cathedral of San Ildefonso overlooking the square, you cannot miss it. We couldn't get in but already from the outside, it's super beautiful! Not very far, there's the passage of the Revolution with a very pretty architecture. It's pleasant to walk in this passage. It reminded me a bit of Milan (strange isn't it?).
There are different parks and neighborhoods to see in the city. There's for example the San Juan's Park which has lots of small cheap food stalls where you can eat very good Mexican specialties. I advise you to take a tortas, it's delicious! And if you want to try another local specialty, you can have a Nutella and cheese marquesita. Yes yes you read that right. Tell me if you liked it… Not far from this park, there's the huge San Benito market with various fruit and vegetable stalls. I got lost in this one a few times. This is the right location to buy local products. Even if you don't cook, go for a walk to see the atmosphere of the market.
Santa Lucia Park is quite nice. It's a slightly more chic area than the rest of the city center. There are quite a few bars and restaurants, it's very lively. Another more chic neighborhood is the Paseo de Montejo. A large avenue with very different architectures from the rest of the city. There's honestly not much to see in this street.
The neighborhood around the Ermita's Park is really great. There are quite a few events that are organized, and it's close to the city center. When we were there, there was "La Feria de Panucho", a party in honor of the Panucho (a Mexican specialty), yes you have to find excuses to party. And no it wasn't a small party, there was a big stage, shows, stands with handicrafts etc. They do things big in Mérida. La Ermita is a very nice neighborhood to walk around and discover the colorful facades.
In the city center, I fell in love with Casa Maya. The entrance is beautiful! We immediately want to go there to discover this restaurant and the small shops around it. Go take a look.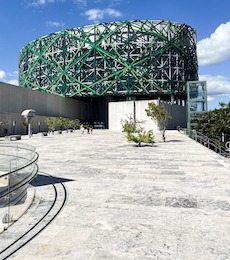 Great Museum of the Mayan World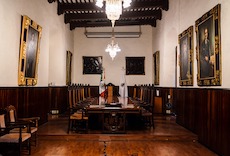 Palacio Municipal of Mérida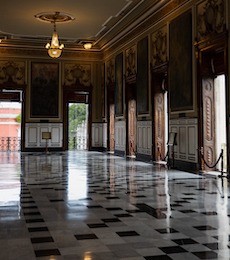 Palacio del Gobierno del Estado de Yucatán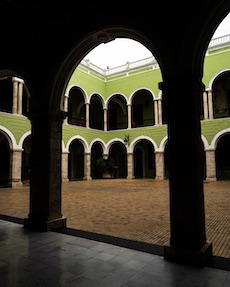 Palacio del Gobierno del Estado de Yucatán
Centro cultural el Olimpo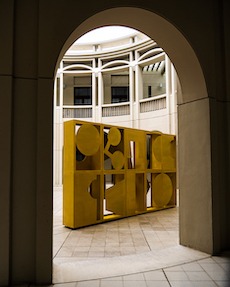 Centro cultural el Olimpo
There are quite a few museums in Mérida. We visited some of them. Here's what we did during our stay:
Palacio Municipal of Mérida: a large red building on the Plaza Grande, you can't miss it. There isn't much to see inside, but go upstairs to admire the view of the square and the Cathedral. It's for me the most beautiful view of the city.
Centro cultural el Olimpo: a beautiful white building in the shape of a circle. It's very nice for taking pictures, I found that it had a bit of a futuristic style. Upstairs, there's a painting exhibition in 2 rooms.
Palacio del Gobierno del Estado de Yucatán: a very beautiful green building (yes there are all the colors around the main square) with magnificent murals 12.80 meters wide! These immense works represent the evolution of the Mayans over the centuries. There's also a room where you have quite a few paintings hanging on the walls. It looks nice !
Great Museum of the Mayan World: as its name suggests, it's a great museum on the history and culture of the Mayas. Frankly it's very interesting. It allows you to discover a little more than just the ruins. They talk about traditions, how they lived, religion, etc… We had spent 1h45 to visit everything. The explanations are in English and sometimes only in Spanish. To go to the museum, you have to take a collectivo near the Plaza Grande. Ask around, someone will tell you the place, because there isn't really a sign for the bus stop. Allow about thirty minutes to get there.
Entrance fee Palacio Municipal: free
Entrance fee to Centro Cultural El Olimpo: free
Entrance fee Palacio del Gobierno del Estado de Yucatán: free
Entrance fee to the Grand Musée du Mayan world: 150 pesos
Price of one way by collectivo to go to the great museum of the Maya world: 8 pesos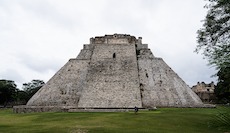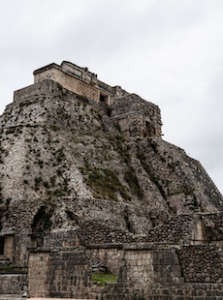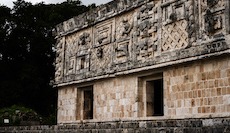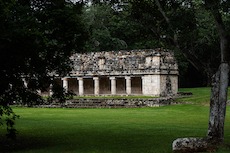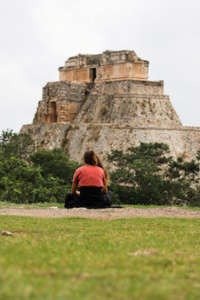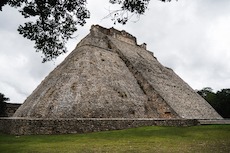 The Uxmal Ruins are Mayan ruins near the city of Mérida. To get there, it's not very complicated, but unfortunately you have to count one full day. You can take the SUR bus from the ADO TAME station. However, you don't have much choice on the schedules, there's one at 9 a.m., and one at 12 p.m. And for the return, it's at 3 p.m. or 5 p.m. The trip takes about 1h30. If you have read several articles on my blog, you know that I will advise you to take the 9 a.m. one to be at the archaeological site as soon as possible in order to have the fewest people with you. And when we had finished the visit, we saw the tourist buses arriving, we were happy we came early.
Uxmal dates from 500 BC, but was an important political and economic center between the 9th and 12th centuries AD. When you arrive at the site, you won't be able to miss the unique architecture of the Pirámide Adivino, with a height of 35 meters. It's impressive! You can discover this great archaeological site in 2 hours, following well-marked arrows. It isn't possible to climb the ruins, but there are places where you can have a view from above near the governor's palace. The site is quite large and there are explanatory panels everywhere. We didn't feel the lack of a guide with us. I think this is the best preserved site I have seen in Mexico. It's amazing to be able to walk among these ruins and try to imagine what was going on there at the time. It's clear that the price is expensive but honestly, this site is part of my top 3 ruins to see in Mexico! It's worth the detour.
Price of a bus trip to the Uxmal ruins: 92 pesos
Entrance fee to the Uxmal ruins: 495 pesos
Mérida is a very lively city, I really didn't expect that. Lots of events, bars and restaurants. But also a lot of museums and markets. There are plenty of things to discover in and around the city. Don't hesitate to stay in Mérida and to go during the day to Izamal and Celestún for example.
We were there in mid-October and the weather was great. A little too hot sometimes, but it was bearable.
| Jan | Feb | March | Apr | May | June | July | Aug | Sept | Oct | Nov | Dec |
| --- | --- | --- | --- | --- | --- | --- | --- | --- | --- | --- | --- |
| OK | OK | OK | OK | OK | OK | | | | OK | OK | OK |
I think 5 days are enough to go around the city and its surroundings.
WHERE TO SLEEP? MY ACCOMMODATION
LA ERMITA
C. 77 528, Centro,
97000 Mérida, Yucatán, Mexico
Price: €11/ night / person for a private room (booked several months in advance)
Click here to book.
A hostel with billiards, swimming pool and breakfast included. Very cozy and charming, perfect for meeting people easily. Its location is also top; not far from cheap restaurants and a few minutes from the central square.
MY 3 TIPS TO VISIT MERIDA
Feel free to look for events in the city when you're there. They organize so many things, and in the evening we walked around the city without any problem.
Mérida is a good stopover city to go around.
Take a good look at the opening hours and days for the museums and places you're going to visit.