THESE HUGE ROCKS IN THE MIDDLE OF NOWHERE
WHAT TO DO IN MONUMENT VALLEY? MY JOURNEY
Monument Valley belongs to the Navajo, so the admission is not included in the « America the Beautiful » pass. To get to the park you have several roads, but only one entrance. If you have the chance, I advise you to arrive by one of the most impressive views outside the park, the Monument Valley Overlook on highway 163. You may recognize this view from the film Forrest Gump (by the way if you type Forrest Gump on Google Maps, you will easily find the location). You have small parking lots on the sides to be able to park and take your picture. Watch out for cars when you take your photo, some are driving fast!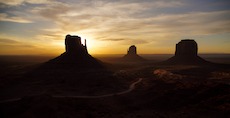 Sunrise at Monument Valley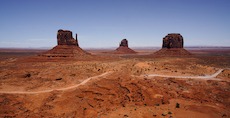 View from the Visitor Center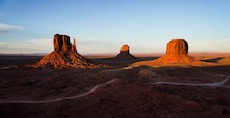 Sunset at Monument Valley
When you arrive in the park, you have a huge parking lot in front of the Visitor Center. And it is to the left of this Visitor Center that you have the best view of the park! We see these 3 big rocks out of nowhere! It's an incredible view! I really advise you to do this point of view for sunrise and sunset. The colors are so beautiful during these times. After admiring the sunrise, go for a walk in the Visitor Center store. There are some explanations about the place and the Navajo people which are quite interesting.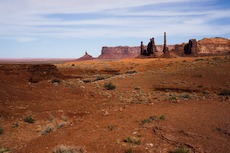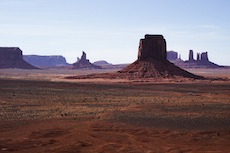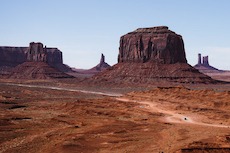 One of the top attractions to do in Monument Valley is the Valley Drive. It's an unpaved road down into the desert and gets you close to all those big rocks. Be careful with your car, if it is too low, the road is still not recommended. To give you an example, I went with a Kia Rio and it was fine, but a lower car would have had a harder time passing in some places. The goal is not to be stuck on the road because I don't know how much they will charge you for the service to be honest. To go around stopping at each point and taking pictures, it took me a good 2 hours. Try to do the route at the beginning or end of the day to have the most beautiful colors. Thanks to this unique road, you pass by all the beautiful viewpoints of the park, it's worth it.
OTHER ACTIVITIES TO DO IN MONUMENT VALLEY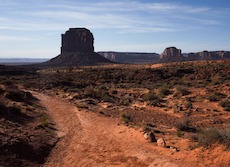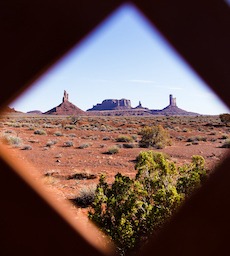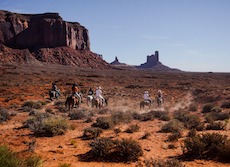 After watching the sunrise, I took advantage that it wasn't too hot yet to do the Wildcat Trail (4 miles / 6.7 km). There are very few walkable hikes in Monument Valley. Doing this tour on foot makes the scenery really impressive. To see this immensity of nature is incredible! Depending on your pace, the hike lasts between 1h30 and 2h. It is quite well indicated, difficult to get lost thanks to the small signs on the way.
Other activities are offered, such as horseback riding or the valley drive with their car and a guide. These tours are led by Navajo guides and apparently they take you to places you can't go without a guide. But if you want to take the Valley drive tour option by car, be aware that you have to be at least 2 to do so. I didn't do either activity for lack of budget but here is a link to book your activity in advance (click here). It is also possible to book on site, they have stalls in the main car park, but if you are in high season, it may be full.
Entrance fee to Monument Valley: $8 – €7,50 / person
You can see this landscape in so many places, I couldn't wait to see it for real! And I was not disappointed. Seeing these huge rocks in the middle of a desert is impressive! What I also really liked is that there are many viewpoints from which to admire the place.
I did Monument Valley in early June, and the day was starting to get hot but it was still bearable.
| Jan | Feb | March | Apr | May | June | July | Aug | Sept | Oct | Nov | Dec |
| --- | --- | --- | --- | --- | --- | --- | --- | --- | --- | --- | --- |
| | | | | OK | OK | OK | OK | OK | | | |
I stayed 2 nights and a day, and honestly, it was too long. Contrary to what I thought, Monument Valley is big but we don't have access to all the space. In a good half day, you will have done the visit. I highly recommend that you do a sunset and a sunrise, it's worth it!
WHERE TO SLEEP? MY ACCOMMODATION
HUMMING BIRD CAMPSITE
5 minutes from the Monument Valley entrance
Price: $35,50 – €34 / night for a tent spot
Click here to book a night.
A campsite really not far from Monument Valley. The location is ideal! There are several pitches available and a shared shower. And the best part is that you have a breathtaking view from the campsite. I recommend !
MY 3 TIPS TO VISIT MONUMENT VALLEY
Do not stay more than a day in Monument Valley, the places where you have access are quick to do.
The Valley Drive is accessible by car (I was in a Kia Rio and it went well) but be careful if it rained the previous days because the road is not concrete.
Watch a sunrise and a sunset at Monument Valley.