THE HISTORICAL CITY CENTER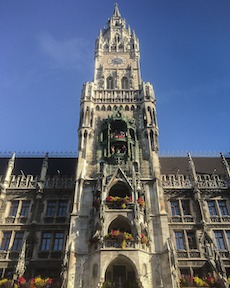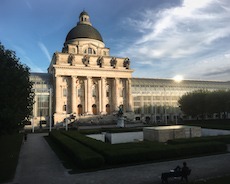 If you ask me what to do in Munich, I'll tell you to go to the heart of the city center on the Mary Square (Marienplatz) and admire the huge new city hall. This building is magnificent with unique architecture. Its little extra? The characters of the clock that moves at 11 a.m., 12 p.m. and 5 p.m. every day. To admire this monument from above, I went to the top of the bell tower of St. Peter's Church. There is a breathtaking view of Munich, and certainly one of the best views of Munich from anywhere. It's impressive ! And you cannot miss the view on the Cathedral of Our Lady (Frauenkirche). The exterior and interior of this cathedral are both huge and magnificent, with a Gothic style and a quite simple one inside. Another church I also visited in Munich is St. Michael's Church (Sankt Michael), which has a particular style on the outside but the interior is rich in architecture and paintings.
I kept walking around downtown Munich, which is surrounded by several doors, and I got lost in the streets to come across the Munich residence (Residenz Munchen), a very beautiful building with beautiful courtyards. It is considered to be the largest city center palace in Germany. Unfortunately, I was not able to visit the interior but considering the photos that I could see on the internet, I think it's worth it. Not far from there, I came across the Odeon square, where there is the magnificent yellow Theatine Church (Theatinerkirche). Like all Munich churches, it has a unique and incredible architecture inside and outside.
Are you hungry during your visits? I have two nice addresses for you. I rarely talk about where to eat in this blog except for unmissable addresses like the restaurant in Milan. If there is one traditional German restaurant to go in Munich it is the Hofbraühaus. A special atmosphere, full of life with a music group, large table to share and a simple menu with traditional German meals. This restaurant can seat more than 3,000 people, and once there, you can feel how big is the place. And for beer lovers, take a liter of the restaurant beer. Another German restaurant that I liked a lot, quieter, is the Ratskeller. Very good food in a beautiful setting, not to mention its great location. To eat on the road at noon, I recommend you go to the food market (Viktualienmarket) which is nice to discover on sunny days. Look at the opening hours before going there, it is not open on Sundays for example.
To visit the city center and be able to enjoy, a short day is enough.
Entrance price for the bell tower of St. Peter Church: 2 €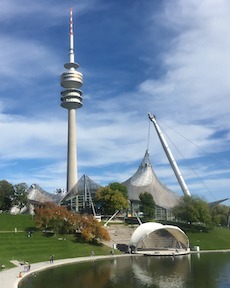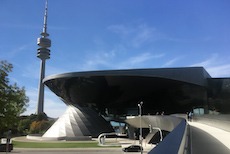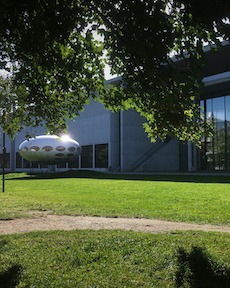 I got a little far from the city center to go to the art galleries (Pinakothek) and see the neighborhood. There are some strange structures outside, some are intriguing, but it is part of the charm. While walking around this place I was in the middle of a marathon. I went up their route and then arrived at the Royal square (Königsplatz) which has two museums on Roman and Greek art.
But I especially wanted to do the BMW museum, a museum that can interest all types of public. It tells the story of the brand, the different car models, the manufacturing methods, and also a reflection on the future of mobility. I visited this museum in 2 hours, a pleasant and visually beautiful journey. Next to this museum, there is the BMW Welt which is free. A real treat for fans of cars and motorcycles. Recent models on display and different shops. Even if you're not a big fan of car, it's pretty cool inside.
Entrance price for the BMW museum: 10 €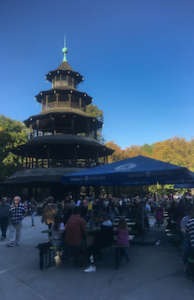 Beergarten in the English garden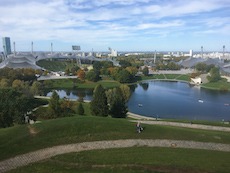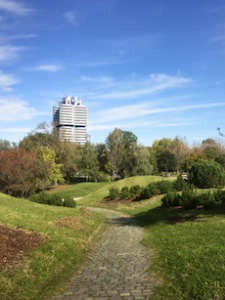 I really love the parks in Munich. When the weather is nice, it seems like everyone in Munich ends up in a biergarten or just in the grass to share a good time with friends or family. It's truly pleasent.
The first park I went in Munich is the Olympic Park (Olympiapark), next to the BMW museum, which was set up for the 1972 Summer Olympics. In fact, you will notice that there are many sports complexes inside the park. Impossible to miss its immense and visible Olympic tower. The park is so well laid out and maintained that it looks like there are no imperfections. There is also a small hill which gives a view of the surroundings of Munich and of this beautiful park.
I also went to the English Garden (Englisher Garten) which is a huge park with a lake. Several Biergarten are present with music groups to contribute to the good atmosphere. And the unmissable spot in this park is where the canal forms a natural wave which allows many surfers to surf. It's quite unusual and very cool to watch (I show it to you at the end of my video at the top of this page).
And if you stay in the center, the courtyard garden (Hofgarten) is a beautiful little park, pleasant to have a walk. When I went there, there was a violinist playing music. I found this park much quieter than the others.
To visit the 3 parks I just mentioned, it would take you a good half day, they are quite large.
Munich is unlike any other city in Europe that I have been able to visit so far. A unique atmosphere in parks and the city center, even in restaurants. During sunny days, it is a pleasant city to wander around and admire the architecture of buildings, churches, museums but also monuments. The large parks are a real plus to enjoy the city and discover a small part of German culture.
Favorable weather to visit Munich
| Jan | Feb | March | Apr | May | June | July | Aug | Sept | Oct | Nov | Dec |
| --- | --- | --- | --- | --- | --- | --- | --- | --- | --- | --- | --- |
| | | | OK | OK | OK | OK | OK | OK | OK | | |
Two days will be more than enough to visit the city, its large parks, and one or two museums.
WHERE TO SLEEP? MY ACCOMMODATION
Smart Stay Hostel Munich City
Mozartstraße 4,
80336 München, Germany
Price: € 16.90 / person / night for a dormitory with 8 mixed beds
Hostel website: click here
A large hostel not too far from the city center, not too expensive, with a 24-hour reception. A nice bar / restaurant in the hostel with a good atmosphere. By cons unfortunately I was in a room where the bathroom did not smell very good. The vagaries of hostels.
MY 3 TIPS
If the weather is nice, take a walk in the parks, there is a very pleasant atmosphere
If you want to be able to enjoy the city center without too many people, then get up a little earlier and get there around 7 am / 8 am
A free organized tour is offered from the town hall, you will learn a lot of anecdotes (don't forget the tips)