I went to New York city for only two days and then went to Canada. Coming from the airport, I took the NJ transit (price: $ 15.25 – € 14) which goes to downtown, very easy.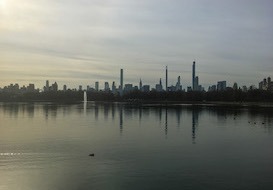 Jacqueline Kennedy Onassis Reservoir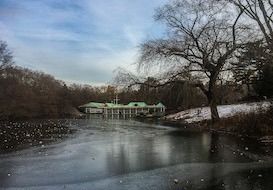 Next to the Bethesda fountain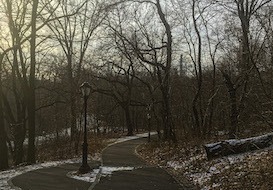 The day after my arrival, the hostel being next to Central Park, I went for a walk in this big Manhattan park. It's so nice to have such a big park in the city center. You can see the buildings in the distance. There are many runners in the park. I went around the big lake Jacqueline Kennedy Onassis Reservoir and then I went to the Bethesda fountain. There is a lot of entertainment in this area including an ice rink during winter. 2 hours to go around the park is enough.
THE FIFTH AVENUE AND BROADWAY STREET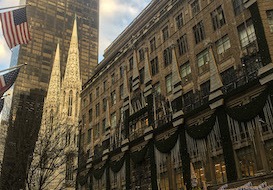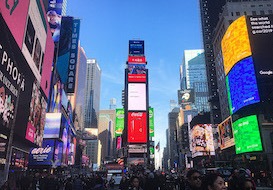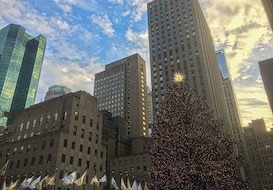 The Christmas tree at Rockefeller
From Central Park, I went to Fifth Avenue. This is one of the famous streets of Manhattan where many stores are present as well as Cartier, Tiffany & Co … You can find your happiness during a shopping session.
It is from this street that you can also go to the Rockefeller Center with its huge Christmas tree and its ice rink which they put on during the Christmas period. A must do during this period.
On this same street you can go to the Empire State Building. On the ground floor you have a small museum telling the story of the monument. A really well-made museum. Then I took the elevator to take in the magnificent view of New York city. They offer you to go to the top floor at a higher price but honestly you can see Manhattan on the 86th floor very well. Little tip, I went there around noon and there was nobody. But if you can go there for sunrise or sunset, the view must also be breathtaking.
I was also able to go to Broadway Street known for all its theaters. If you can afford it, take a seat to see a musical in one of the Broadway theaters. This street leads to Times Square. A touristic place with screens on all buildings. It's quite impressive to be in the middle of this crowd and its advertising screens even during the day or the evening.
A good half day is enough to visit everything.
Entrance fee Empire State Building for the main terrace (86th floor): $ 46 – € 42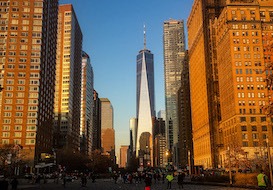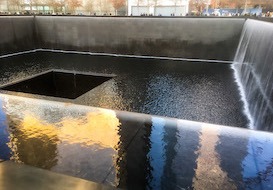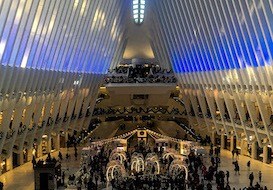 World Trade Center is in the business district of Manhattan. A very beautiful memorial (September 11th memorial) is in the heart of the square, where the twin towers were located. I could see the new tower that they built after. Next to this tower is the Oculus shopping center, beautiful architecture, it's worth seeing both inside and out. It all depends on the museums you do but between 1h and 3h is enough to visit the district.
LITTLE ITALY – CHINATOWN – GREENWICH VILLAGE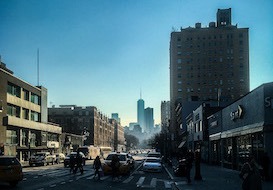 View on World Trade Center from the street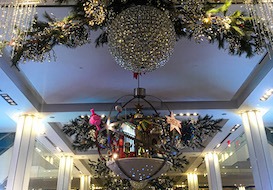 Christmas decoration in a street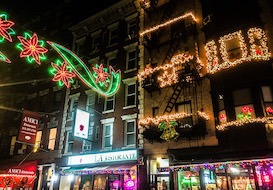 I passed in the small districts of Little Italy, Chinatown and Greenwich Village. Nice neighborhoods to walk around and see other atmospheres than the big avenues and building of New York. Little Italy is a lively and very decorated district during the Christmas period. Do not miss the Flatiron Building, a triangular building known in New York city.
SOUTHERN MANHATTAN AND BROOKLYN BRIDGE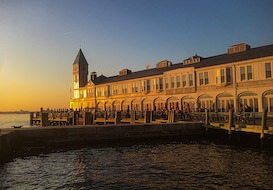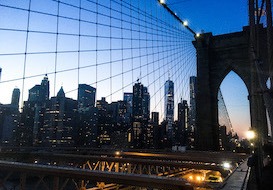 Sunset on Brooklyn Bridge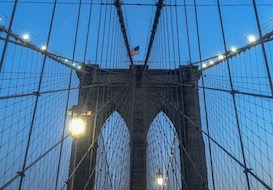 South of Manhattan, you can take a boat to visit Ellis Island, which I did not do for lack of time. I went over the Brooklyn Bridge, passing by the Fearless Girl statue, during the sunset, and it's beautiful! Admire the colors of the sunset over the tall buildings of Manhattan. A sight not to be missed. The bridge is big enough and it can take an hour to walk back by feet.
ICONIC MUSEUMS AND MONUMENTS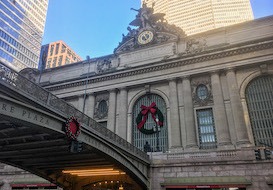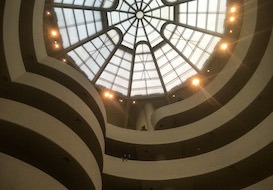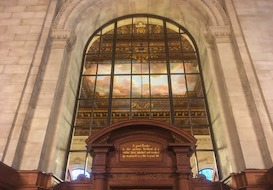 I've talked about Rockefeller Center and Empire State Building before, but there are so many monuments and places to see. I went to the Grand Central Terminal which is a beautiful train station in the city center. There is even a market in the station to see. Then I went to the New York Public Library. A very beautiful building with intact paintings on the walls and ceilings. And finally during my two day visit, I went to the Guggenheim museum. A museum of modern art with unique architecture which makes it easy to visit the whole museum. It all depends on the museums or monuments you visit but it can last between 1h and 5h. There are many websites that list all the activities to do in New York city.
Entrance fee to the Guggenheim museum: $ 25 – € 23
Entrance fee to the New York National Library: free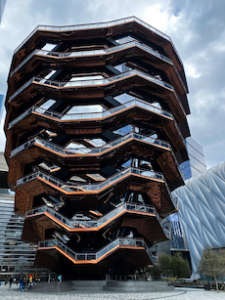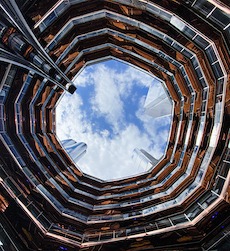 If you like original architectures, then I advise you to go see "the vessel". A brown staircase that makes an infinite loop. This staircase was created in 2017 following the redevelopment project of the Hudson district. When I went there, we could not climb on it but we could go inside, and see this impressive architecture. It's super original, I'll let you judge by the photos.
Entrance to the vessel only on the ground floor: free
THE STATUE OF LIBERTY AND ELLIS ISLAND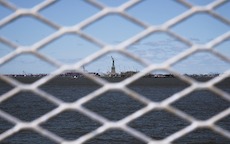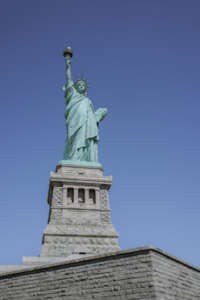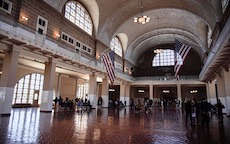 When I came in 2019, I did not have time to make this visit. So when I went back there in 2022, it was one of my priorities. And it's really amazing! Embark on the official Statue City Cruise to access the 2 islands. I advise you to buy it online 2 or 3 days before to have access from the morning and be able to take the time you want on the islands. I put the link at the end of this paragraph. You have two possible places to take the Ferry, by New Jersey or by Manhattan. If there are tickets left, take Manhattan, there are subways and buses that go directly to Battery Park, it's super easy to access. To take the boat, I advise you to arrive 30 minutes before because you go through a security check and if there are a lot of people it can take time. After a few minutes by boat (put yourself on the right side for the best views on the way) you will be on Liberty Island where the famous Statue of Liberty stands! How impressive it is from the top of its 46 meters! When you arrive, take an audio guide, it is included in the price. It will allow you to stroll quietly while listening to the history of the statue, and its meaning. Many details are given as why does it have this color today, how was it designed and financed… A museum is on the island and will allow you to have additional information on the statue, it's very interesting and very well done. We don't miss anything. You can also admire the beautiful New York skyline from the island! I did the tour in 1h30 / 2h with the audioguide and the museum.
Then I took the boat to Ellis Island. There are boats quite often, a sign is placed at the boarding level, so you can check the timetables. When I was there it was about every 20 minutes each time. The trip between the Statue of Liberty and Ellis Island really doesn't take long, the islands are right next to it. On Ellis Island you have a big museum which is in front of you when you arrive. Pick up an audio guide which is included in your pass, and go up to the 1st floor to follow the "Ellis Island Experience" route. A long journey that gives you all the details about immigration to Ellis Island, its history, the process through which each person went. You also have details about the origins of the people who migrated, why, and what they became. There are many interesting stories to discover. By visiting this museum, I found that we realized what these people had experienced. It is for me a visit not to be missed because they say that 40% of Americans have someone in their family who has been there. Impressive isn't it? The visit lasted about 2 hours. And I haven't read every panel and I haven't done the temporary exhibitions. So plan wide if you like to take your time. As you will have understood, to do this complete Liberty Island and Ellis Island tour, you will need about 4 or 5 hours.
Price of the metro ticket to go to Battery Park: a single ride ticket of $3 / €2.75
Price of entry and boat trips: $24 / €22
Click here to book directly from the site. I took the "General Admission" ticket.
VIEW OF MANHATTAN BRIDGES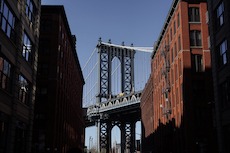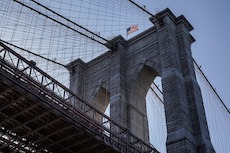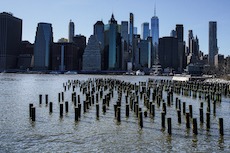 View from the Brooklyn Bridge Park
One place I absolutely wanted to see, which we see a lot on social media, is the view of the Manhattan Bridge between the 2 buildings from Washington Street in Brooklyn. So obviously you have the instagram vs reality version, you won't be alone during the day. So go early if you want to be quiet, something I couldn't do because of my timing. Once you have taken this photo, take the opportunity to take a walk along the water. Little photo bonus, go to Old Pier 1 in Brooklyn Bridge Park, you will have a magnificent view of Manhattan. To do the walk, I took a little less than an hour. But there is enough to go further and be able to walk around. The park is really nice, I really liked the atmosphere there.
If you like the Christmas spirit, New York city is perfect for living it to the fullest in all stores and streets. Trees, decorations and Christmas markets on every street corner. That's wonderful.
New York is a beautiful city to visit and not only on summer.
| Jan | Feb | March | Apr | May | June | July | Aug | Sept | Oct | Nov | Dec |
| --- | --- | --- | --- | --- | --- | --- | --- | --- | --- | --- | --- |
| | | | | OK | OK | OK | OK | OK | OK | | |
Honestly 4 days is enough to visit Manhattan and the museums that interest you. And an extra day to go outside, why not to Brooklyn and Coney Island?
WHERE TO SLEEP? MY ACCOMMODATION
HI NYC HOSTEL
891 Amsterdam Ave,
New York, NY 10025, USA
Price: $ 46 – € 42 / night / person in mixed dormitory
Hostel website : click here
A large, fairly pleasant hostel with many common rooms and offering various services such as a cafeteria, lockers. Some activities are organized every day like guided tours (fee), yoga … And the huge advantage of this hostel is its location. North West of Central Park, you can reach the center by subway (15min) or by foot (1h) very easily. A real favorite for a big city hostel.
Q4 Hotel
29-09 Queens Plaza N,
Long Island City, NY 11101
Price:  for a night / one person in a dormitory room: $41,50 – €34,50 / night / person in a dormitory bed
Hostel website: click here
A hostel in Queens that beats any competition in Manhattan, because you are 5min from the subway and in less than 30min by transport in Manhattan. Honestly it's worth it. The staff is nice and the rooms are clean. I was in an 8-person dorm with a bathroom, and I didn't feel like we were on top of each other at all. The price / quality ratio is really good.
MY 3 TIPS
Go over the Brooklyn Bridge at sunset
Go on top of one tower to admire the view but no need to do all the towers (Rockefeller, Empire State building, One World Observatory)
Go to New York city during the Christmas period