THE AWESOME NIAGARA FALLS
WHAT TO DO IN NIAGARA FALLS? MY JOURNEY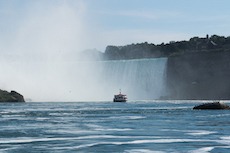 View from the boat at the Niagara falls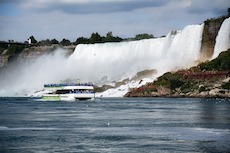 View from the boat at the Niagara falls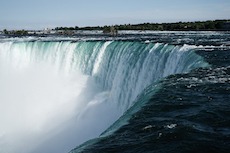 View from the top at the Niagara Falls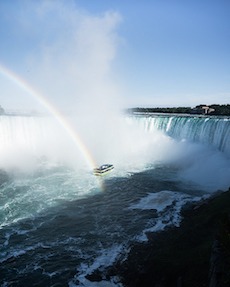 View from the top at the Niagara Falls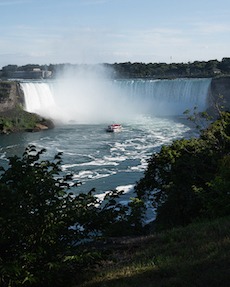 View from the top at the Niagara Falls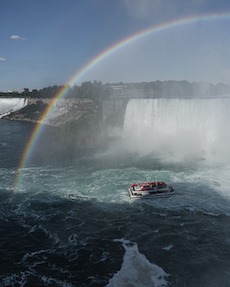 View from the top at the Niagara falls
First of all, if you are in Toronto, I advise you to make the round trip during the day, whether by bus or by car. Niagara Falls can be visited in a day, or even half a day, so no need to sleep there. Flixbus has a lot of round trips from Toronto, in 2 hours you are there.
Once you get there you will be on the Canadian side which many people say is the best side as you can see the falls so well! And you will see, they are impressive! You will find yourself at the top of these huge 57m circular falls! What surprised me the most was the width of these falls! You have to see it to understand this incredible sensation!
If you have a bit of time, I advise you to take the City Cruise boat which goes to the falls for a few minutes. The excursion lasts about thirty minutes in all, and depending on the period you are there, it is possible to take a ticket on site. They seemed to say they have plenty of room. For example, I was there in high season and I could take the slot I wanted. Once on the boat, do not necessarily go to the upper floor of the boat, go to the front on the bottom floor to have more space than at the top. Once on the boat, it moves slowly through the falls. I warn you, you will be completely wet! I reassure you they give raincoats (which you can give them back for recycling). The views from below are as impressive as from above. It's great to be able to approach them up close! A great experience!
Then, stroll along the edge of the cliffs on the boulevard. You will have great views of the falls.
I only stayed 3 hours there and honestly it was more than enough for me. I haven't done all the activities they offer so it depends on what interests you the most, such as the Journey Behind the Falls tour  which was recommended to me quite a bit. The falls are surrounded by a large town where there are quite a few activities. I'm sure you can find your happiness there.
Boat price: CA$37 – €27.60
We hear so much about these impressive Niagara Falls. And I must admit that you have to see them in person to understand the feeling. You will not be disappointed to have made the round trip.
I was there at the end of July, and the weather was perfect! A beautiful blue sky as we like.
| Jan | Feb | March | Apr | May | June | July | Aug | Sept | Oct | Nov | Dec |
| --- | --- | --- | --- | --- | --- | --- | --- | --- | --- | --- | --- |
| | | | | OK | OK | OK | OK | OK | | | |
It all depends on what you do and your budget. In half a day you will have toured the falls with one activity. There are plenty of activities to do in Niagara Falls so it's up to you. But I would not necessarily recommend staying there for more than 2 days.
MY 3 TIPS TO VISIT NIAGARA FALLS
Do not necessarily sleep there. In a day, or even half a day, you will have done the trip.
Expect to have a whole town around the falls, and tall buildings.
Depending on the period you are there, you will certainly be able to buy tickets for the attractions on site, without reservation. But check before going if there is space for the next day, you never know.