WHAT TO DO IN OAXACA? MY JOURNEY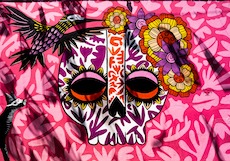 Street Art in Jalatlaco district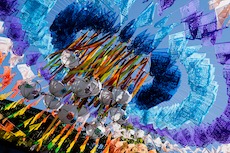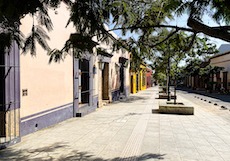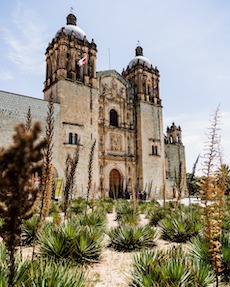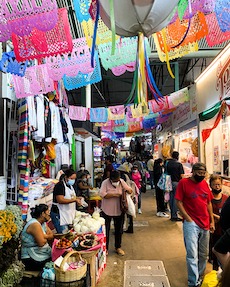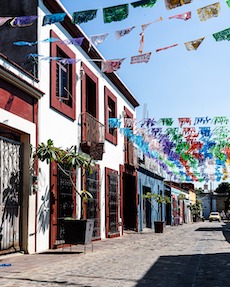 Oaxaca is a very pleasant city! There's a lot of entertainment during the day, especially on weekends. The streets are colorful with a lot of flags between the facades, there are a lot of shops, a few pedestrian streets. We get lost with pleasure.
The main square, the zócalo, is the heart of the city. There are lots of tents with handicrafts that you can buy as a souvenir. In this square there's the government palace (Palacio de Gobierno) which isn't possible to visit. There's also the Cathedral of Oaxaca (Catedral de Oaxaca). It's very pretty, but I admit that the most beautiful one in Oaxaca is Santo Domingo (Templo de Santo Domingo de Guzmán)! It's beautiful from the outside! From this place you have the pedestrian calle de Macedonia Alcalà, which seems to be the main street.
Not far from this street is the city's main theatre, Teatro Macedonio Alcalà. Above the entrance door, you can observe the symbol of the city, the head of a woman with flowers. Different legends exist in relation to this symbol. Ask the locals, and see which version they tell you, it could be fun. Right next to the theater, there's a super cute little alley, Antiguo Callejón de San Pablo with lots of umbrellas hung between two facades. It's very beautiful ! Perfect for beautiful photos. The library is super pretty and has some art exhibits. It's a place that I really liked. Calle del 5 de mayo and calle del general Porfirio Díaz are two beautiful streets to see in the city center.
If you want to see another place with art, then I advise you to go to Centro Fotográfico Manuel Álvarez Bravo. It's a small museum that exhibits beautiful photos. The inner courtyard itself is very pretty, with a small pond in the middle. In about thirty minutes you'll have visited it.
A district not to be missed in Oaxaca is the Jalatlaco district! You'll immediately fall in love with this colorful district full of street art! Flags between the facades, little shops, it's very pleasant to walk there. The unmissable streets are calle de Ignacio Aldama, calle del 5 de mayo and calle de Miguel Hidalgo. These 3 streets have for me the most beautiful murals. It's here that we find the influence of the city on the Disney movie "Coco".
Another place to see in Oaxaca is the Aripo Gallery. A small gallery with handicrafts from the region. You can also find some of these items at the Bonito Juárez Covered Market (Mercado Bonito Juárez). Lots of stalls with souvenirs and small items to buy. It's super super cool.
If you're hungry, I recommend the Mercado 20 de Noviembre. Lots of food with specialties from the region, including tlayuda! A huge salty crepe where they put different ingredients in it like black beans, salad, cheese, and what they have on the menu. You can even try grasshopper. Not too bad.
To go around the city center, I advise you to take the free guided tour, in English. For more than 2 hours, the guide showed us what there was to see in the center, but he also spoke about the traditions of the city. Why there were little flags between the houses, what did the big dolls that you can see in the street, mean… It was very interesting! The tour starts from the main square, the Zócalo, and you have to send them a message on whatsapp to tell them you're in. Click here for all the information. When we were there, the tour was every Friday, Saturday and Sunday at 11am. Check with them if it's still that.
Price of the free guided tour: it's free but normally this type of concept works with a tip at the end.
Entrance fee Centro Fotográfico Manuel Álvarez Bravo: free
HIERVE EL AGUA & MEZCAL TASTING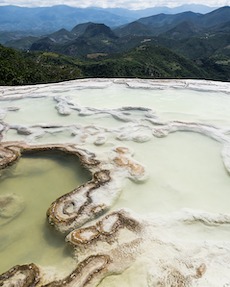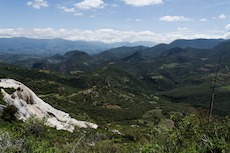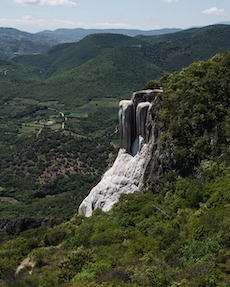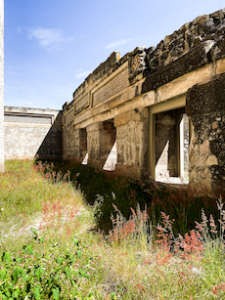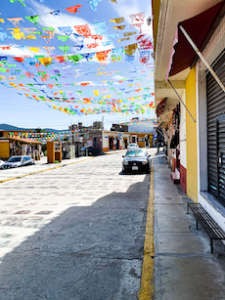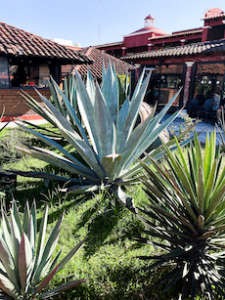 To visit the petrified waterfall Hierve El Agua and do a Mezcal tasting, we wanted to try it without an excursion to save money. And that was a mistake… Firstly because we lost a lot of time making the trips, and in the end we spent almost the equivalent of the price of the excursion while seeing less things. But it's up to you.
To go to Hierve el Agua, you have 2 solutions. Either take the bus that leaves from the Central de Autobuses Segunda Clase station, or take a collectivo next to the estadio Eduardo Vasconcelos, in front of the Volkswagen department store. The collectivo goes to Tlacolula, and then you have to take another one that goes to Mitla. After several minutes of discussing with a collectivo, we managed to negotiate going directly to Mitla. It's forty minutes from Oaxaca to Mitla. But it's not finished. You will arrive near the next step, a small open truck with benches on the back. But this is where arriving too early is not necessarily good. In low season, we waited 1 hour for people to arrive. Because the driver waits until you are 12 to fill the truck and leave. If you aren't full, he divides the total price by 12. If you are full, you should pay around 75 pesos per person. The journey takes between 40 minutes and 1 hour, and you won't be the most comfortable. The roads are not in good condition, and you're sitting on a metal bench. To go there, you pay a toll (which you won't have on the way back because it goes by another way). Then they charge you the entrance when you are in the truck. When you go out, follow the path that goes towards the natural pools.
From there, you'll have the most beautiful view of the huge petrified waterfall in the middle of the vegetation and the valleys! It's beautiful and super impressive! This geological formation is due to a low water flow, mixed with water saturated with calcium carbonate. From this point of view, you can swim in the natural pools. It didn't necessarily make me want to, but a lot of people went there. You have waterfall formations at your feet with small natural pools of different colors depending on the depth of the water. That's wonderful! If you go up the basins, you have a path. It's not super complicated, but with the sun, it can become so because there are few shadows. This short walk allows you to reach the foot of the petrified waterfalls. This is another equally impressive point of view! Count about 2 hours on site to take photos and do the short walk. You can easily stay there longer if you go to the pools. Don't expect to be the only ones there. We were in low season and there were already a lot of people. The park isn't very big. It's really worth it because it's rare to find yourself in front of such a landscape! Then return to where you were dropped off. Once again, he will have to be patient because he is waiting for the van to be full to leave. On the way back, it takes another, more dizzying path. Don't look too much at how they drive because I was a bit scared sometimes, but everything went well.
When we arrived in Mitla, we visited the town and the ruins. We didn't go inside the ruins because you can already see well from the outside, and it's not very big. Then, we wanted to go to a Mezcalería, the Mezcal Mal de Amores. To get there, we had to take a taxi which dropped us off directly in front of it. The Mezcal facto ry we went, offers tours in English all day. Just walk up to the bar and say you want to take a tasting tour. The tour and the tasting are free, you can leave a tip if you want. During the guided tour, they show you all the steps, the different types of Algave, and the instruments used to make Mezcal. After the visit, you obviously have a Mezcal tasting. You can taste kind of whatever you want. Count about 1 hour for the visit and the tasting. I really recommend this place because you can better understand how Mezcal is made, and how it tastes. They also do complete tours where you go to the Agave fields, but they don't have many tours. You can contact them on WhatsApp for more details on schedules and availability. For the return, we waited in front of the Mezcalería for an available collectivo, to take us back to Tlacolula, and then another to Oaxaca.
A visit that we didn't do because the collectivos and buses didn't stop there, but that all excursions offer, is Tule. There's a very old tree, famous in the region! They say if you look closely in the tree you can see silhouettes of animals. Excursions also offer to visit craft villages. It can be interesting to see how they work with certain materials. In short, for this tour, I really advise you to take an excursion.
One way bus price Oaxaca – Mitla: 20 pesos
Price for one way by collectivo Oaxaca – Mitla: about 50 pesos
Price to go in the truck Mitla – Hierve El Agua: 75 pesos
One-way toll before arriving at Hierve el Agua: 20 pesos
Entrance price Hierve el Agua: 50 pesos
Taxi fare from Mitla to the Mezcalería: 50 pesos per person (150 pesos in total)
Visit and tasting at Mezcal Mal de Amores: free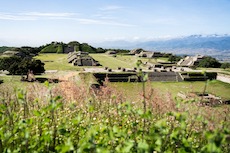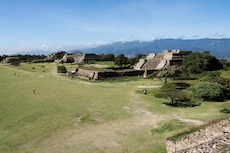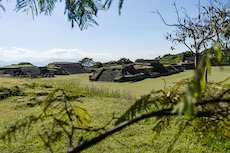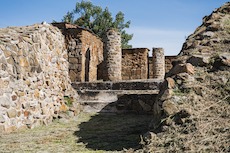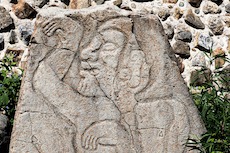 To go to the ruins of Monte Albán, there are different bus companies that go directly there. We went there with Viajes Turisticos Mitla (email contact for timetables: vmitla@hotmail.com). They have bus every hour. It may not be the cheapest but at least you have a meeting point and fixed times. Count about thirty minutes to go to the ruins.
For these ruins, I really advise you to go there from the opening, and you will understand why. When you get to the entrance, follow the main path. Then the path goes up on the left, take it. Climb on one of the first platforms to have an incredible view of all the ruins, with no one! It's just amazing! These ruins are part of my top 5 ruins in Mexico. We realized the size of the archaeological site, and the beauty of this place perched on a valley. Take a walk among these ruins. What's good with these ruins is that there are explanatory panels everywhere, unlike those of Teotihuacán. So we were able to know a little more about the place even without a guide. These Zapotec ruins date from 200 – 600 AD. It was one of the most important cities of the Zapotecs. The place is quite well preserved. We visited the site during 2 hours, and we could have stayed there for a third hour. We think it's not big but at the end there are a lot of places to see.
Round trip bus price Oaxaca – Monte Albán: 90 pesos
Entrance fee Monte Albán: 85 pesos
Oaxaca is a city that I really liked! An incredible atmosphere on weekends, super cute neighborhoods, a real pleasure to discover. There are also a lot of things to discover around this city, it's great! A beautiful city and region to discover.
We were there at the beginning of October, and we had great weather.
| Jan | Feb | March | Apr | May | June | July | Aug | Sept | Oct | Nov | Dec |
| --- | --- | --- | --- | --- | --- | --- | --- | --- | --- | --- | --- |
| OK | OK | OK | OK | OK | | | | | OK | OK | OK |
I think 3 days are enough to go around and visit the city.
WHERE TO SLEEP? MY ACCOMMODATION
HOSTAL SAN PUEBLO
Avenida Hidalgo #119, 68000 Oaxaca City, Mexico
Price: €8.50 / night / person for a private room and shared bathroom.
Click here to book.
Accommodation right next to the city center. Rather made for people traveling with several people. Shared kitchen and bathroom are ok.
MY 3 TIPS TO VISIT OAXACA
Sleep close to the city center.
Take an excursion to Hierve el Agua and other points of interest. You will save time, and it isn't necessarily much more expensive.
Eat at the market, it's super good and cheap.