WHAT TO DO IN OTTAWA? MY JOURNEY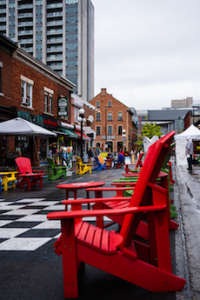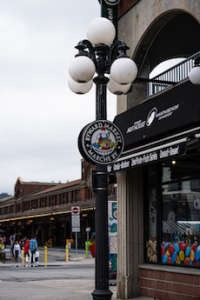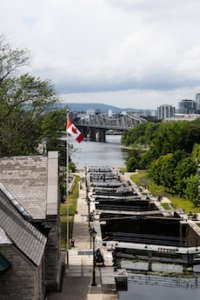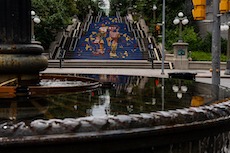 Stairs behind Ottawa letters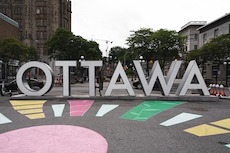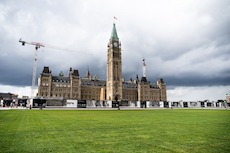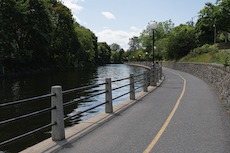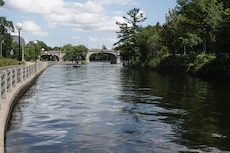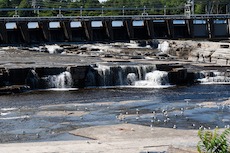 There are lot of things to discover in Ottawa while walking around. How about starting the visit with a photo in front of the letters from Ottawa? There are located near the Byward Market, you can't miss them. It will take a little patience to take your tourist photo, but it's still less bad than in Las Vegas. Next door is the Byward Market which has a few restaurants and a market. The architecture of the building is very beautiful! If you want to eat, go to the restaurants next to the market, it will be cheaper and just as good. Save some space in your stomach for dessert, and grab a beaver tail at the Beavertails stand near the market. Yes in Quebec, we eat beaver tails (I reassure you, not real ones). It's quite good.
After visiting this small neighborhood, climb the decorated stairs, behind the Ottawa letters, to go at Major's Hill Park. A very nice park that has great views of the city center. From there, you can go downtown through the Ottawa Locks. These staircase locks are very beautiful! And if you're there at the right time of the day, you might be able to see them in action. The manipulations are still largely done by hand. You will be able to observe people turning cranks to try to regulate the level of the water, and to make the boats pass. It looks quite physical, and it takes about 2 hours for the boats to pass through these locks. It's impressive! From this place, you can see the pretty Alexandra Bridge which is more than a century old.
Then, take Sparks Street which is a fairly quiet pedestrian street on weekdays. There are a few shops and restaurants. To retrace your steps, go through Wellington Street, which has a lot of historical and political buildings. You will pass in front of the Supreme Court, Parliament Hill, the National press building, and so on. Panels are present to explain the history and importance of each building. It's very interesting. There are sometimes guided tours that are organized if you are interested. For this, go to the tourist office of the city. Count half a day to visit this part of the city center, a little more if you do the Confederation Boulevard which goes through the important buildings of the city. Signs with the way to follow are available everywhere in the city.
If you fancy a stroll along the river, then there is a lovely walk from the locks to Dow Lake, along the Rideau Canal which is now a UNESCO World Heritage Site. It is a very pleasant 2 hour walk, sometimes in the middle of town, sometimes more peaceful. You can also do it by bike. When you think that during the winter all this walk can be done by iceskating on the canal directly, it's incredible! Then you will arrive to Dows Lake which is nice as well. Take the opportunity to take a break or rent a boat. To return to the city center, go through Preston Street which has a Little Italy district with shops and Italian restaurants (of course). Not a must, but if you're in the area, take the opportunity to stop by.
A place to see that is very little mentioned in the blogs is the Chaudière Falls. It is a very large hydraulic dam, in the city center. There are several small waterfalls, it is quite pretty. If you have time, I think it's still worth seeing because it's part of Ottawa's industrial history.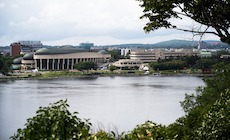 Canadian Museum of History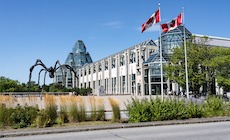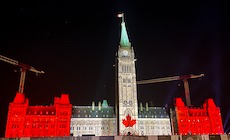 Light show at the Parliament
Ottawa has, in my opinion, two very interesting museums.
The first is
the Canadian Museum of History
. An impressive museum both inside and out. When you enter the museum, you cannot miss the huge totems located on level 1. I did not do the whole museum but I visited level 3 and 4 on the history of Canada. The museum is very well done and you learn a lot about the country. They tell the story of past civilizations until today. Frankly, you could spend hours in this museum, it all depends on your interests. It is for me a must in Ottawa.
The second is
the Museum of Fine Arts
. I didn't do it because I'm not a big fan of modern art, but just to see its exterior, it's super beautiful! In front of the museum, there is the huge spider-shaped sculpture, called « Maman », known all over the world.
If you are going to Ottawa in August, there are few events that are organized, click here to see them (https://ottawatourism.ca/en/calendar-of-events). For example, there are the large casino lights which are apparently very impressive to see. I couldn't see them, so I still managed to set my schedule to do those in Quebec City, which are magnificent! We were still able to see the outdoor sound and light show on the Parliament. This thirty-minute show deals with various subjects on the history of Canada, and its population. It's a very nice show! I don't know if the theme changes every year, but in any case it was really well done.
Admission price of the Canadian Museum of History: CA$21 without taxes. Every Thursday they do free admission from 5 to 7 p.m. Tickets must be reserved online on the website. 2 hours are not enough to see everything but if you are on a small budget, it is still ideal.
Admission price of the Museum of Fine Arts: CA$20 without taxes
Price of the sound and light show on the Parliament: free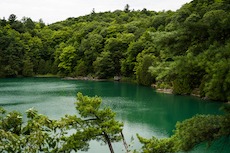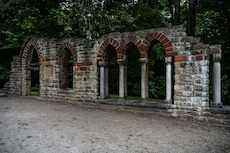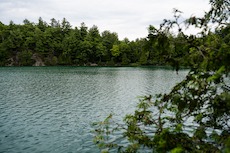 Gatineau Park is a large park next to Ottawa. It is quite easy to access, you can go there by bus. Click here to find the best route depending on where you are staying. There are different walks to do in the park but here are two that I recommend.
First, Pink Lake. So no, it is not pink, but depending on the season, it changes color. When we went it was turquoise green. It looks nice ! You can easily go around the lake in 1h, sometimes on wooden paths, sometimes on a path, but all the time by the lake. I really liked this little walk, it's super beautiful!
Then, another interesting point to see in the park is the Mckenzie-King estate. It is a garden that belonged for more than 50 years to the 10th Prime Minister of Canada, William Lyon Mackenzie. It's super cute, we see a small house with some ruins in the garden. It really has its charm. We could stay there for a good hour in this part of the park.
Ottawa is a beautiful city to discover. There are many pleasant walks to do in and around the city.
I was there in early August and had great weather. It was warm but not too humid, so perfect for visiting a city.
| Jan | Feb | March | Apr | May | June | July | Aug | Sept | Oct | Nov | Dec |
| --- | --- | --- | --- | --- | --- | --- | --- | --- | --- | --- | --- |
| | | | | | OK | OK | OK | OK | | | |
I think 2 days are enough to visit the city and its surroundings.
MY 3 TIPS TO VISIT OTTAWA
There are often events in the city, check the Ottawa Tourism website.
It is a city to discover by walking, have good shoes.
Look at the museums' websites because sometimes they have promotions on admissions.