WHAT TO DO IN PANTANAL? MY JOURNEY
To start the year 2023, we decided to do a 3 days and 2 nights excursion in the Pantanal. We contacted several agencies, and we finally went with Eco Adventures Travel which was the most interesting in terms of quality / price. Here's our program.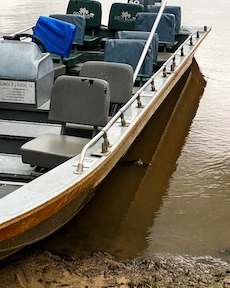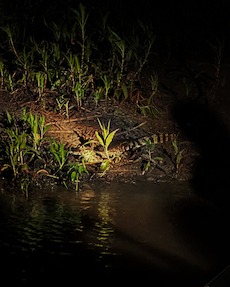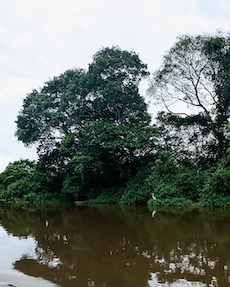 Meeting at 9:30 am in front of our accommodation in Campo Grande to go to the center of the city, and take a mini-van. Most agencies pick you up from Campo Grande if you don't have a car. The journey's still quite long, we arrive around 3 pm (with a stop of about forty minutes in a station for lunch) at a place where the lodge comes to pick us up by jeep. Then it's off for about thirty minutes in an open jeep to the lodge. We check-in in the main room where there's the buffet, a bar and a pool table. From there, we immediately see many animals for the first time such as capybaras, jabirus, blue macaws… We understand immediately that we're in the middle of nature, it's so different for us! They explain a bit about how the lodge works, show us our room and then let us walk around. Every morning, the team puts the day's activities on a board to know where to go and at what time. It really looks like a holiday camp with free choice of activities. We waste no time, the first day we start with a rather unusual activity for us, piranha fishing. The lodge being on the edge of a river, it's quite practical for this activity. They give us what we need and explain how to do it. I didn't expect so much strength from a small fish. It's impressive, there are a lot of them, and also catfish (but you can't eat them), we caught a lot of them. When there's enough for dinner, the team stops us so that we don't catch too many.
Then, around 6 pm, we leave by motorboat on the Miranda River for a good hour and a half to admire the sunset and find animals. Most of the visitors spoke Portuguese and the guide managed to give explanations in Portuguese and English. I had never seen a landscape like this. That's wonderful! We sail on a brown river surrounded by dense vegetation. When the sun goes down, we can see the eyes shining in the light of the caimans, and also of the fireflies. Being the rainy season, we saw thunderstorms. The landscape's so flat that we could see them from far away. Then we return to eat at the buffet. They offer quite a variety of dishes.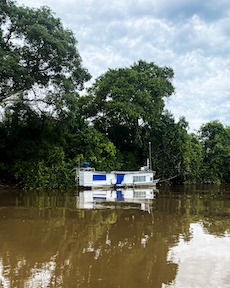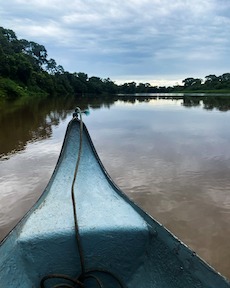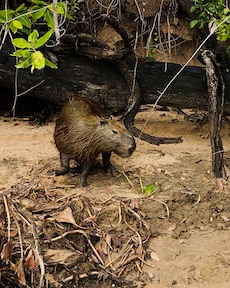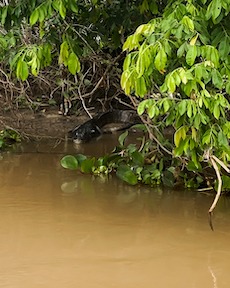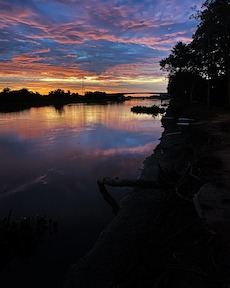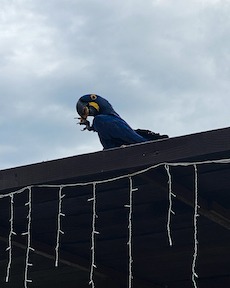 The next day we have breakfast early because we leave at around 7:30 am for another motorboat ride, but this time much longer, about 3 hours. We could see lots of different animals compared to the day before. We saw howler monkeys, capybaras, caimans, blue macaws and herons. The ride's just beautiful. Sailing for hours in this type of landscape is really magnificent, I really liked it. It's amazing to see such a flat landscape for miles around us.
After lunch, and a nap, we leave for another excursion, canoeing in the river. But this time we aren't going to the same place as usual. Helped by the current, we paddle quietly for 1h30 along the river looking for animals. We didn't see much but we were able to enjoy being alone surrounded by this landscape and this calm. It was really pleasant. For the return, the guide hooks our boats to his motor boat to return more quickly to the lodge. Tonight is a quiet night for us.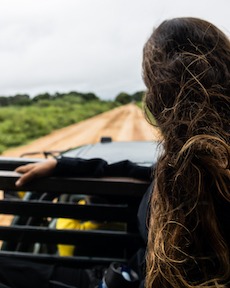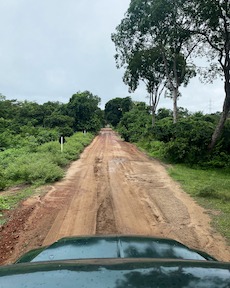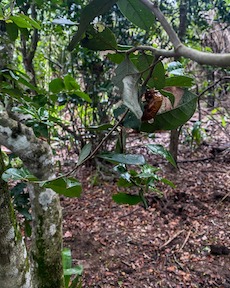 Another day that starts early, meeting at 7:30 am for a Jeep tour. There, it's still a flat landscape that we discover, but different animals, such as toucans, agoutis, a deer from the Pantanal! We drive on an unpaved road for miles looking for animals. During this excursion, we get out of the car to walk around for an hour. On the way, the guide explains the fauna and flora to us. And there… we see a fresh track of Jaguar! Unfortunately we didn't see any during our stay, but it wasn't necessarily the best time either, and we knew it. Then we return to the lodge around 12 pm for lunch. The jeep ride was quite different from the river ride, it was nice to see something different.
Around 2 pm, we leave the lodge, direction Bonito, our next destination. Normally the agency takes you back to the same place, but for a supplement, they agreed to drop us off elsewhere, depending on what is possible. We had looked, it was cheaper to pay a little more for the transfer with the agency than to return to Campo Grande and take a bus to Bonito.
Price of the excursion with guide, transport, food (2 breakfasts; 2 lunches; 2 dinners), accommodation, activities: €300 for 3 days and 2 nights in a mixed dormitory with private bathroom.
I really enjoyed these 3 days in the Pantanal. To be in the middle of this immense nature, with the animals so close to us. The excursions were good and varied, and the guides were excellent. So even if we didn't see a jaguar, the experience remains incredible!
We were there at the beginning of January and it was the rainy season. But it was certainly not the best time to see Jaguars, even if it's still possible to see them during this period because we were able to see fresh tracks. Ask the agencies when is the best time to see them.
| Jan | Feb | March | Apr | May | June | July | Aug | Sept | Oct | Nov | Dec |
| --- | --- | --- | --- | --- | --- | --- | --- | --- | --- | --- | --- |
| | | | | OK | OK | OK | OK | OK | OK | | |
The formula of 3 days and 2 nights is perfect. This allows you to do all the activities without doing too much or too little.
WHERE TO SLEEP? MY ACCOMMODATION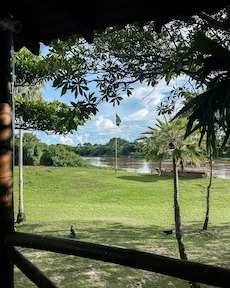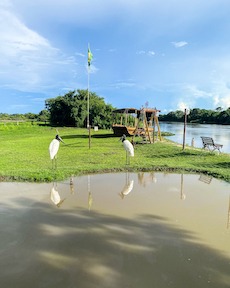 PANTANAL JUNGLE LODGE
Rodovia MS 184, Estrada Parque km 8,
Corumba – MS, 79500-000, BrazilAccommodation next to the Miranda River. When we arrived, we immediately saw all the animals there including caimans, blue macaws, capybaras, etc. The lodge has several cabins. We were in a dormitory but being the low season, we were finally the only ones in the room with private bathroom. Meals are in a large room with bar and pool table. There's also a swimming pool if you want. It's quite comfortable.
MY 3 TIPS TO VISIT PANTANAL
Take mosquito repellent with you because they attack! If you can also take long-sleeved t-shirts and pants, that's even better.
Activities are posted on a board near the reception hall every day, don't miss them.
Before taking an agency, check if there's a guide who speaks English because this isn't the case everywhere.