WHAT TO DO IN PHILADELPHIA? MY JOURNEY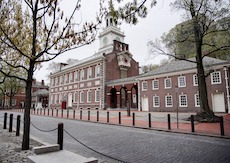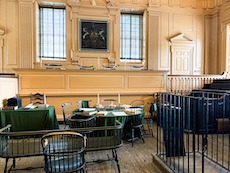 Inside the Independence Hall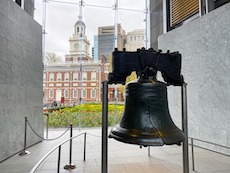 Philadelphia is a city that has had a very important role in the history of the United States. It is here that the Declaration of Independence and the Constitution of the United States were signed in the 18th century. To find out more about this part of history, go to the Independence hall. During certain months, you must reserve your slot (click here). Once through security, wait for your guide so you can enter into the building and tell you its story. The building is original and very well preserved! It is always impressive to see places that have marked the history of a country. After your visit, go to the Congress hall which is on your right when you are in front of the independence hall. A guide awaits you to tell you his story. These 2 visits can be done in about an hour.
Then, continue your tour with one of the nation's greatest symbols of freedom, the Liberty Bell. You can go there whenever you want (according to the opening hours of course). Inside, you have a small exhibition that explains the history and importance of this bell. It has often been used as a symbol during demonstrations for equal rights. 30 minutes is enough to visit the exhibition.
To continue your historical visit, you also have several museums that you can discover in Philadelphia. I didn't make them, but I'll let you plan your visit. Know that if you do Washington afterwards, most of the museums in this city are free.
Visit of Independence Hall: $1
Admission to the Liberty Bell Museum: Free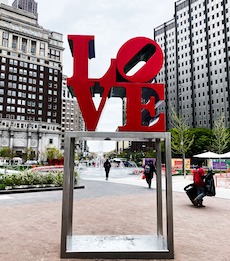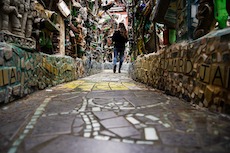 Philadelphia's Magic Garden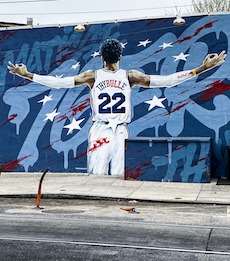 I never expected to see so much art in Philadelphia. Many statues are present in the city, such as the famous Love statue, or the statue of Rocky Balboa. These statues are mostly found on Avenue Benjamin Franklin Parkway. You can see a lot of street art too, especially in the Fishtown district.
You also have several art museums. There is one that I absolutely wanted to see with my own eyes, it is Philadelphia's Magic Garden. A place created by the artist Isaiah Zagar, this museum is a work of art in itself. A mixture of everyday objects and mosaic frescoes, it's impressive to see. Our eyes no longer know where to rest. The visit lasts between 30 and 45 minutes, it is not very long. You also have murals on the street if you want to continue admiring his art.Entrance to Philadelphia's Magic Garden museum: $15 / €14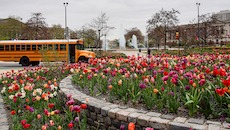 Benjamin Franklin Parkway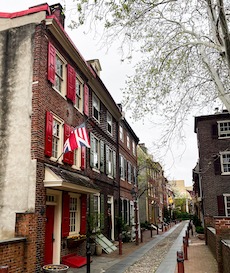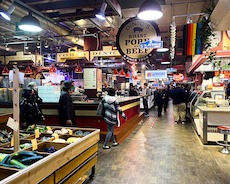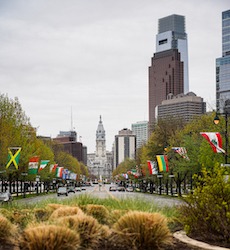 Benjamin Franklin Parkway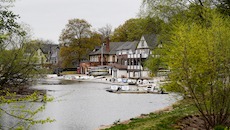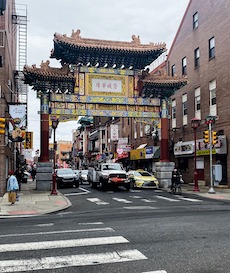 Now let's talk about the city itself. There are neighborhoods to avoid in the city, stick to tourist spots. Do not get too lost in streets where you have nothing to see. Already in the city center I find that we feel a little bit this feeling of insecurity, but it is only my personal opinion.
My hostel being in the Old City, the location was ideal. Lots of cute little streets, including my favorite which is Elfreth's alley. From this city center, go eat a good Philly steak at Cheesesteacks Horgies, in the Reading Market Terminal. This is THE place to eat Philadelphia's specialty. And it's honestly not bad! You will find different types of food products in this large indoor market. Perfect for a lunch break between 2 visits.
Next, head to Fairmount Park via the Benjamin Franklin Parkway from the impressive City Hall. A huge avenue with lots of museums to the right and left. On this avenue, there is the Cathedral of Saints Peter and Paul. Take a look inside, it's just amazing! The height of the place with these chandeliers overlooking everything. Once you arrive at the park, go straight to the Waterworks. This place allowed the inhabitants to have unpolluted water. Different explanatory panels are at your disposal to discover its history, and how it worked. Today, each building in the place has a different functionality. From this place, you have a magnificent view of boathouse row! Just wow! A few houses that follow one after the other along the river. Today it's the center of rowing so we can't really get there but it's super nice. After, turn around, because I went further in the park but to tell the truth there was not much interesting.
To go around the city center to the park, allow a short day. It all depends if you do any museums on the way.
Philadelphia is a stop to make to discover its history and its art. The city has marked the history of the United States so it is still a must during a road trip in the United States. But do not stay too long in the city center, there is not much except museums and the old City.
I visited Philadelphia at the end of April, it was not hot, but no rain, which for me is very important when visiting a city.
| Jan | Feb | March | Apr | May | June | July | Aug | Sept | Oct | Nov | Dec |
| --- | --- | --- | --- | --- | --- | --- | --- | --- | --- | --- | --- |
| | | | OK | OK | OK | OK | OK | OK | OK | | |
If you do the different museums in the city, plan 3 days. But most of the museums in this city are paid, except those that I describe in this article. If you just want to walk around the city like me, and do the free museums, then I advise you to do the city in a little less than 2 days.
WHERE TO SLEEP? MY ACCOMMODATION
Apple Hostels
33 S Bank Street,
Philadelphia
Price: $34 – €31 / night / person in a female dormitory for 16 people
Hostel link to book: click here 
Frankly, a hostel at the top! Everything is clean, the dorms are super big so we are not on top of each other. There is entertainment every night. The kitchen is super convenient for cooking. When I was there, there weren't many people so it was even better, we had a lot of space! The hostel is placed in the old city center, next to everything.
MY 3 TIPS TO VISIT PHILADELPHIA
Take a good look at the opening hours and days of the museums. I missed a visit again because of that
Stay in the touristy corners of the city
If you go to Washington after, sort out some museums because those in Washington are free