A CHILL DESTINATION IN MEXICO
WHAT TO DO IN PUERTO ESCONDIDO? MY JOURNEY
The city center is super nice but is not very big. Benito Juárez Boulevard is the main boulevard in the city center where you will find several shops and cute little restaurants. This is also where you can find travel agencies for excursions and/or surf lessons. I found a mixed atmosphere between surfer and digital nomad where there are locals and internationals. But it's not too touristy yet. It could become as many lands are actually on sales.
If you want to do a nice little walk of about thirty minutes, there's the andador turístico which is located on the edge of the cliffs. It starts at the Un Sueño Posible viewpoint, which isn't the best view in town, and ends at Playa Principal. I really enjoyed this little walk, there are great views all along. The walk is very simple.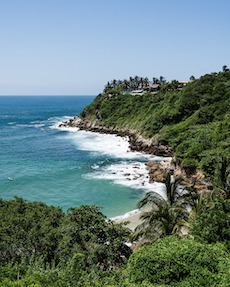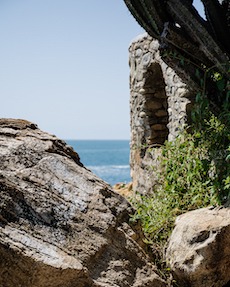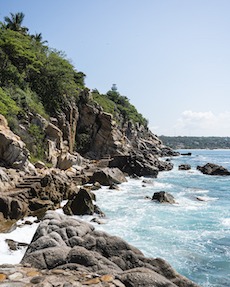 There are several beaches in Puerto Escondido, and they are all very different.
The first is Playa Carrizalillo. This is where beginners in surfing go because it's perfect for it. The waves aren't very big, but big enough to take control of your board. There's a staircase from the city center to get there. It's super easy to access. On the beach there are quite a few bars and restaurants.
But to swim in a calmer sea, there's Playa Manzanillo, with also has some bars and restaurants that aren't that expensive. It's super nice and pleasant to spend a few hours there. It's one of my favorites in the area, it's very pretty. On the other hand, it's not very big, and there are a few people. The path is a little more complicated to get there, it's an unpaved road that goes down to the beach.
If you just want to relax on the beach, without being stuck by your neighbor, then you have to go to Playa Marinero. A huge beach in Puerto Escondido, where you may not be able to swim due to the waves. But there are very cool beach bars and nobody, it's nice.
After the beach, why not do an excursion to swim in bioluminescence with Lalo Ecotours. The agency takes you to the Laguna Manialtepec. From there you go on a motor boat for about fifteen minutes. If the Moon is out, you cannot see the bioluminescence well. But don't panic ! Floating tents are set up on the lake. They take you to one of those for you to swim in. And then, magic happens! Lots of little plankton that light up around you as you move through the water. It feels like swimming in the stars. It's absolutely gorgeous! In addition the water is good so we could stay there for a long time. We had some explanations on the way, and why they are there, but unfortunately it was in Spanish. If you have a car, you may be able to drive directly to these places and see if they do any tours there.
Bioluminescence excursion price with transport, guide and park entrance included: 300 pesos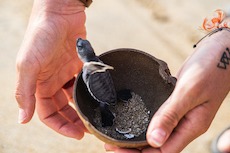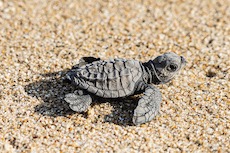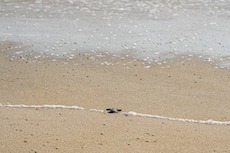 If there's one activity not to be missed in Puerto Escondido, it's the release of baby turtles. For that, go directly to Playa Bacocho to the Vive Mar association. You cannot miss them, they are installed at the beginning of the beach with a small construction where there are turtle nests. To take part of the activity, you have to get there a little before 5 p.m. (no reservation possible), and you will clearly not be the only ones! In low season, we were already around fifty people. So, you're going to tell me, yes, but is it good for the environment and the turtles? I don't have the answer to this question. But what I really liked about this association is that they explain you where the money will go, why they do it, and the instructions to follow. For example, don't touch the turtles, and they insist on this rule! Then, they explain you that they created this association because turtles are threatened by different environmental factors. Thus, at night, they try to preserve the eggs in order to put them in more secure places, and that they can be born safely. After their speeches, they will give you a baby turtle in a coconut. Then you have a path and a rope for where to put the turtle. Then just watch the turtle go offshore in the waves. It's an absolutely fantastic natural show to observe.
Price for turtle release: 250 pesos per baby turtle (5 people maximum)
Puerto Escondido is a relaxing town where you can spend several days surfing or strolling on the beach. A very nice atmosphere in the city.
We were there at the beginning of October, and the weather was great.
| Jan | Feb | March | Apr | May | June | July | Aug | Sept | Oct | Nov | Dec |
| --- | --- | --- | --- | --- | --- | --- | --- | --- | --- | --- | --- |
| OK | OK | OK | OK | OK | | | | | OK | OK | OK |
Two or three days are enough to go around. Afterwards you can stay there longer, there's a good atmosphere in the city, and it's a great place to learn surfing.
MY 3 TIPS TO VISIT PUERTO ESCONDIDO
If you release baby turtles, make sure you do with an association directly.
This is the perfect place to learn to surf in Mexico.
Sleep close to the city center to be close to everything. The city is quite large.