MANUEL ANTONIO NATIONAL PARK AND NAUYACA WATERFALLS
WHAT TO DO IN QUEPOS? MY JOURNEY
QUEPOS AND MANUEL ANTONIO NATIONAL PARK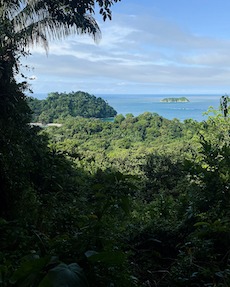 One of the viewpoints of the Manuel Antonio National Park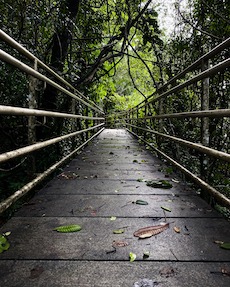 Path in the Manuel Antonio National Park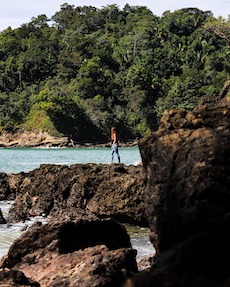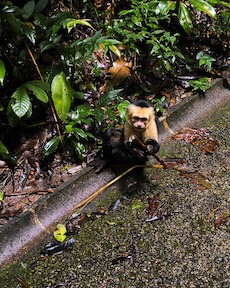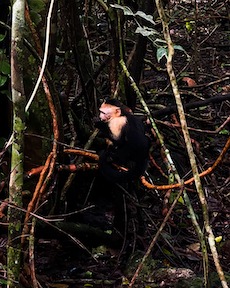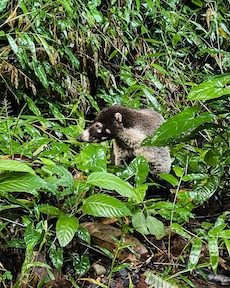 Manuel Antonio National Park
Downtown Quepos is quite honestly not amazing. There are a few streets with shops but I didn't find it particularly charming. There's a short walk you can take along the water to the Marina Pez Vela. It's a pretty chic port compared to the rest of the city, it's a bit weird. Shops, a sports bar and sometimes a bit of entertainment. It's quite a nice place to watch the sunset.
But Quepos is above all the city where to stop to visit the Manuel Antonio National Park. You'll hear many opinions about the park. Some will say that it's too popular and that it spoils the beauty of the place, others will tell you that it's one of the most beautiful national parks in the country. My opinion? I really liked this park. The views are very beautiful and the vegetation too. The different paths are very nice and quiet (obviously when there aren't too many people). And we saw a lot of animals in the park! A sloth (ok thanks to a guide who showed it to his group), crabs, agoutis, white-headed capuchins, hermit crabs, different species of birds, iguanas… and so on. To see as many animals as possible, it's better to go early in the morning, and that allows you to avoid the crowd. Here's the link of the national park so check the updated opening hours. Please note that the park closes one day a week. Before it was on Mondays, but when we were there, it was on Tuesdays. You've to buy the tickets online before going there. Depending on when you're there, you may need to book several days in advance to get the opening slot. To get there, we took a bus from the central station of Quepos, there are about every 30 mins (but transport in Costa Rica is never super reliable). The trip lasts but thirty minutes. I really advise you to arrive at the opening to see the animals and to be able to enjoy the tranquility of the park to the fullest before everyone arrives, especially if you go there on the weekend. Check what's allowed in the park before entering otherwise they'll tell you to put everything in a locker that is not nearby, and of course you'll have to pay something. You can start with path 2 then 11. You've a part on a path and another part on a slightly higher wooden path, then a large path that leads to the toilets and the restaurant. It was on these two paths that we saw most of the animals early in the morning. Then you can continue to the two viewpoints with hikes 9 and 10. The views of the national park are really beautiful. You'll be able to see very green islets and cliffs. The colors are wonderful! Then continue to Las Gemelas and Manuel Antonio beaches. The first's quite small with the waves crashing on the rocks. It's very beautiful! The second beach is also pretty but it will surely start to get crowded depending on what time you're there. On the paths to the viewpoints and beaches, we came across many white-headed capuchin monkeys minding their own business next to us. It was fun to be able to observe them in the wild. Afterwards, if you wish, there's the path to Punta Catedral which is nice but not unmissable. Then you can come back via Espadilla Sur beach which is a beautiful beach, surprisingly quieter than Manuel Antonio beach. It's true that the view is a little less beautiful. I went to see the Catarata Estacional waterfall. The path is nothing special and neither is the waterfall, especially if you have seen more impressive ones before. Count a good 5 hours to go around the national park, or even more if you swim. 
One-way bus ticket price: 390 Costa Rican colón
Entrance fee to Manuel Antonio National Park: US$18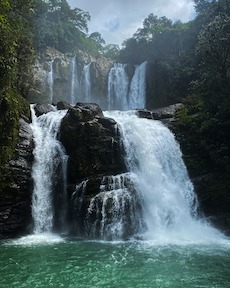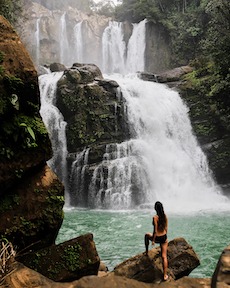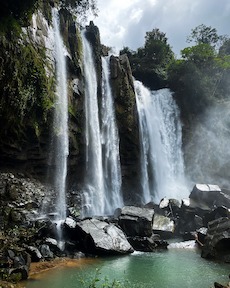 Do you like waterfalls? So, don't miss going to see the Nauyaca waterfalls which are very impressive waterfalls in Costa Rica. Due to its height but also its width. I had never seen ones like that, even after seeing those in Cuba. Getting there without a car is a bit tricky. I advise you to go there with an organized tour. For this, we chose Paddle 9 to do the Nauyaca Waterfalls excursion.
Departure at 8:30 am, direction to a first waterfall which is 30 min away from the city center. It's a small waterfall where you can do 2/3 jumps. It's quite nice as a warm-up. Then, you get back in the car for a good hour to arrive at the entrance to the park. Then you get in a jeep, or rather in the back of a truck (impossible to go there with your own car, and considering the slope and the condition of the road, it's better to go there on foot or with the park's car). After several minutes a bit shaken, you walk for a good fifteen minutes in a forest where the guides explain the fauna and flora, including for example toucans, different types of birds, mushrooms, some plants… After this small walk, you arrive at the famous Nauyaca falls! And frankly, yes there are impressive! Divided into 2 parts, the upper part is 45m high and the lower part about twenty meters high. And there are very wide! A real natural beauty! With the guides, it's possible to go under the lower waterfalls to feel the power of the water on us. And if you want, they can get you up to a place where you jump really high. After several minutes near the lower waterfall, you climb up to be closer to the upper waterfall and enjoy a fresh fruit with the group. Then, return to the jeep's starting point to eat a local Costa Rican lunch (rice, black beans, meat and salad) which is good. You'll be back around mid-afternoon, at 3:30 p.m.
The excursion's very nice. The guides were really great, and explained the region, the fauna and flora well. We learned a lot from it. And the waterfall is still to be seen!
Price of the excursion with included entrance to the park, guides who speak English and Spanish, transport, water, snacks (good fresh fruit), a traditional lunch: 130 US $
The city of Quepos itself didn't really appeal to me. But I really liked its surroundings. A very beautiful nature to discover.
We were in Quepos towards the end of November and we had great weather.
| Jan | Feb | March | Apr | May | June | July | Aug | Sept | Oct | Nov | Dec |
| --- | --- | --- | --- | --- | --- | --- | --- | --- | --- | --- | --- |
| OK | OK | OK | | | | | | | | | OK |
It all depends on your budget and what you want to do. I will say that 2 days is enough to do Manuel Antonio National Park and an excursion to discover the waterfalls. But plan more if you see other activities you want to do.
WHERE TO SLEEP? MY ACCOMMODATION
SPIRAL APARTMENT
Avenida Central Barberia Carrion Arriba,
60601 Quepos, Costa Rica
Price: 10€ / person / night for a private room with double bed and common rooms.
Click here to book.
If you're traveling as a couple, this is an ideal accommodation. A small apartment with 3 private rooms and common rooms. Perfect to have your space and meet other people who are there too.
MY 3 TIPS TO VISIT QUEPOS
Go to Manuel Antonio National Park as soon as it opens so it's not too crowded
Sleep in Quepos to be in the center if you don't have a car
Look what you can bring into the national park or not because otherwise they'll make you put them in paying lockers
Bonus: if you haven't done any national parks with a guide, why not take one to better spot the animals and learn a little more