WHAT TO DO IN SALVADOR? MY JOURNEY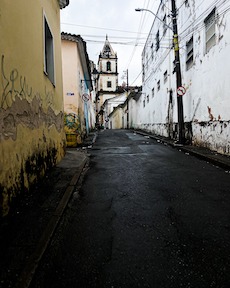 Downtown Salvador, next to a touristic street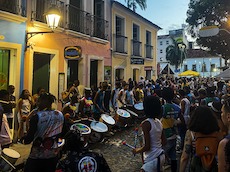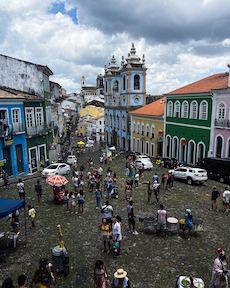 View from Fundação Casa de Jorge Amado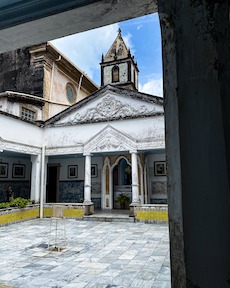 Igreja de Ordem Terceira de São Francisco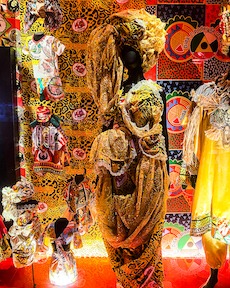 Casa do Carnaval da Bahia Museum
If there's one district not to be missed in Salvador de Bahia, it's the historic district, Pelourinho! This small, more or less pedestrian area is very pleasant for a walk during the day. The facades are all colorful, it's animated, the squares are super pretty, and there are a few churches to discover. Here's what we visited:
Igreja de São Francisco: a large church that has a golden interior with carvings. The interior and exterior are truly stunning! When we entered the church, I didn't expect this size at all, it's impressive!
Praça Terreiro de Jesus: a large square with restaurants and a church. There are also the colorful bracelets known from Lavagem do Bonfim in this square hung on the barrier which is in the middle of the square.
Igreja da Ordem Terceira de São Domingos Gusmão: a beautiful church with a slightly more sober interior than the first one I mention. It has a beautiful golden ceiling with also golden structures in some places of the church. It's very beautiful.
Igreja de Ordem Terceira de São Francisco: a very charming little church. There are a few rooms to visit with religious objects or furniture exposed. The inner courtyard is quite pretty with its white and blue wall frescoes. It reminded me a bit of the Portuguese style.
Largo do Pelourinho square: one of the main squares of the district. For those familiar with Michael Jackson music videos, the "they don't care about us" music video was filmed there. The square is on a slope so there's a great view of the facades, the people playing the drums, and what's going on there. This is one of my favorite squares in the historic center.
Fundação Casa de Jorge Amado: a museum located in Largo do Pelourinho square. Everything was in Portuguese so if you don't know the writer, like me, it doesn't really help to find out more. Unless you do Google Translate on each panel. But from the first floor of this foundation, you have a super nice view of the main square and the facades.
Igreja Nossa Senhora do Rosário dos Pretos: a church closed when we were there, but from the outside, it's very beautiful.
Casa do Carnaval da Bahia Museum: a small museum on the history of the carnival in Bahia. On the ground floor you have explanations in English about the costumes, the floats, the history thanks to the exhibits and videos. And on the first floor, there are two interactive rooms, one on music, and another on dance. After visiting this museum, it really made us want to do the carnival!
If you want to have good food and discover lots of culinary specialties, then go to the Escola Senac Pelourinho restaurant. For 75 reals, they have an all-you-can-eat buffet with lots of different traditional food. It's super good and it lets you know what you want to eat at the next restaurant! There are a few people but the room is large, and we had waited about twenty minutes. On the other hand, check the schedules carefully because they don't serve all day.
The area's very pleasant to explore on foot. Stay in the touristic streets because from one street to another, it can be a completely different atmosphere. There are also people who will want to paint you shapes with white paint on your arms or legs. Of course, it's not free. If you don't want them, don't hesitate to say no right away. Count about a good half-day to visit everything, or even a day if you take your time and eat in the restaurant.
The bonus of this district, every Tuesday evening, there's the Olodum who play in the street from 6 p.m. How to find them? Simply follow the sound of the drums, they can be heard from far in the neighborhood. When you find them, you can follow them for about 2 hours playing drums and walking in the street. They have such an energy! It's fascinating ! The music they play really sets the mood and we could have watched them play for hours. Still bring earplugs if you can haha. It's really the atmosphere I was thinking about for Brazil: drums, incredible energy, people in the street, it's great! They usually end up in the main square with a kind of competition between the students. By the way, you can find this drum school in the city center during the day, at Largo Tereza Batista. If they're playing, it's possible to come in and watch them. Once they finish their olodum tour around 8 p.m., you can stroll through the streets of the historic city center to the sound of drums. There are other bands that play in the street, but usually in one place. After the evening, to return home, it's recommended to take a taxi or an Uber if you can. In general, whether during the day or in the evening, in the big Brazilian cities, try to have the minimum on you, and with objects that have no value (eg jewelry, watch that has expensive air, camera…) so as not to tempt thieves.
Entrance fee to Igreja de São Francisco: reals 5
Entrance fee to Igreja de Ordem Terceira de São Francisco: reals 10
Entrance fee to Igreja da Ordem Terceira de São Domingos: reals 5
Price of the buffet at the Escola Senac Pelourinho restaurant: reals 75
Price of entry to the Casa do Carnaval da Bahia museum: free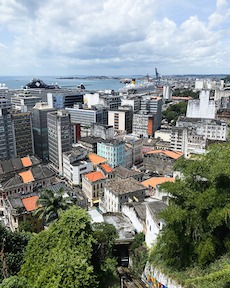 View from Escalador Lacerda elevator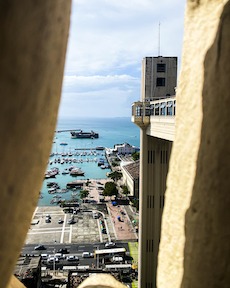 Escalador Lacerda elevator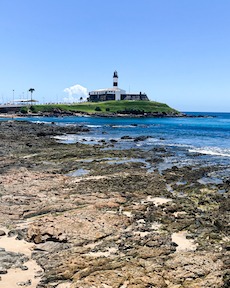 I don't know if you'll have noticed it, but one of the symbols of the city is the famous Escalador Lacerda elevator! It's a large elevator that connects the upper and lower town. We had read in blogs that it wasn't necessarily recommended to go to the lower town on foot, but rather to take the elevator. So that's what we did. The view from up there is amazing! It overlooks one of the city's ports, and also Fort São Marcelo, which is on a sandbank. It's also on this square that you have the famous letters SALVADOR for a small souvenir photo. We took this elevator to Mercado Modelo. It's a market with stalls that mainly sell souvenirs. The perfect place if you want to buy some. Apart from that, there are no other tourist activities in this area, so we got back up pretty quickly.
Then, we moved a little away from the historic city center, to discover other districts. As we were 3 of us traveling together, I must admit that we mainly traveled by Uber because it saved us time, and it wasn't expensive. Here's what we did in some areas of the city:
Casa de Rio Vermelho: home of the writer Jorge Amado and his family. Jorge Amado's very well known all over the world. He wrote 37 books which have been translated into 49 languages! They knew a lot of people in the area as well. I found it really cool to be able to walk around a house of a famous writer, and imagine how they lived at the time. Their house is very cute with a nice little garden in front. The objects on display are original. Most of the explanations are in Portuguese and Spanish. Allow about a good hour to visit the museum.
Colônia Pesca Rio Vermelho: a fisherman's house with a beach nearby where there are plenty of boats.

 

Praia da Paciência: a city beach if you feel like taking a dip. We bathe in water at the right temperature at the foot of the skyscrapers. There are quite a few Brazilians as well as stands selling drinks.
Forte de São Diogo: a fort in the city that allows you to have a view of one of the beaches of Salvador.
Farol da Barra: a nautical museum that we haven't done but that blogs or tourist centers recommend. There's a nice view around the fort.
Overall it wasn't my favorite parts of the city, except from the writer's house. The rest was nice, but I didn't find them to be must-do's if you've limited time in Salvador.
Price of the Escalador Lacerda elevator. reals 0.15
Price of the house of Rio Vermelho: reals 20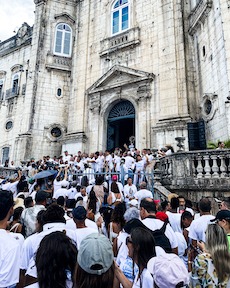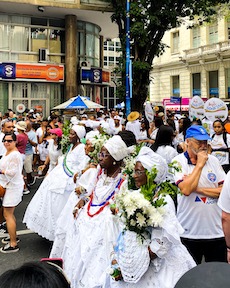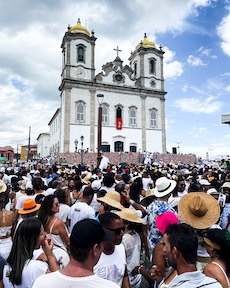 Basílica do Senhor do Bonfim
Luckily, we were in the city during Salvador's famous religious holiday, the Lavagem do Bonfim. It's one of the biggest celebrations in Bahia, after the carnival! This takes place on the Thursday preceding the second Sunday after King's Day in January. During the morning, a procession leaves from the Nossa Senhora da Conceicão da Praia church to the Basílica do Senhor do Bonfim, accompanied by thousands of people dressed in white. It's in a festive atmosphere that the Brazilians travel these 8km to the church. We did it too, in 4 hours. At the end of the procession, there are a lot of people! In the afternoon, we returned back home because we saw that the atmosphere was turning into a big party in the street where people were walking from one point to another. If you aren't there during the party, the Nosso Senhor do Bonfim church is a must-do.
I really liked the historic center of Salvador, as well as the Olodum. Quite a unique atmosphere! For the rest of the city it was a bit different, but I let you judge by yourselves.
We were there at the beginning of January and the weather was great throughout our stay.
| Jan | Feb | March | Apr | May | June | July | Aug | Sept | Oct | Nov | Dec |
| --- | --- | --- | --- | --- | --- | --- | --- | --- | --- | --- | --- |
| OK | OK | OK | | | | | | OK | OK | OK | OK |
I think that in 2 days would be enough to visit Salvador, the historic center and the districts mentioned around.
WHERE TO SLEEP? MY ACCOMMODATION
HOSTEL DA RESIDENCE
Ladeira da Independencia, 33, Nazaré,
Salvador, CEP 40040-340, Brazil
Price: €7 / night / person in a dormitory of 4 with shared bathroom
Click here to book it.
A really cheap hostel near the historic center, perfect if you're going to see the Olodum in the evening.
MY 3 TIPS TO VISIT SALVADOR
Ask your host or on Facebook groups which districts to avoid in Salvador.
Try to be there on a Tuesday evening to see the Olodum on the street.
If you are traveling with other people, Ubers are not expensive.