A BEAUTIFUL CITY IN CHIAPAS
WHAT TO DO IN SAN CRISTÓBAL DE LAS CASAS? MY JOURNEY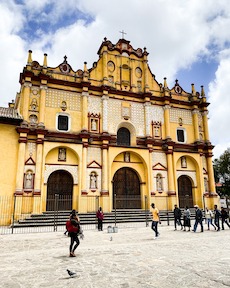 Cathedral of San Cristóbal de las Casas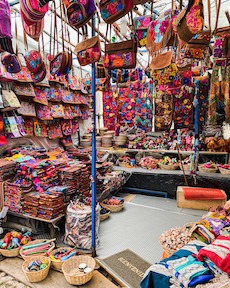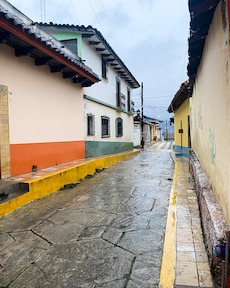 San Cristóbal de las Casas is a city that I really liked. It's lively and quite colorful, even if a little less than in Oaxaca. A lot of nice little streets such as Avenida 20 de Noviembre, Avenida Miguel Hidalgo and Calle real de Guadalupe. There are a few pedestrian streets with shops, small flags between the facades, restaurants and souvenir shops. You have small souvenir stands everywhere in the city. If you're hungry, go to Mercado José Castillo Tielemans, a large local market with very narrow aisles and lots of stalls selling everything from food stalls to small restaurants. A very good spot for local food. I was very surprised by the number of churches per square kilometer in this city. I don't think I've seen so many anywhere else! For me, the prettiest outside architecture is the Cathedral of San Cristóbal de las Casas (Catedral de San Cristóbal de las Casas) with its yellow facade, overlooking the main square. You can't miss it. Unfortunately, we couldn't get inside. But we were able to do it at the Templo de Santo Domingo de Guzmán. A wooded and highly decorated interior. To have a view of San Cristóbal, you can climb up to the beautiful Church of the Guadalupe, white and yellow. Don't hesitate to take a walk in the city center to see all the beautiful churches of the city. They have a similar architecture but are all very different.
If you have some time, I advise you to visit the Mayan World Textile Museum (centro de textiles del Mundo Maya) about the different clothes' style in the region, and textiles in Mexico. They explain the influences and styles that Mexican textiles have experienced. It's very interesting. The museum can be done in an hour. Backpacks must be left at the entrance (free).
Price of the textile museum: free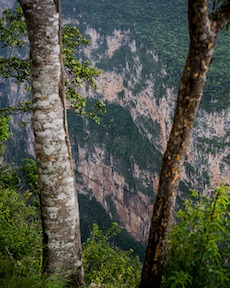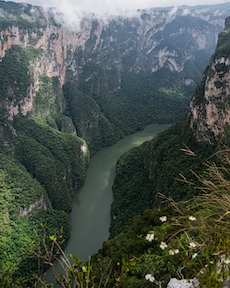 View from La Atlaya lookout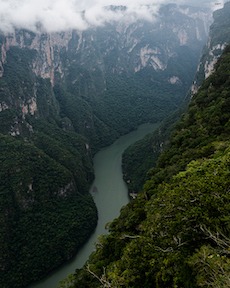 View from La Atlaya lookout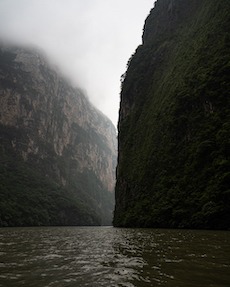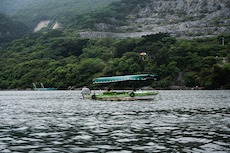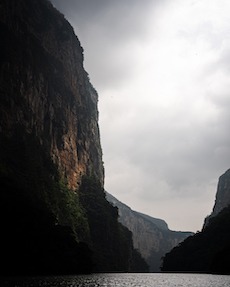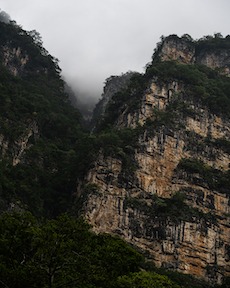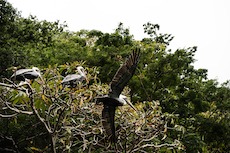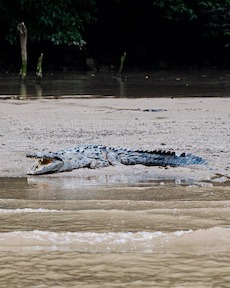 When Mexico trips was coming, I heard a lot about this famous canyon. So much that after a while it aroused my curiosity and we made the route to be able to get there. And no regrets! It's so gorgeous! I'll let you see by the photos.
To get there, we took an excursion with our hostel. The company picks us up at the hostel directly. We left for 1h30 by car. We start by going to the different watchtowers in the park to have the most beautiful views of the canyon. And it's true that the views are breathtaking! You see these large gray and red cliffs, with vegetation, and the river passing in the middle of these cliffs. Above the canyon, you have magnificent views! The driver will take you to several lookouts, but my favorites are El Tepehuaje lookout and La Atlaya lookout where you can see the Mexican Horseshoe bend. You can see a beautiful bend in the river. I don't even have the words to describe these incredible views. At the last mentioned lookout, you have a small restaurant and a photo exhibition above. Go there to be higher on the canyon.
Then, it's off for an hour by car, to the pier. For about 1h40, you'll travel 42km on the Grijalva river, in the canyon. And that's the highlight of the show! It's impressive to find yourself in the middle of these huge cliffs! There are even aerial waterfalls, the water flows down from the middle of the cliff and somehow evaporates into the air. It's very beautiful! We also saw monkeys, many birds, and crocodiles! The guide was good, he explained a lot about the canyon, showed us the birds and even slowed down so you can take pictures. Unfortunately, he only spoke Spanish. After the boat tour, you arrive at the Chiapa de Corzo village. A village where there are plenty of souvenir stalls and a large square. But there isn't much to see. After a good day of excursion, you return to the hostel at the end of the afternoon.
You can do the Cañon del Sumidero on your own. But without a car it's complicated, and you may not have access to the lookouts. After our experience in Oaxaca, we learned from our mistakes and we preferred to do it with an organized tour.
Price of the excursion with transport, Spanish guide and entrance (drinks and food at your own expense): 400 pesos.
EL CHIFLÓN WATERFALLS AND MONTEBELLO LAKES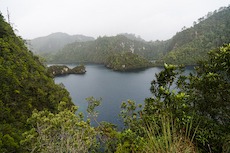 Cinco Lagos de Montebello lookout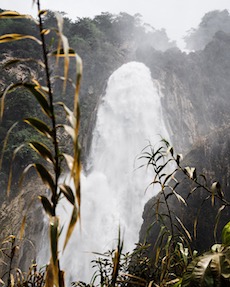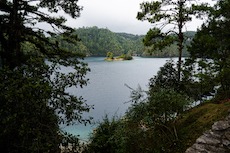 Another excursion we took with our hostel was to see the El Chiflón waterfalls and the Montebello lakes.
Departure at 9 a.m. to arrive at the waterfalls around 11:30 a.m. The waterfalls of El Chiflón is many waterfalls including 5 really impressive ones. When we were there, the last 2 were unfortunately closed because the path was too dangerous. When you arrive, a guide is waiting to show you the way. The guide didn't have any particular explanation, he just paced the walk to be sure that we saw everything and that we didn't take too long. But that's all. The route is quite simple, it's uphill, but not complicated at all. You walk about 1,268m to see the 3 waterfalls. The first waterfall is El Suspiro, very wide, it's 25m high. Then you continue on the second which is Ala de Ángel, a little higher than the first, 35m. And finally you have a last part of the path where you can see from afar the third and last accessible waterfall, Velo de Novia, from a height of 120m! It's incredible! I've never seen a waterfall so huge and with so much water flow, even after seeing Niagara Falls. You can go to a lookout which is almost at the waterfall. Be careful, the way to get there is slippery, and you'll be wet from head to toe. It's really impressive to be so close! After being very wet, you're back at the car. You have about 2 hours on site to fully enjoy the place. I found that the time passed very quickly.
Then off we go again, 1h30 drive to arrive at the Montebello lakes (Laguna de Montebello), on the border with Guatemala. Be careful with your phone's data, deactivate everything to be sure not to be billed because you were in another country. The first stop is at Lake Pojoj. Take the opportunity to eat, there are plenty of small food stalls, or bring your lunch because you'll be there for a good 2 hours. The lake's super beautiful! A beautiful blue surrounded by vegetation, and with a small island in the middle, too cute! You can go by boat (well 3 pieces of wood joined together) on this island, but of course it's not free (50 pesos). After this long break, you head for the Cinco Lagos de Montebello lookout. You can see the lakes on the right and on the left, it's super beautiful! I was impressed by the color of the water and all the vegetation around. After a few photos, you return to San Cristobal in 2 hours by car.
The excursion was good but I admit I was a little unsatisfied. It's a lot of car to see these two places. The waterfall is definitely worth it because it's impressive. But for the lakes, we had to wait for the other people in the group to take their boat ride to see other viewpoints. We couldn't really go for a walk or anything on the spot. So it's up to you. But without a car, it's honestly difficult to access.
Price of the excursion with transport, guide and entrance: 350 pesos.
San Cristóbal is a super pretty town. The streets are cute and we walk there with pleasure during the day. Don't miss to visit the surroundings to see an incredibly beautiful nature!
We were there around the beginning of October and the weather wasn't very nice, with a small hurricane alert a few days later.
| Jan | Feb | March | Apr | May | June | July | Aug | Sept | Oct | Nov | Dec |
| --- | --- | --- | --- | --- | --- | --- | --- | --- | --- | --- | --- |
| OK | OK | OK | OK | OK | | | | | OK | OK | OK |
I think 4 days are enough to visit the city and do excursions around.
WHERE TO SLEEP? MY ACCOMMODATION
THE PERIPHERAL TERRACE
33 Tuxtla,
29220 San Cristóbal de Las Casas, Mexico
Price: €12 / night for a private room and shared bathrooms.
Click here to book.
A really great hostel! Private rooms that you can share with others. The common rooms and decor are great. You can even use the television without any problem.
MY 3 TIPS TO VISIT SAN CRISTÓBAL DE LAS CASAS
If you don't have a car, take the excursions with the agencies or your accommodation. The points of interest are not nearby and you'll probably see more things with the tour.
Lose yourself in the market to discover all the different stalls they have.
Avoid going out when it's dark. Some people have seen, or experienced, things that aren't very reassuring. During the day, I never had any problems.