ONE OF CALIFORNIA'S MOST BEAUTIFUL CITIES
WHAT TO DO IN SAN DIEGO? MY JOURNEY
If you arrive in San Diego by plane, be aware that you have a "Flyer" bus system that takes you to Old Town San Diego where you can take other public transportation to get to your destination. This bus is available free of charge at the exit of the airport.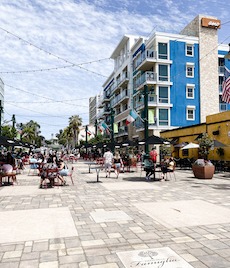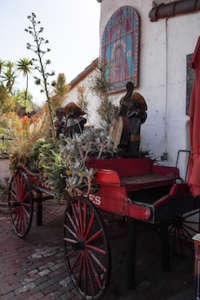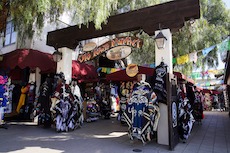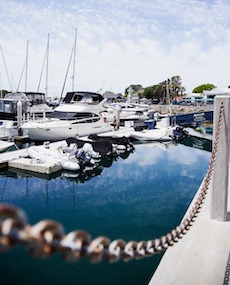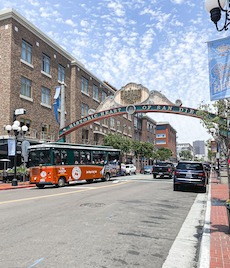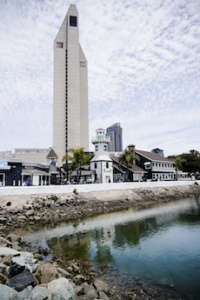 To start the day, I passed by Gaslamp District. The main street to see is 5th Avenue. It is a large pedestrian street full of bars and restaurants. Passing there around 12 p.m. it was more or less animated but I think that if you want to enjoy the atmosphere, you should go there in the evening. The area is not very big and not a lot of activities to do, apart from walking around. In 30 minutes you will have done the street.
At the end of this street, you will come across the impressive Convention Center. This unique architectural building hosts many events throughout the year. Go through the middle of the center and then arrive on the South Embarcadero pedestrian street. This street runs along the bay to the Seaport Village. The Seaport Village is one of my favorites! It's like a small village with lots of little shops and restaurants in super cute houses. You have a few must-see buildings there, such as the Edgewater Grill restaurant and the Seaport Village Carousel. A good hour will be enough for you to go around the village.
Then, direction Little Italy. It is not very far from the Seaport Village. If you go there on foot, take the opportunity to see the Santa Fe Depot station, which is a station with beautiful architecture. The station is nice to see but if you are not in the area, it is not a must in my opinion. In Little Italy, the main street to see is India Street. A pleasant street with Italian restaurants, shops and grocery stores. The Plaza della Famiglia is a small square in the neighborhood not to be missed. Not very far, you have the Firehouse Museum. A small museum made for firefighter fans. It is original to see old trucks and equipment from other eras. But unfortunately not a lot of explanation so if you don't know too much about it like me, I was a little unsatisfied. The museum is small, in 30 minutes you have done the tour.
To end this beautiful day, go see the famous Old Town of San Diego. To get there from Little Italy, you can take the tram. I did it on foot, there is nothing to see on the way. Old Town… How to describe it? A mix between western and Mexican. A completely different atmosphere from other areas of the city, as if this area was frozen in time. Everything is pedestrian, and you have different activities to do. At Old Town San Diego State Historic Park, there are several small, free museums you can visit. There are several shops, restaurants and small squares with musicians on weekends, such as the square of Fiesta de Reyes. It's super nice to walk around. You also have the Heritage Park which has several large houses with original architectures. Very pretty and little visited even though it is right next to it. If you have some time, there is the Mormon Battalion Historic Site which is an interactive museum. The visit lasts about forty minutes and is animated by people. You travel through time to understand the history of a Mormon family. The visit is very well done. To visit the whole district, I would say that a good 3 hours is enough. It's small but lots to do and see.
If you go to San Diego, you can't miss Balboa Park! A large park that includes various botanical museums, art, and the famous San Diego Zoo. The architecture of the buildings is original (like a lot of architecture in San Diego). In this park, I only did the San Diego Zoo. The zoo is huge and is home to many animal species. There is even a cable car! To tell you how big it is. It is at the top of the ranking of world zoos and allows you to see an incredible number of animals and insects. The zoo participates in the preservation of many animal species. I saw many species for the first time like a red panda, a komodor dragon… We took the day to visit the whole thing. To visit the zoo, try to go there during the week, it is cheaper. Click here to access the website and reserve your place.
Admission to the firefighters museum: $3 / €2.85
Entrance to the Mormon Battalion Historic Site: free
Entrance to the San Diego Zoo: $64.50 / €61.33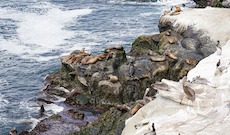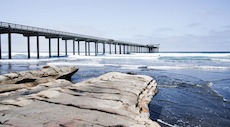 Ellen Browning Scripps Memorial Pier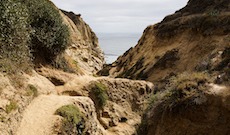 I suggest you visit something else than downtown San Diego, and go up north of the city to go to La Jolla. A beautiful neighborhood with very nice shops, and super beautiful houses! From the center, you can do the Coast Walk trail which runs along the ocean. There are a few small cliffs and caves (not walkable) along the way. But above all what there is to see there are the sea lions that make their lives a few meters from you. It's an amazing show! There are so many, especially at La Jolla Cove! Continue your way, to go to the Children's Pool La Jolla, a beach where you can see baby sea lions. They are all resting on the beach, it looks like they are waiting for the water to come up to them to dive back. I had a lot of fun doing this journey. It is not long but personally I took my time to admire these animals, I did it in a little over an hour.
Then, continue your way north, along the beach. The walk is so pleasant whether it is hot or cold. Hear those waves, see all those surfers, walk on the sand, can you imagine it? It will take you an hour's walk to reach the Ellen Browning Scripps Memorial Pier. You cannot climb on the pontoon but the view from below is quite mythical. You will surely see people taking pictures there. We see an infinity of columns plunging into the sea. It's beautiful to see.
After taking your photo, go to the start of Saigon Trail. I advise you to start this path from the top and then arrive on the beach. The path is not very well done, you will pass on a wooden plank at some point, but once you arrive at the beach, you are in the middle of the cliffs, it is magnificent! And the view from the beach is amazing! It's really a path that I loved! So I'm warning you because I haven't been told anything and I didn't expect that, but it's a beach where nudism is allowed. That's it, now you know in case you meet people. Continue on the beach to Gliderport Trail, a path that goes up to a beautiful viewpoint. It is apparently a paragliding spot too, I saw a lot when I was there.
If you have time, take a trip to the University of San Diego to see an American campus. Nothing special apart from the Geysel Library. It's still nice to walk around a university campus and see the atmosphere there.
To do this whole route, I advise you to plan a good half-day.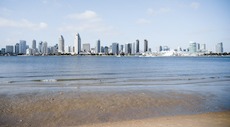 View to Downtown San Diego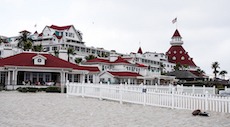 Not far from Downtown, you have the Coronado. A beautiful city with luxurious houses and beautiful beaches. For a great view of Downtown San Diego, head to San Diego Skyline Viewpoint Park. An incredible view!
Then, take the road to discover the Hotel del Coronado, which is the first hotel to have electricity in California. White facade and red roof, you can't miss it. It is magnificent from the outside as well as from the inside.
To visit the Coronado, it all depends on what you want to see, it can be between 1 hour and half a day.
San Diego is a city that I really like. It has such a different vibe compared to other cities in California. Everything is simple and easy there. And the neighborhoods of San Diego are really beautiful, there are a few to see.
I went to San Diego in early May and the weather was okay. Between clouds and sun, and in the evening a jacket was not too much. May and June are notorious for having a whiteout over the sea in San Diego. I saw it, it's quite impressive as a natural phenomenon but it doesn't spoil the visit. This cloud is located just above the sea, I did not have it when I was walking around the city center.
| Jan | Feb | March | Apr | May | June | July | Aug | Sept | Oct | Nov | Dec |
| --- | --- | --- | --- | --- | --- | --- | --- | --- | --- | --- | --- |
| OK | OK | OK | OK | OK | OK | OK | OK | OK | OK | OK | OK |
HOW TO GET AROUND WITHOUT A CAR IN SAN DIEGO?
You have trams and buses all over the city. Even though California is famous for not having a good public transport network, honestly San Diego is fine. There are many buses and a few streetcar lines that go to major locations in San Diego.
The price of a tram ticket is $2.50 / €2.37 and $5 / €4.75 for the day. Worth it if you know you will be visiting several different places.
I would say that 3 days is more than enough. If you go to the zoo, you have to devote a day to it, it is huge!
MY 3 TIPS TO VISIT SAN DIEGO
Take accommodation near a tram if you don't have a car, it takes you to the main places to visit.
Take a day to visit the San Diego Zoo, it is very large and many varied species.
Don't just stay downtown, stroll through the different neighborhoods of San Diego.