WHAT TO DO IN SAN FRANCISCO? MY JOURNEY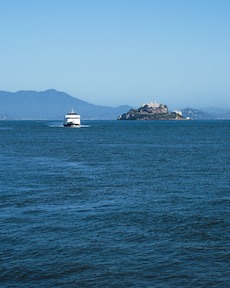 On the way to Alcatraz Island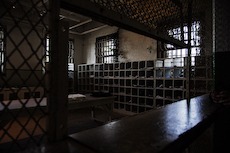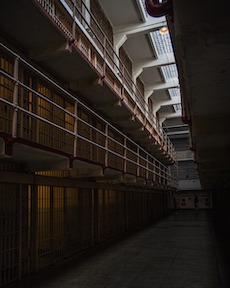 If you go to San Francisco, the main activity to do, in my opinion, is to visit Alcatraz prison. To visit the prison, take the official tour, because I have seen many people being fooled by the tours which offer low prices but in the end they do not go to the island, they only do the tour from the boat. And for having been in the prison and on the island, it is still more interesting to go there than just to go around. To book a ticket on the official website, click here. I had booked a few days in advance to have the first hour available, but if you do it at the last moment, some schedules were not complete overnight. I still advise you to take the first hour because it allows you not to have too many people in the corridors of the prison, and to be able to take pictures with no one on it.
To go to the island, go to pier 33 to take the boat. The journey takes about fifteen minutes. For the return, you have boats scheduled every 30 minutes, so you can spend as much time as you want on the island. Once there, several visits are available to you. Obviously the visit not to be missed is the prison. This is at the very top of the hill. Before you get there, a ranger at the exit of the boat is waiting for you to detail all the visits you can do on the island. Listen to it because some tours are only available once a day. For example, I missed the 9:50 am guided tour on the history of certain prisoners who lived in Alcatraz because I thought there were others during the day. So listen carefully to what he says and plan your visit well according to your interests. When you go to the prison, you have audio guides available for the visit. This one is very short, about 30 minutes in all. It is super well done because you pass through different rooms of the prison, you can see the cells, the refectory, the courtyard… You will also see the cell known for its escape. Some anecdotes are told by guards and prisoners because it closed not so long ago, in 1963. According to the guide, it housed the greatest criminals in American history. The audio guide sometimes goes a little too quickly from one point of interest to another, do not hesitate to pause to admire the place and take pictures if you want.
After the prison tour, you have an exhibit on the current prison situation in America. The United States is the country with the highest percentage of prisoners in the world with approximately 1.9 million prisoners. This is a figure that does not leave anyone indifferent! What is interesting in this exhibition is that we learn a lot about injustice, the consequences it has on their families, their lives after prison, etc…
There is another exhibition open from 11 a.m. to 2 p.m., the red power exhibit. A protest took place in 1969 for 19 months so American Indian could reclaim land from Alcatraz prison as it had been the case elsewhere. Even if the result was not what they expected, the event will go down in history, and you can learn more about it at this exhibition.
Other buildings with explanatory panels are present throughout the island. For example, there is information about the daily life of prison guards and their families. I really enjoyed this visit. It was the first time I visited a prison and walked in the footsteps of former criminals in history. I'm not going to lie to you that it's a pretty weird feeling. You really feel all the history and everything that happened on this island. To go all around the island and the few exhibitions that there are in addition, it took me about 3 hours. So plan about half a day for the Alcatraz prison.
SQUARES AND STREETS NOT TO BE MISSED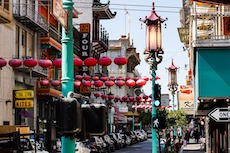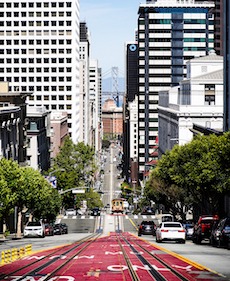 California street and Mason street intersection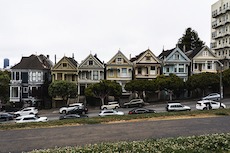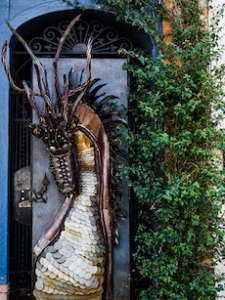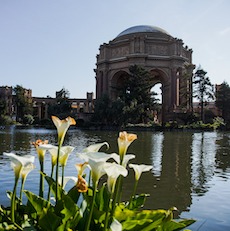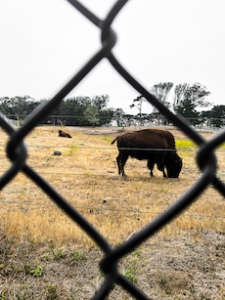 San Francisco is a very big city and there is a lot to see. So much so that sometimes you can get lost. Some streets/neighborhoods are worth more than others, but I'll let you judge by yourselves. Here are some places I explored:
Ghirardelli Square: it is a small square in red brick, kind of an open shopping center. It's super cute! It's not very big but it's worth a look if you're not very far.
Grace Cathedral: its size is impressive! On the other hand, you have to pay to go inside. I haven't done it so I can't tell you more.
California street and Mason street intersection: one of the most famous photos from the top of a hill with a view of one of San Francisco's bridges, buildings and the old tram. Be careful of cars and don't cross at a red light, it's just a picture…
Chinatown: the main street to see is Grant Avenue. In several large American cities, there is very often a Chinatown, and to be honest, they all look a bit alike. But I found the one in San Francisco to be different. More decorated with a unique atmosphere. Go for a walk, it's a nice little neighborhood to walk around.
Russian Hill and Nob hill district: two residential districts. Take your time and admire the typical architecture of the city in the different streets of the districts.
Lombard street in the Russian Hill district: I'm not going to lie, I don't really understand the success of this street. It is certainly a very winding sloping street. But that's all. It is one of the tourist points of interest in the city but it is up to you if you want to go there.
Palace of fine arts: I was amazed by the beauty of this monument. I didn't really know what to expect but once I arrived at the edge of the lake in front of the monument, I was speechless! It's very beautiful! Unique architecture in San Francisco. For me, it's a must.
Clarion Alley: I had seen in several blogs that it was a street not to be missed for street art. So first of all, it's still quite far from the main points of interest in the city center. Second, the neighborhood is not very safe, well that was the case when I was there. I didn't feel confident there so I quickly turned around. Because of that, it is not a place that I would advise you to visit. Up to you.
Painted Ladies: To see these famous colorful houses, go to Alamo Square. From there, you are in front of these famous San Francisco houses with a beautiful view of the city behind. It's really pretty.
Haight Street: it is a street with lots of small bars and shops. It is in this street that you have the famous legs on a facade of one of the stores.
Golden gate park: Huge park in downtown San Francisco. All activities are unfortunately not free, except for going to see the bison. It's nice but nothing more. If you have time, why not. Do not miss the memorial on AIDS.
A well-known activity to do in San Francisco is cycling or walking across the Golden Gate. I didn't do it for lack of time and it didn't necessarily interest me to be honest, but if you do it, plan a short half-day, the bridge is very big!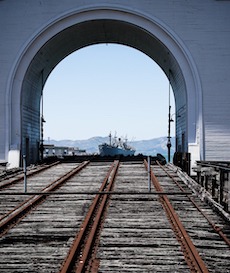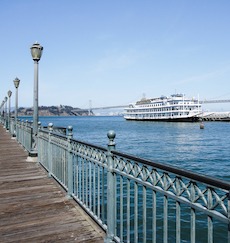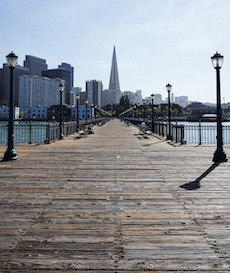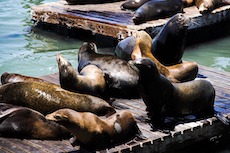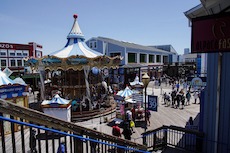 In good weather, it is very pleasant to walk on the various piers of San Francisco. Here are the most interesting:
Pier 39: a pier where it is possible to do different activities, such as going to a restaurant, shopping, seeing sea lions fighting to go on a small pier. It is very well laid out, and in good weather it is nice to spend some time there. If you just walk around, it will take you about 30 minutes.
Pier 45: the main attraction on this pier is the mechanical museum where you will find old arcade games. I discovered a lot of arcades that I did not know, it was fun to see. The museum is free but you have to pay for each arcade you want to try.
Hyde Street Pier: Access to this pier is free if you have the "America the Beautiful" card. At this place, you can see the different boats that have served in the San Francisco Bay, for commercial reasons or military public transport. For example those used before the appearance of the golden gate, which are an integral part of route 101 in the United States. It is possible to discover the boats from the pier and by going on it. To go around, it will take a good hour.
Pier 7: This pier is just a walk. Once at the end of the pier, turn around to have a symmetrical view between the pier and the buildings of San Francisco.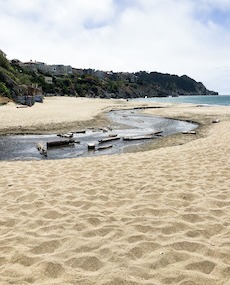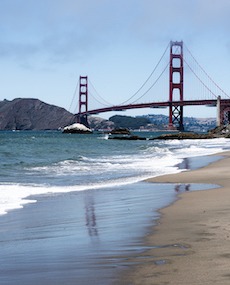 One of the best views of San Francisco's famous Golden Gate is from Baker Beach. Before you go, I warn you, it is a partly nudist beach. But many tourists go there dressed anyway. Go to the end of the beach towards the rocks to get a closer view of the huge bridge and on Hawk Hill.
A nice view of the Golden Gate but a bit more distant is possible on Crissy Field beach. Few people on weekdays, the beach is very nice, and the view on the bridge is great.
San Francisco is a very beautiful Californian city. Its architecture is one of a kind and gives a certain charm to the city. Walking around the city is pleasant.
I was there on 2 different periods, end of May and end of June. I didn't see any big differences between the two months. The weather was fine, and the temperature was pleasant. Sometimes a little cloudy.
| Jan | Feb | March | Apr | May | June | July | Aug | Sept | Oct | Nov | Dec |
| --- | --- | --- | --- | --- | --- | --- | --- | --- | --- | --- | --- |
| | | | OK | OK | OK | OK | OK | OK | OK | OK | |
I think 3 days is enough to do a good tour of the city.
WHERE TO SLEEP? MY ACCOMMODATION
AMSTERDAM HOSTEL SAN FRANCISCO
749 Taylor St, San Francisco,
CA 94108, USA
Price: $32 – €31 / night for a bed in a mixed dorm of 4 people
Click here to book a night.
It is a good location / price ratio but I do not necessarily recommend this hostel because personally I did not have lockers and they did not have the system to unlock one for me during the day. Result, no lockers whereas it was included in the services. The kitchen is not clean at all and the fridges have no shelves so all the food is piled up in the back. Other than that the room and bathroom are ok but that's it. Up to you.
MY 3 TIPS TO VISIT SAN FRANCISCO
Ask about neighborhoods to avoid where you are staying. Some neighborhoods are not good for tourists.
For Alcatraz prison, take the first schedule for the guided tour. This will allow you to have no one in your photos in the jail.
If you can, get accommodation in downtown San Francisco so you can walk around easily.