AN ANCIENT CAPITAL OF CUBA
WHAT TO DO IN SANTIAGO DE CUBA? MY JOURNEY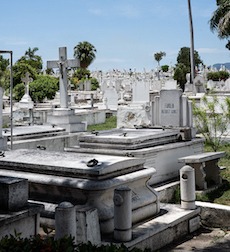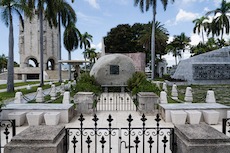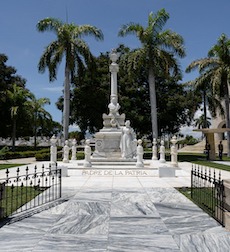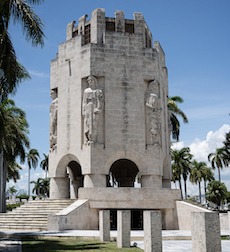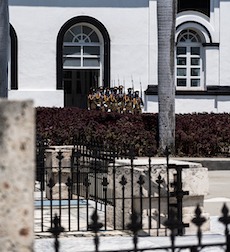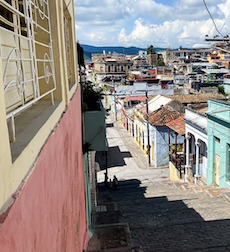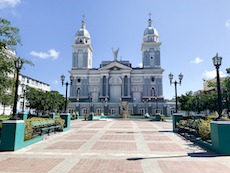 Cathedral of Our Lady of the Assumption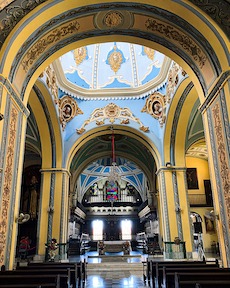 Inside of Cathedral of Our Lady of the Assumption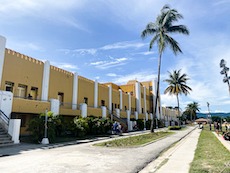 Downtown Santiago de Cuba is quite pretty. The main square with the Cespédes Park (Parque Cespédes) is beautiful, and the Cathedral of Our Lady of the Assumption (Nuestra Señora de la Asunción). The blue exterior and yellow interior are just gorgeous! It seems very big compared to the rest of the architecture's city.
From this square, you have the Casa de Diego de Velazquez museum, dating from 1515, it's the oldest house in Cuba. The casa is super cute with interior courtyards and a few items. You can imagine how they lived back then. When I went there, there was no pannels explaining the place, so I stayed ten minutes.
One block from the main square, you have Enramadas Avenue, a large pedestrian avenue in the city. There are few shops and restaurants all along. The colorful facades make the street very pretty and pleasant to walk around. You can see the daily life of Cubans in this street. At the end of the street you have the nice Marte Square (Plaza de Marte).
Another area to visit in the city, is the colorful Tívoli residential area. A neighborhood higher and quieter. It's here that there are the famous Padre Pico stairs which give a great view from above on Santiago de Cuba. A nice little area to walk around.
Not far from the city center, there is the Moncada barracks (cuartel Moncada) which is a museum about the attack of July 26, 1953. Unfortunately when we wanted to go there, it was closed (just like the Rum museum). It's still impressive to see if you have time, because there are still bullet holes on the facade. Today it's a museum, but also a school.
I'm not a big fan of cemetery, but I admit that the Santa Ifigenia cemetery is still worth doing. In this cemetery there are the tombs / Memorial of very famous men in Cuba such as Jose Martí, Fidel Castro, Bacardi and Maceo. It's a large cemetery which has a guard ceremony every 30 minutes, not far from the entrance. It's very beautiful to look at, very ceremonial. In the cemetery, you also have a museum in Spanish which explains the importance of some men who are in this cemetery. It allows you to understand a bit of the history of Cuba and its revolutions. You can walk around the cemetery freely. It's about 1 hour to visit the whole thing.
If you still have some time, there is the castle of San Pedro de la Roca (Castillo de San Pedro de la Roca del Morro) which apparently has a great view from it. I couldn't do it, but friends did, and they highly recommended it to me. It's a bit difficult to get there on your own. Otherwise you can take a taxi, but it will cost you around 20€ for the round trip.
Entrance to the Santa Ifigenia cemetery: 75 Cuban pesos, and 150 Cuban pesos if you want to take pictures.
Return trip to the castle of San Pedro de la Roca: 20€
Unfortunately for the other visits I can't give you prices because I haven't done them and it's hard to find the updated prices on the internet.
Santiago de Cuba is not my favorite city in Cuba. A special atmosphere that I didn't really like. But the town center is pretty and there are a few places to visit.
I was there in September, and the weather was great.
| Jan | Feb | March | Apr | May | June | July | Aug | Sept | Oct | Nov | Dec |
| --- | --- | --- | --- | --- | --- | --- | --- | --- | --- | --- | --- |
| OK | OK | OK | OK | | | | | | | | OK |
One day is enough to visit the city center. If you want to explore the surroundings, you will need an extra day.
MY 3 TIPS TO VISIT SANTIAGO DE CUBA
If the museum is open when you are there, go there immediately, opening hours and days may vary at any time.
Take accommodation in the city center to be close to the streets to visit.
If you are a woman traveling alone, prepare to be accosted very often in this city.