THE PELES CASTLE AND CITY CENTER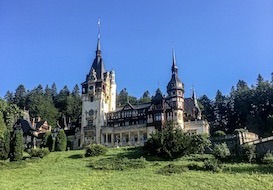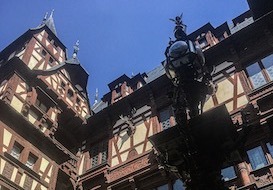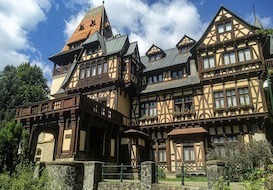 During my stay, I met a Romanian couple who advised me on my itinerary. During our conversation they recommended Peles Castle (Castelul Peleș), which for them was more beautiful than Bran. So I added it to my list and had no regrets! One of the most beautiful castle that I could see. I highly recommend it to you. Once on site to visit the interior of the castle, they gather you in groups of about thirty people and you have a guide included in the price. You can't visit the interior of the castle alone. The interior is in great condition which allows you to imagine life during that time. Do not hesitate to make the full visit with the first floor, it's worth it. Be careful if you want to take pictures or film, you will to pay more. After your visit to Peles Castle, you can take a tour around Pelisor, which is in the same style as the castle. You can visit the interior of one of its old houses (you will have to take a ticket exclusively for this visit). To visit everything, count between 3h and 4h.
Entrance price for Peles Castle interior (ground floor and first floor): lei 60 / € 12,50 without pictures and videos
Click here for more information about the Peles castle.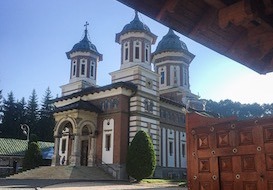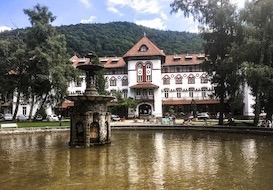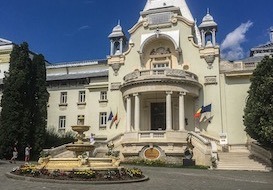 After visiting the castle, take some time to discover the small town of Sinaia. A very pretty little town center with parks, restaurants and a few shops. You can admire the casino and the town hall of Sinaia which are two beautiful buildings. And do not miss the visit of the monastery of Sinaia (Mănăstirea Sinaia) with its large church and the old church. And if you like hiking, sleep on the spot and discover the different trails. Personally I did not do it for a lack of time but I think it's worth it to look for it.
I didn't plan to visit Sinaia until the Romanian couple advised me to go and visit it. I didn't hesitate and have no regrets because it is one of the most beautiful castle I've seen from now. I only stayed one day before going to Bucharest.
Months with a favorable weather to visit Sinaia
| Jan | Fev | Mars | Avr | Mai | Juin | Juil | Août | Sept | Oct | Nov | Déc |
| --- | --- | --- | --- | --- | --- | --- | --- | --- | --- | --- | --- |
| | | | | | OK | OK | OK | OK | | | |
To visit the castle and only the city center of Sinaia, a good day is enough.
MY 3 TIPS
Go early to the castle to have a guided tour quickly

Stroll in downtown Sinaia because it's not just the castle

Easy step from Brasov to Bucharest