A BEAUTIFUL CUBAN DESTINATION
WHAT TO DO IN SOROA? MY JOURNEY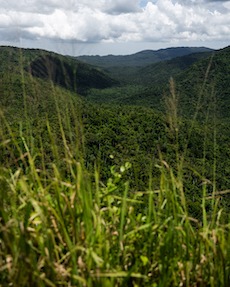 View from the Soroa's Mogote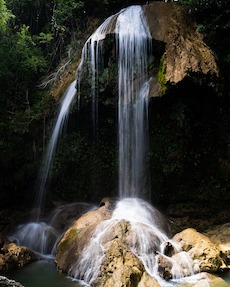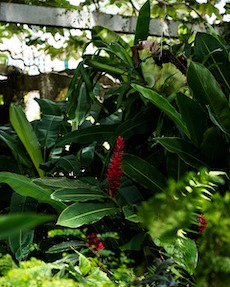 The city is very small. In half a day you will have visited everything. There are few taxis, so if your accommodation is far from the city, and you don't have a car, be prepared to have to return by the same way as you came.
The orchid garden (orquideario) is a 35,000 sqm garden with different plant species, especially orchids (as the name suggests). It's a super beautiful park with beautiful flowers! A path goes around the park, you'll do it in thirty minutes.
The Soroa's Mogote (mogote de Soroa) viewpoint is at the top of a 2 km path, uphill. It's possible to do it on horseback or on foot. The climb is not easy, especially when it's humid. But the reward is worth it! You have a 360 degree view of the region's valleys and plains. That's wonderful! The return is by the same route. Depending on your pace and physical condition, it will take you about an hour.
The main attraction of the city is the Soroa's waterfall (cascada de Soroa)! You have two entrances to access it. One from the center, and another one a little before, where there is a sign that indicates natural pools. The entrance from the center is better because the small path to go to the waterfall is pretty. Then, you'll arrive on a beautiful waterfall, 22m high! You can swim, and drink a fresh coconut on the spot (50 Cuban pesos). It gets crowded, especially on the weekends, so if you want some peace and quiet, you'll need to arrive earlier.
Entrance to the orchid garden: 100 Cuban pesos
Entrance to the Soroa's Mogote: 150 Cuban pesos
Entrance to the Soroa waterfall: 150 Cuban pesos
Soroa was a great discovery. The city center is not very lively in low season but there are several things to discover. If you have time, it is a city worth visiting.
We were in Soroa at the beginning of September and we had good weather (but humid) until the end of the day when we had a heavy rain for several hours.
| Jan | Feb | March | Apr | May | June | July | Aug | Sept | Oct | Nov | Dec |
| --- | --- | --- | --- | --- | --- | --- | --- | --- | --- | --- | --- |
| OK | OK | OK | OK | | | | | | OK | OK | OK |
One day is enough to visit the city center and the 2/3 activities to do. The city is small.
WHERE TO SLEEP? MY ACCOMMODATION
CASA CAMILA
Carretera Soroa km 3 1/2, Candelaria, Artemisa Cuba
Price: €26.75 / night for 2 double beds
A bit far from the city center (especially if you go there on foot) but a super nice casa particulare with lovely hosts. They speak good English. We had dinner (10€) and breakfast (5€), it was delicious! I highly recommend.
MY 3 TIPS TO VISIT SOROA
Don't expect to have taxis downtown. If you don't want to walk, see with your host if there is a way to walk around the town.
Take a good look at the weather before going for a walk in the city because during heavy rains, you won't be able to do much.
Have dinner at your casa because you aren't sure to find a restaurant in town.