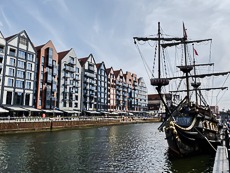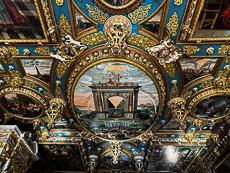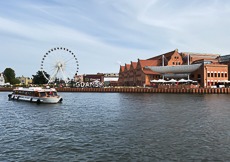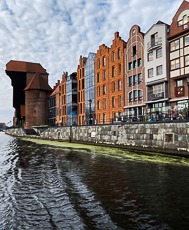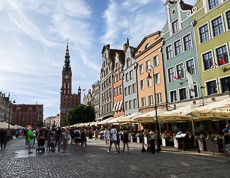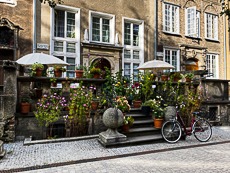 Gdańsk city center is quite different from what I have seen in other cities. The buildings are still as colorful as ever, but they are aligned differently. Usually, there is a main square and all the houses are built around it, like in Poznan for example. Here, the houses are in several parallel streets and are built around the river. It is very lively with many small restaurants and many shops of all kinds. Whereas the whole city was 90% destroyed in WWII, but they rebuilt everything quickly, like in Warsaw, so you don't feel this catastrophic passage of history. I really didn't expect to see a city like this… It's very pleasant to explore. There are many tourist signs in the city to guide us to activities or buildings to see, such as the Church of St. Mary (Bazylika konkatedralna Wniebowzięcia Najświętszej Marii Panny w Gdańsku). A huge and beautiful church. Many impressive statues and paintings. Not to mention the astrological clock which is a beauty!
There are some very nice walks along the Motlawa river to do, a river located in the city center. You can see the large letters GDANSK, perfect for a small souvenir. For those who like museums, you have the choice: museum on the Second World War, maritime museum, national museum, and so on … Enough to satisfy everybody. I haven't done the WWII museum, I admit that I was starting to know a lot about this topic, but this museum is apparently very well done. I could only see the architecture that makes you want to visit it. In Gdańsk, I visited the old town hall museum, really interesting! I learned a lot of information about the city. As for example, the fact that Gdańsk became "free city of Danzig" between the two world wars, and was shared between the Germans and the Poles. And the interior of this museum is magnificent, with an extraordinarily beautiful ceiling in one of the rooms!
A little outside of downtown Gdańsk, check out the Covered Market Hall (Hala Targowa), which is a very original building.
To visit Gdańsk city center and some museums, I would say that a good day will be sufficient, even two days if you take your time.
Old Town hall museum price without visiting the tower: PLN 16 (+ PLN 10 to climb the tower) / € 3.50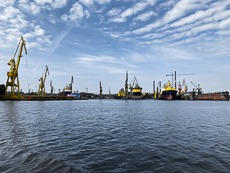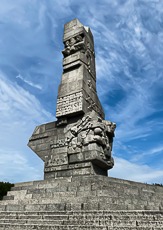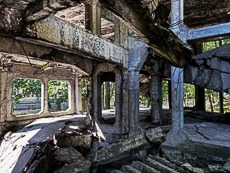 To get to Westerplatte there are different ways, by boat or by bus. It is best to go by boat so that you have all the explanation, then come back by bus (106 or 138). By doing so, you will have as much time as you want to visit the place (not rushed by the limited time the boat trip gives you). The boat ride is really nice. You can see a whole industrial part of the city. Honestly, the return by boat is not of much interest.
Westerplatte is a place that has known many different stories. There was a time when this place was known for its spas and its treatments. This place has always been a tourist spot, except during the Second World War which served as a battleground. Today, we can still see some remnants of that battle with some explanations. You can easily imagine what happened there, and walk through history. There's even an abandoned building you can visit. Arriving at the war memorial, you can see that Westerplatte is a very symbolic place for the Poles.
Including the journey and the on-site visit, a short half-day will be sufficient to visit everything.
Price one way boat: PLN 35 / € 7.75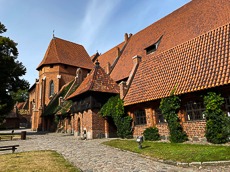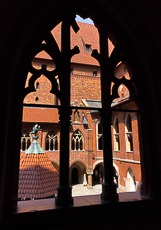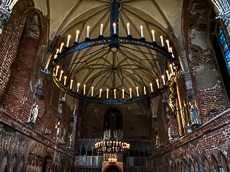 Located not far from the city of Gdańsk, you cannot miss the Malbork Castle (Zamek w Malborku), also called Marienburg Castle, which is the largest brick castle in the world! And to have seen it, it is incredible! It is not for nothing that this medieval castle is listed in UNESCO. It was built in 1270, under the order of the Teutonics, and has undergone many modifications. The oldest part of the fortress is the monastery in the upper courtyard. And everything is very well maintained. The castle has been the seat of the royalty of Poland for around 3 centuries.
From Gdańsk, you can get there by train directly in half an hour, or in less than an hour with a change in Tczew. Once there, the audio guide is compulsory. And it is very useful because this place is full of history. The course is very well done, so that you can get to know the whole history of the castle in most of the rooms. You have access to several exhibitions in the castle as well as on amber, the weapons of Europe from the Middle Ages to the 19th century.
This visit is a good memory that I keep. It's very different from what I have seen and done in Poland. The explanations of the audio guide are complete, and we learn a lot about the history of the place. We can easily imagine how the castle was back then, and what happened there.
To take my time to go around the whole castle, I took about 3h / 3h30. And I strongly advise you to go there as soon as it opens because there are a lot of people visiting it.
One-way direct train price Gdańsk -Malbork: PLN 17 / € 3.75
Return train price with a Malbork- Gdańsk with one change: PLN 11.50 / € 2.50
Entrance fee Malbork Castle with audio guide: PLN 47 / € 10
SOPOT AND ITS SURROUNDINGS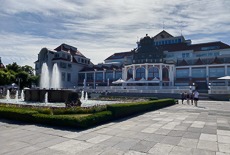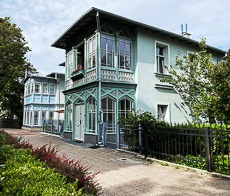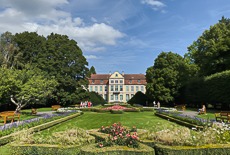 Before going to Sopot for a short day, I passed by the Oliwski park. To get there, you just need to take the train to Gdańsk Oliwa. There are trains very often that go to this direction, so no stress on the schedules. It is a very nice park where there is the Abbots Palace, a museum on ethnology and another on modern art, a botanical garden and a small Japanese garden. You understand, there is a multitude thing to see in this park. Without going to museums, an hour is enough to see most of the park.
Then, go to the nearest beach. Not much to see on the way but the walk is easy to do. There are so many people on the beach, from 11 am. And that's the case all over the beach, no matter how far or near Sopot you are. This part of the Baltic coast is a very popular place (local and international). I walked for a good hour towards Sopot Pier. A very nice walk by the water, as is the view. Near the pier, there were a few swans, I admit I didn't expect to see them in this crowded place.
Once in the city of Sopot, I visited the city. The city center is not really big, but there is a good seaside resort atmosphere. You can go for a walk on the pier and go all the way. It's a very pleasant ride.
To visit the whole, a good day is enough. If you are going straight to Sopot, I will say half a day is fine if you just want to visit and walk around.
If you are going to and / or coming back from Sopot, watch out for trains as there are trains that do Sopot – Gdańsk faster but more expensive. And honestly the other trains only take about 30 minutes to make the trip so it's okay.
One-way train price: PLN 4.40 / € 1
Price to access Sopot pier: PLN 9 / € 2
The months with good weather to visit Gdańsk. When I went there in August, the weather was great and it wasn't too hot. It's quite nice.
| Jan | Feb | Mar | Apr | May | June | Jul | Aug | Sept | Oct | Nov | Dec |
| --- | --- | --- | --- | --- | --- | --- | --- | --- | --- | --- | --- |
| | | | | OK | OK | OK | OK | OK | | | |
I think 3 days are enough to visit Gdańsk and its surroundings. If you are staying a few more days, I advise you not to sleep in Gdańsk and continue to explore the towns by the Baltic Sea, and get closer to the dunes located in the Slowinski National Park. And to be honest, you are at the seaside, enjoy and relax!
WHERE TO SLEEP? MY ACCOMMODATION
3 CITY HOSTEL
Targ Drzewny 12/14,
80-886 Gdańsk, Poland
Price: PLN 63 / € 14 mixed dormitory with 10 beds (and sometimes more) / night / person
Hostel website: click here
This is a large, clean hostel not far from the old town of Gdańsk. When I was there, unfortunately the common room and kitchen were closed due to COVID (the only hostel I have been to that did this), so not very convenient for cooking or meeting people.
MY 3 TIPS
Arrive at the opening at Malbork Castle as it is very visited
To get to Westerplatte, go by boat to have the history on the way, but for the return trip, take the bus back. You can visit the place at your own pace and it will cost you less.
Rent a car if you want to visit Slowinski National Park, it is absolutely inconvenient by bus, and far too long to get there / back during the day.