A WEEK OF HIKING IN THE JURA
My first backpacking experience. And what an experience! It was an extraordinary journey with many encounters, magnificent landscapes and an extraordinary hike. I didn't know the Jura region so I didn't know what to expect, and it was a really nice surprise. Hilly landscapes, super cute villages and sublime views. I thank Laure for having me by her side, in what was for me a whole new adventure.

In order to prepare for this little trip, we took the example of the route found on the Carnets de Rando site, which gives fairly simple hiking ideas. For my first hike, it is true that going into the Alps with significant elevation changes is perhaps not the best idea. Following this article, we have therefore started to prepare the route which goes through the GTJ, but also the GR5 and the GR9. As we did not necessarily want to take a tent to avoid more weight in the bags, we preferred to take the accommodation in advance (we went there at the beginning of August, everything is quickly full during this period). We packed our bags, and off we went to take the train and a bus, bringing us to the first stop, Métabief.
STEP 1: FROM METABIEF TO MOUTHE – 23 km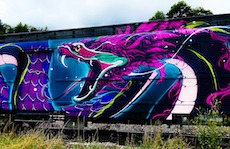 Abandoned train in Metabief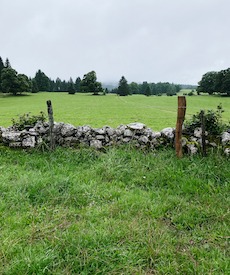 Little path in the fields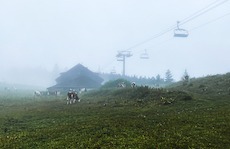 We arrived the day before in Métabief to settle in and be able to leave early the next morning. We took the opportunity to visit the artisanal and family cheese dairy of Mont d´Or Sancey Richard. The cheese factory has a free museum that allows you to learn more about the different cheese-making processes, as well as the birth of certain cheeses. An hour to visit the museum is enough. Don't forget to stop by the store which has some great products (tested and approved).
After a short day exploring the city and a good night's sleep, it was time for the first step of our hike. Departure at 7.45am! A big day to start this trek. It puts on good legs. Get ready, you will climb from 1000m to 1463m to reach the top of Mont d'Or. To get there, we first pass through the forest, and then arrive on a large clearing (ski slope in winter) with a few cows. Our first cows on the way (yes we saw a lot of them during the hike). It gives a smile and the encouragement to discover new landscapes.
Once you get there, you will have an incredible view. Except for us, the weather decided otherwise. Yes … We went up with the fog and a few rains. How can I tell you that once up there, well … we saw nothing … But we do not lose hope for the week and we continue on our way. Because hiking is not just the view (even if that's why you do it anyway) but it's also the experience! That day, we even ate our meal in the rain, there was so little shelter despite our few passages in the forest. A catastrophic start to the hike.
The rest of the day we had a lot of passages in the great plains, all the way down quietly to the next town. We arrived in Mouthe around 3 p.m., at the Randonnée cottage. It felt good to be there early so we could dry our gear, and especially to be warm. Mouthe is a nice little town but not very busy to be honest. Sometimes it also feels good to be in the calm.
Entrance fee to cheese museum: free
Accommodation in Mouthe: Gîte La Randonnée Mouthe
23 Rue de la Varée,
25240 Mouthe
Price: € 28.75 / night / person with breakfast
Cottage website: click here
Very nice lodging in the center of the village. With access to the supermarket not far away, and a pizza van that comes some evenings.
STEP 2: FROM MOUTHE TO CHAPELLE-DES-BOIS – 20 km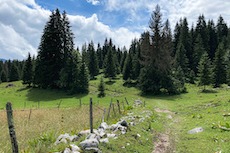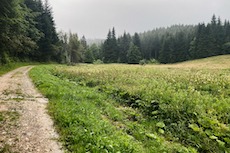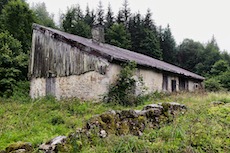 Second step. We left later, around 8.45am because the weather was really bad, and they announced a lot more rain than the day before. So we took our time, prepared our things, and then went to our next stop, Chapelle-des-Bois.
This hike was occasionally in the forest and sometimes along the forest, in a large plain. Small nice trails, with little difference in height during the day. On the other hand, with the weather we had, our feet were often in the mud …
On these trails we saw a few abandoned houses. Unfortunately, I cannot tell you about the history of these houses because there was not really any information. But that leaves the imagination running.
On part of the way, we also walked along a cute little stream. And meet some cows of course! After a few hours, we crossed the village of Chaux Neuve. Very cute with houses gathered on 2 or 3 roads. It was nice to pass through this small village.
We continued the path until we found a refuge (closed) but a shelter in front of the front door so that we could eat our sandwiches. We left quickly so as not to catch a cold, and we arrived at Chapelle-des-Bois around 3.30pm. One of my favorite villages (there is a second one but you will find out later). A super cute square, well-maintained houses, all surrounded by beautiful landscapes. The village has a lot of charm. We settled down well before tackling the third stage which awaited us the next day.
Accommodation in Chapelle des Bois: La Maison du Montagnon
6 Chem. Capercaillie,
25240 Chapelle-des-Bois
Price: € 65.75 / night / person with breakfast and dinner
Accommodation website: click here 
Super nice accommodation in the center of a very cute village. Accommodation is big, but that's okay. The dinner was very good.
STEP 3: FROM CHAPELLE-DES-BOIS TO BOIS-D'AMONT – 12.5 km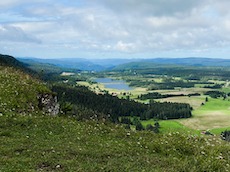 Bellefontaine and Morte Lakes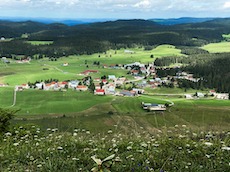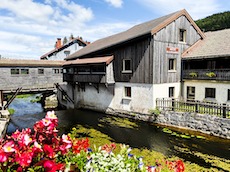 This third step being a shorter day than the previous days, we left quietly around 9am. And with a nice little surprise in the morning, the weather is nice! Hallelujah, finally! So we start this hike all joyfully until … a steep climb in the forest, in the morning! Be careful, in rainy weather, I think this climb can be very dangerous. The weather was fine so we went there, well motivated! A few ropes on the way help us from time to time. But whoever says rope, is often scared of heights. Yes, in general we find these little friends during dizzying passages, and it did not fail. Honestly, these are very, very short passages, doable without problem. And anyway, once up there, the view is our greatest reward!
We arrive at the top of a cliff, and the view is extraordinary. Our first beautiful unobstructed view of the mountains since the start of our stay. A real treat. We mainly see the Bellefontaine and Mortes lakes, side by side, with a herd of cows between the two lakes. After a few photos and videos, we continued walking to the Roche Bernard and Roche Champion lookouts. These belvederes give extraordinary views, directly on the two lakes. Not to be missed if you are in the area.
Then we were in the forest the rest of the way, with a few passages in clearing. It was very cute, and the walk was nice. We arrived at around 3pm with a magnificent view of Bois-d'Amont, which is a larger village than what we had been able to see so far (except for Métabief). In the village, there is the museum of bushes which can be visited (I cannot give my opinion, we did not visit it). We went to the lodge to put our bags down and enjoy these few rays of sunshine.
Accommodation in Bois-d´Amont: Le Mont d´Annam
Rue de Franche-Comté,
39220 Bois-d'Amont
Price: € 57.50 / night / person with dinner and breakfast
Accommodation website: click here
STEP 4: FROM BOIS-D'AMONT TO LES ROUSSES – 7.9 km then 6 km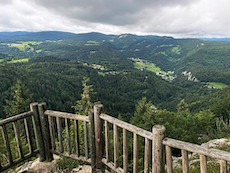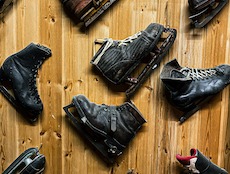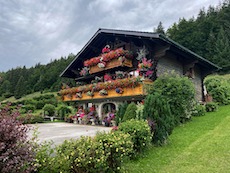 So this 4th step was unfortunately not done as planned. That day, they predicted huge rains with a few thunderstorms all day. But only from 10am. So instead of doing the 15 km in the forest, we decided not to take any risks (it is strongly advised not to be in the forest when there is a storm), and we walked along a road (with light traffic) to reach Les Rousses. So we left at 8am, took the winding road to the right of the lake, and continued straight ahead to the lodge. Admittedly it is much less pleasant to walk along a road but we were not so disappointed because during the walk, we did not have a single drop of rain, and above all we had beautiful views of the lake with a mirror effect. We also saw some very beautiful flowered chalets along this road.
We arrived at 9.45am at the cottage in Les Rousses, the hosts were very nice and gave us quick access to a room so that we could put our things down. And luckily we got there so early because it rained a lot all day! We therefore took advantage of this short day of rest to go for a walk in town. Les Rousses is the largest town on our hike. There is an atmosphere of a mountain village, a very cute little square, shops everywhere, a very lively town. We went to eat with a couple of hikers, met several times in the different lodgings that we had made. And we had a good fondue at chalet Regain. Very good restaurant with a good atmosphere.
In the afternoon, we continued our little tour of the city and did some shopping, then returned to the lodge. And this is where we discover the most about this accommodation, the activity not to be missed. The guided tour of the ski museum at 6pm! This visit is so interesting. Founder Roger, our guide, had the idea of ​​collecting all the objects that the locals no longer wanted, and which corresponded to winter sports. His collection is so successful that now residents are calling to come and collect items. His museum is a real Ali Baba ski cave. Skis, bobsleigh, snowboards, ice skates. And even a medal from the Winter Olympics that took place in France (which I was able to hold in my hand). It was amazing to see it all. Best of all, the guided tour isn't just about explaining each object, no. Roger tells us stories and anecdotes about certain objects in the museum. It was very enriching and interesting at the same time.
The next day, it was supposed to be our day of rest, but the weather had decided otherwise. So we had again a short day of walking. But since we hadn't done a lookout the day before, we decided to make a round trip near the lodge and then come back to the city for lunch. Go to la Roche Blanche at 1 210 m. A small climb to get back in shape. This short hike lasted about 2 hours, for about ten kilometers there and back. The view over the Jura valleys is very beautiful, and we begin to see some mountains of the Alps.
After lunch, we left for our next cottage which is located just 6 km from Les Rousses. But afterwards, we were still very happy to save those 6 km for the next day. Most of the hike takes place in the forest. On the way, we saw the very beautiful Bief de la Chaille waterfall (you have to make a very slight detour to see it) which is worth it. Not very big, but magnificent. We then arrived on a very cute valley with a beautiful path, a few houses far from each other, cows (of course) and our cottage. Yes, our first lodging a bit in the middle of nowhere. We arrived at around 4pm and we were able to enjoy the beautiful weather, and the gentle sound of the bells. The place was very nice. It has been recommended by the Routard for many years.
First accommodation in Les Rousses: Le Grand Tétras
705 Rte des Rousses d'Amont,
39220 Les Rousses
Price: € 28.90 / night / person with breakfast
Accommodation website: click here
Grant lodging at the top and at low price. Close to downtown and the city's many restaurants. There is also the possibility of doing lots of activities in this cottage (table football, ping pong, board games) as well as a visit to the ski museum.
Second accommodation in Les Rousses: Cottage La Grenotte
476 Chem. of Bacon,
39220 Premanon
Price: € 51.30 / person / night with dinner and breakfast
Accommodation website: click here
Cottage in the middle of cows and valleys. There are a few houses around but no town center or shops. The place is charming and the hosts are welcoming. Nice to rest for the afternoon.
STEP 5: FROM LES ROUSSES TO MIJOUX – 25 km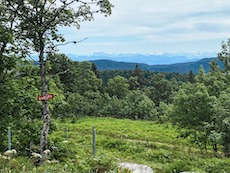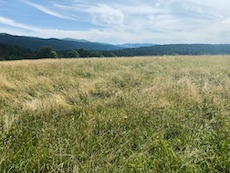 Walking through the fields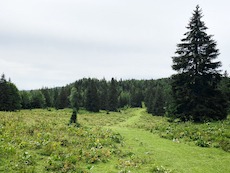 After a gentle awakening to the sound of cowbells, we left quietly around 8.45am, in the direction of Mijoux. A first big climb awaits us to start the day (like almost every day I would like to say, but better to have it in the morning than at the end of the day to be honest). But the effort of the climb is quickly forgotten when you arrive at the Dappes belvedere at an altitude of 1 367 m and have a great view of Les Rousses and its lake. It's super pretty.
We continue the path in the forest to then arrive at a detour that we made, Crêt Pela. No regrets about this detour. We go deeper into the forest without really knowing where we are going and what we are going to find there. Then at some point, the view suddenly clears, and bam! A magnificent view of the chain of the Alps and Mont Blanc! It was very beautiful! We even sat down there to eat in front of this view. It was amazing.
Then it was off again for several kilometers to Mijoux. We went through really varied landscapes this time, forests, plains… We even crossed Lajoux. However, I didn't like this village at all, it had a bit of a ghost town feel… We went down to Mijoux, at our accommodation. The descent was a bit steep and long at the end. To be honest, we were starting to get a bit full of it. But we got there at around 5pm. Mijoux is a very pleasant little town with a few shops, and surrounded by large impressive valleys. My second favorite in terms of the village.
Accommodation in Mijoux: Les Berlicants
Rue Royale,
01410 Mijoux
Price: € 50 / night / person
Accommodation website: click here
Quiet residence. It allows you to take a break between the lodgings and refuge, and to find yourself in peace in this cute little village.
STEP 6: FROM MIJOUX TO REFUGE DE LA LOGE – 13.5 km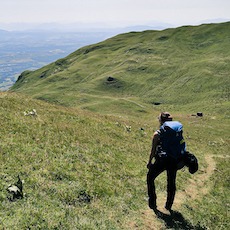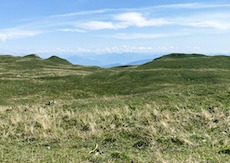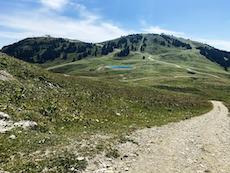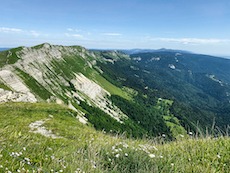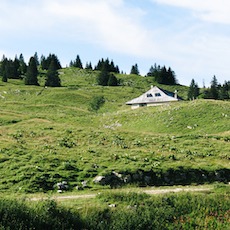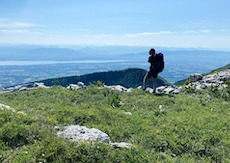 My friend looking at the Lake
The last big step of the hike. Why do I say "big" when it's only 13.5 km? You will immediately understand. We start at 8am from Mijoux, altitude 1 000 m to arrive in Mont Rond at 1 614 m in 3 hours. It was intense as it climbed, and under a bright sun. We had some views of the village of Mijoux, very cute. The climb was also beautiful, we found ourselves in really different landscapes, sometimes in the trees, to then lead to a valley with little vegetation. We have a few views on the hike but once up there! I don't have the words. I wasn't expecting this so much! We arrive at the top to have a completely unobstructed view of Lake Geneva and the chain of the Alps just opposite, at the edge of a cliff. That's wonderful ! We were lucky that the weather was nice that day. We even see the Geneva water jet with the eye. Frankly the view is definitely worth it and it's not to be missed! Really a big crush. And it's not over.
We continued to the 4th highest peak in the Jura massif, Colomby de Gex, at 1 688 m. On the way, there are sublime views of the Petit Morond and the cliff at the edge of the path that we take. Besides, if you are scared of heights, honestly it's fine. The path is not on the edge of a cliff. There were a few more people on this hike to Colomby de Gex. But it was not the motorway either, as you can find in some places in France. Once we arrived at Colomby de Gex, we sat down to eat our little cheese and ham facing the view. What else do you want?
Then we continued on our way to the Refuge de la Loge to spend our last night. I warn you, this trail just keeps going up and down. The legs are working. But the whole route is magnificent once you arrive in Grand Morond. A great hike!
Accommodation Refuge de la Loge located at 1,436m
Lodge refuge,
01410 Lélex
Price: € 40 / night / person in a dormitory with breakfast and dinner
Link to the refuge: click here
Refuge lost in the mountains, it's super nice. A good atmosphere. On the other hand, be aware that there is no shower or drinking water (this is not disturbing but if this is the first time that you are making a refuge, namely).
After the night, we returned to Paris. We went down for almost 2 hours to Lélex to then take a bus that went to Bellegarde sur Valserine.
Review of this first hike. Frankly, a great experience! We met a lot of people on the road. Despite the bad weather, we saw very varied landscapes and vegetation, and we enjoyed every place we went. The elevations were sometimes a bit steep but never too long. And the views were just gorgeous! If you haven't seen it yet, I invite you to watch the video to get an idea of ​​the trip and what we saw.
You are in valleys. The weather can vary a lot from day to day, and especially beware of the temperature differences between day and night.
| Jan | Feb | Mar | Apr | May | June | Jul | Aug | Sept | Oct | Nov | Dec |
| --- | --- | --- | --- | --- | --- | --- | --- | --- | --- | --- | --- |
| | | | | OK | OK | OK | OK | OK | | | |
We did the hike in 7 days with a few breaks or short days as you can see. But if you don't do the exact same route, it can be done in less time. It all depends on your rhythm to be honest.
MY 3 TIPS
Pay attention to the weight of your backpack. You are going to wear it constantly.

Book accommodation in advance if you do not take a tent. If you want to book overnight (which is possible of course), it is better to take a tent in case there is no availability in the village.

Change your route if the weather becomes dangerous depending on your route (example: avoid the forest in a thunderstorm) and prepare your equipment well according to the weather.
MY TOP 5
The view from Colomby de Gex and its "route des crêtes"

The view of the Bellefontaine and Mortes lakes

Crêt Pela

Ski museum

Village of la Chapelle des Bois