WHAT TO DO IN KOOTENAY NATIONAL PARK? MY JOURNEY
Before I talk about what to do in Kootenay National Park, I'll talk to you about logistics. If you stay several days in Canadian national parks, it is interesting to take a discovery entry card pass. It is possible to buy them directly at the entrances to the national parks.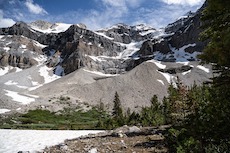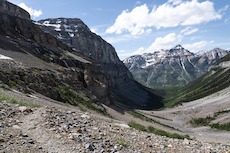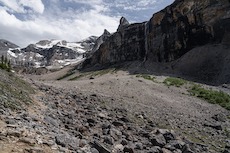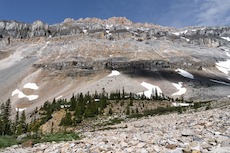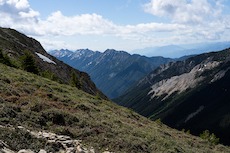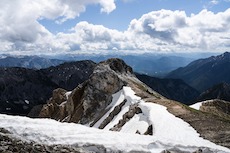 During my stay in Kootenay National Park, I did 2 wonderful hikes, which I highly recommend if you are in good physical condition.
The first is the Sinclair Creek Trail followed by Kindersley Pass Trail. I'm not going to lie that this hike is not easy when you get to the top. I advise you to do it counter-clockwise because the first part has more elevation than the second part.  To get to the start of the hike, you have a very small car park, not indicated, but which you can find using the navigation maps of your smartphone. Once arrived, it's off for a hike with different beautiful viewpoints! It begins quietly in the forest. Then, you will arrive on large plains. This is where I saw a grizzly in the wild for the first time in my life, not far from us. I hear a lot of people say they wish they were in my shoes, but honestly, it's so stressful. The bear was very calm, and so were we. We were able to continue the path slowly, the ball in the stomach, nothing happened with the grizzly, the bear spray in hand just in case. Then you continue your way to arrive on a not easy part of the trail, walking on snow. We were not at all equipped for that so it was quite physical, and we already had a few km of climbing in our legs. But when you get up there, you forget all the effort! A magnificent view of Kootenay National Park! You can see the summits following one another… At the sign, you have a path that goes up on your left to a summit. Climb these few meters to have an even more incredible view! It's breathtaking ! Once you are done enjoying the view, go back down the other side of the mountain, this part is a lot in the forest. Then the last part is unfortunately on the road but for about 20min. For those who are afraid of heights, this hike has some not very pleasant passages. But with a little concentration, it is done well because the passages are not very long. There is a small passage with rockslides, but it's ok. It is a hike that is categorized as difficult, and I confirm. But just for the views you have at the top, and throughout the hike, it's worth it! We took about 7h30 to do it.
The second great hike, and one of my favorites in Kootenay National Park, is the Stanley Glacier. You have a small parking lot at the beginning, go there early in the morning or in the middle of the afternoon, because when I wanted to go there by noon or at the beginning of the afternoon, it was always full. The first part of the hike is a climb in a forest that has been devastated by a fire, and is gradually coming back to life. Then you come to this huge place which is an old glacier (there is still a bit of glacier up there). From the plateau, you can observe the many waterfalls in height which flow along the immense cliffs. In the center of this glacier, there is a lot of vegetation, I was very surprised to see this contrast between the cliffs, the rocks and the vegetation in the center. That's wonderful! When you get to the end of the trail, you have the path that continues to loop through the center of the old glacier, passes through the small forest that you will see above and then descends. Honestly, this part of the trail is not easy, it is very slippery because of the small stones, but just beautiful! You see more closely some waterfalls, and the glacier. The view from the top is amazing!  Definitely worth doing the loop! This beautiful hike took us 4 hours in all to cover 10.9 km and 604 m of elevation.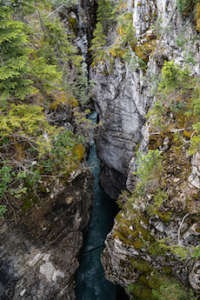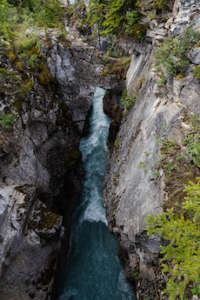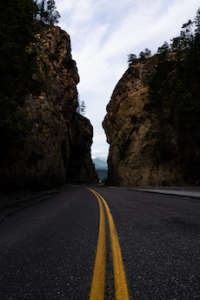 There are two very different canyons in Kootenay National Park.
A terrestrial canyon, the Sinclair Canyon.  When you are driving, not far from Radium Hot Spring, the road passes in the middle of large cliffs which form a canyon. There are parking lots nearby that allow you to stop and take pictures. If you take photos on the road, be very careful of cars.
And the other canyon, which still has a river at the bottom of it, is Marble Canyon.  This is one of my favorite canyons in the park. You can walk through it and cross it thanks to various bridges that pass over it. The canyon is very narrow and the colors of the gray cliffs are absolutely amazing! The higher you go, the deeper the canyon. The trail continues until you come across the waterfall that begins this canyon. It is a very impressive canyon! For me, it is an unmissable part of the park. You will have done the tour in about thirty minutes.
OTHER ACTIVITIES TO DO IN KOOTENAY NATIONAL PARK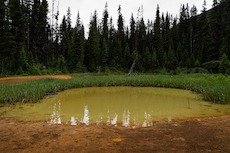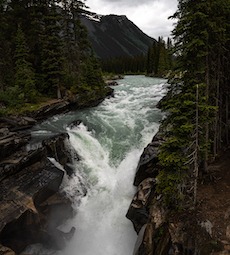 A stop not to be missed when you are on the road is the Kootenay Valley Viewpoint. Very nice view of the mountains and the Kootenay River. You have parking to access it.
Another quick stop to make is Numa Creek Fall. You have a nice view not far from the parking lot. It is a very beautiful waterfall surrounded by trees. We see the river scroll through the middle of this forest of trees, it's magnificent.
If you like hot springs, there is the Radium Hot Springs where you can bathe. I don't have more details about this place because I didn't do it, but people I met liked it a lot. Admission is chargeable, I invite you to consult this link for more details on this activity.
If you want to see water spots in different colors like red, blue, or green, then head to the paint pots. It's a 40 minute round trip hike for 4 km – 59 m of elevation, it all depends on your pace, but it's quite easy. The hike offers several beautiful viewpoints, and you will be able to see these colored waters all the way. Some were used for coloring, painting. It's pretty, but if you don't have time, it's not a must in my opinion. It all depends on each person's interests.
Many visitors stop at Banff, Jasper, and Yoho National Parks, and that's it. But very honestly I find that Kootenay National Park is worth a look with these beautiful viewpoints, its hikes and its extraordinary canyons.
I was in Kootenay at the beginning of July and I had good weather but also rain. It can vary quickly. 
| Jan | Feb | March | Apr | May | June | July | Aug | Sept | Oct | Nov | Dec |
| --- | --- | --- | --- | --- | --- | --- | --- | --- | --- | --- | --- |
| | | | | | | OK | OK | OK | | | |
Kootenay National Park can be visited in 2 days. An extra day or two is doable to explore the national park, but I wouldn't necessarily recommend longer.
WHERE TO SLEEP? MY ACCOMMODATION
HIPCAMP FLYWAY FOREST – SECLUDED CAMP EAST
Kootenay National Park
1050 BC-95, Spillimacheen, BC V0A 1P0, Canada
Price : CA $23,60 – €17,91 / night / tent spot (minimum of 2 nights)
Click here to book for a night
A place not far from the points of interest in Kootenay National Park. The owners are adorable! It is possible to shower and cook at their place. They have a nice little farm with chickens and goats. I recommend without any hesitation.
MY 3 TIPS TO VISIT KOOTENAY NATIONAL PARK
If there is a sign that says there are bears on the trail, don't take it lightly.

 

We saw one 30 minutes after seeing the sign. Find out in advance about the right things to do when encountering bears.
If you are in good physical condition, take a hike that takes you to a beautiful viewpoint. Few people do these hikes in the area.
Take accommodation in or near the national park for quicker access to points of interest.