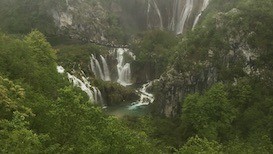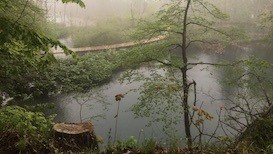 A path in the Plitvice Lakes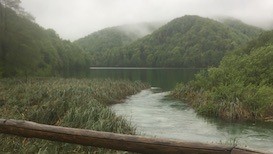 A lake in the national park
The hostel where I stayed offers to bring customers to the lakes. I took this option with the driver. The driving was at 8 am, knowing that the national park opens at this hour. It took him about fifteen minutes to take me there. Arriving there, I bought a ticket for the day.
Unfortunately, I was not lucky with the weather. The first hour there was a lot of fog, and then it rained all day. Despite a bad weather, I appreciated the beauty of this national park. The colors of the water are beautiful. Endless waterfalls, small trails and wooden paths to see most of the waterfalls. I followed the course K, but in reverse. I started with entry 2 and ended with entry 1 to finish on the big waterfall, which is very impressive. I do not regret having done the national park like this because there were few people in the upper lakes and the waterfalls were more and more impressive following the path in this direction.
Shuttle price to go to the lakes : kn30 / €3
Price entry to the national park in May : kn100 / €13,44
https://np-plitvicka-jezera.hr/en/plan-your-visit/price-list/
The Plitvice Lakes is a must see in your trip to Croatia. This national park is so beautiful and the colors are unbelievable. Even if it was raining, I had a really good time.
Months with a favorable weather to visit the Plitvice Lakes.
| Jan | Feb | March | Apr | May | June | July | Aug | Sept | Oct | Nov | Dec |
| --- | --- | --- | --- | --- | --- | --- | --- | --- | --- | --- | --- |
| | | | OK | OK | OK | OK | OK | | | | |
For the Plitvice Lakes itself a day is enough. But you have some walks in the area, so if you love nature and hiking, there is plenty to do for 2/3 days.
WHERE TO SLEEP? MY ACCOMMODATION
Falling lakes hostel
53230, Korenica, Croatia
Price : kn

153 / €20,50
Hostel website : click here
A large hostel with spacious common areas. Can be noisy if you come across groups (depending on your luck or not). An ideal location to go to the lakes, and the hostel offers a cheap and early shuttle service to get to the national park. The hostel also offers walks in the area that looked interesting.
MY 3 TIPS
Watch the weather before going. The ideal weather to visit the park is during sunny days, so do not hesitate to shift your visit a few days depending on the weather

Start the visit early in order to avoid the tourist groups 

The long route (K) is really worth it to see the whole national park