WHAT TO DO IN SANTA CLARA? MY JOURNEY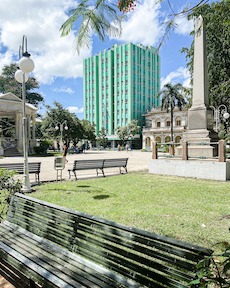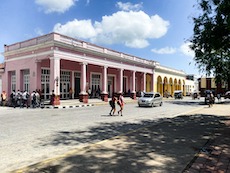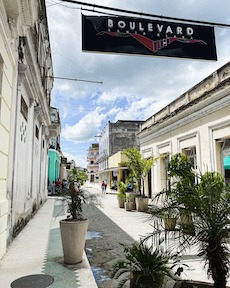 Start your walk in the main square Parque Vidal. A large central park surrounded by restaurants and shops. The buildings have different architecture. It's quite an original mix. Continue your visit by the Santa Clara pedestrian boulevard. The avenue is completely different from the rest of the city due to its many shops. A contrast with the rest of the city.
Marta Abreu street is, I think, the essential street if you want to go out. During the day there were many bars with musics. A good atmosphere. Walk to the Cathedral of Santa Clara de Asís to admire the interior with a huge statue at the entrance.
The city center is not very big. The tour can be done in one hour.
IN THE FOOTSTEPS OF CHE GUEVARA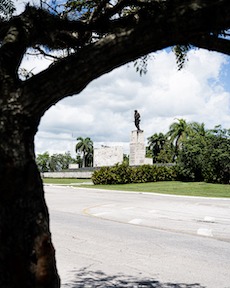 Che Guevara Revolution Square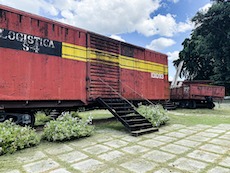 Monument of the armored train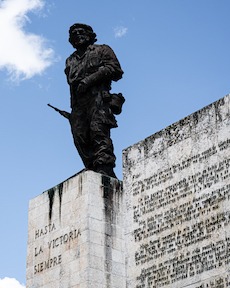 Che Guevara Revolution Square
Santa Clara is best known for the Cuban Revolution led by Che Guevara and his men in the city. And you can see it when you go to Che Guevara Revolution Square (Plaza de la Revolución), there's a huge statue in memory of Che! The statues next to it and the writings represent part of the history of this man in Cuba. The statues are actually on the roof of the museum about Che Guevara, and his mausoleum. To access it, you have to go around the building, the entrance is behind the statues. You must leave your backpack not far from the entrance, it's free, but you can leave a tip if you wish. In the museum about the life of Che there are many exhibits, as well as photos. But there was little explanation about his life in general and what he did. It's a shame because we leave without really knowing its history. In front of the museum there is the beautiful mausoleum of Che and some other people. But same thing, we don't really know who they are, or why they are there.
To continue in the footsteps of Che, go to the monument of the armored train (Monumento al tren blindado). This refers to the attack of Che and his men in December 1958, which derailed trains carrying weapons and soldiers during the Cuban Revolution. Several trains are arranged there, with pictures inside. But as usual in Cuba, I couldn't see inside because it was closed (even if it was supposed to be open of course). There are some explanations in Spanish but few.
In general, for Santa Clara, I really missed a guide. If you have the opportunity, try to see with your casa if they know one. There are few explanations in museums, and I left there without really knowing what I had just visited. That's a shame.
Entrance to the Che museum and mausoleum: free
Entrance to the monument on the armored train: free
Santa Clara is a nice city to walk around and discover part of the history of Cuba. Many bars and restaurants in the city center, a very different atmosphere from other Cuban cities. 
I was there around the beginning of September, I had good and bad weather in one day. It was sunny and warm, but at the end of the day there were heavy storms. You can have it all in a day at this period of the year. Storms usually don't last very long.
| Jan | Feb | March | Apr | May | June | July | Aug | Sept | Oct | Nov | Dec |
| --- | --- | --- | --- | --- | --- | --- | --- | --- | --- | --- | --- |
| OK | OK | OK | OK | | | | | | | OK | OK |
Santa Clara can be visited in half a day. There are a few must-see places but are quite close to each other. Try to stay one night as there are a few bars with music that look nice.
WHERE TO SLEEP? MY ACCOMMODATION
HOSTAL LAS ARECAS
San Miguel 106, Santa Clara, Cuba
Price: €10 / night for a double bed and a private bathroom
Click here to book it.
Accommodation close to the city center, with a good breakfast (5€). Ideal for one night. The host speaks good English and was able to organize the collectivo for me for the next destination. Wifi wasn't very good when I was there. I recommend without hesitation.
MY 3 TIPS TO VISIT SANTA CLARA
I advise you to stay one day maximum, no more.
Take accommodation close to the city center.
If you can, discover the city's nightlife in one of the streets near the main square Parque Vidal.