ANIMALS, NATURE AND A SMALL VILLAGE
WHAT TO DO IN TORTUGUERO? MY JOURNEY
WHAT TO DO IN TORTUGUERO WITHOUT EXCURSION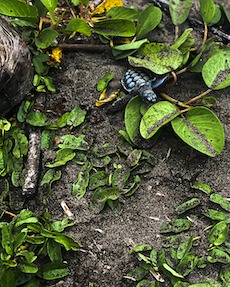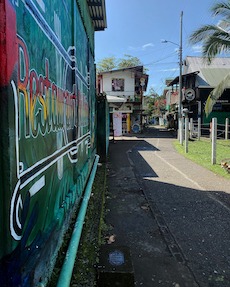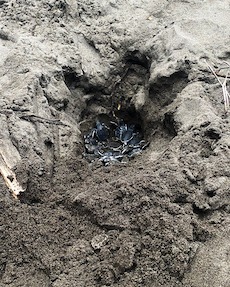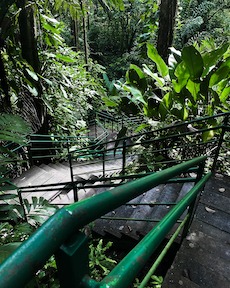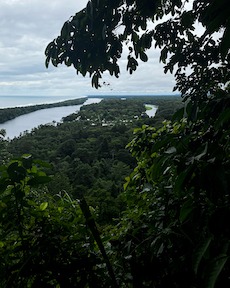 Tortuguero is a small town on the Caribbean side, accessible only by boat. To get there, you have to go to La Pavona. The 45-minute boat ride already puts you in the atmosphere, I felt like I was in Jurassic Park. A brown river surrounded by dense vegetation. We even saw a crocodile on the way, and an otter when arriving at the small port. On site, everything can be done on foot or by bike. There are quite a few tour agencies, supermarkets, restaurants, and accommodations. There's a good atmosphere as soon as you enter the city. You've many excursions that offer you to discover the animals of the national park, day and night, but before telling you about it, I'll tell you what you can do without an excursion.
From the city center you can get to the main beach Playa Tortuguero. A huge beach. When you walk along it on the land side, you may be lucky enough to see baby turtles jumping into the sea, depending on the time of the year you're there. The locals told us that normally the breeding season is between May and October, but we were there at the end of November and we were lucky to see some. How to see them? Go to the beach at the end of the day (between 4 and 5 p.m. depending on the month), then try to spot a static group of people in one place. Come closer, they're usually there to observe the baby turtles. Please keep a distance from these turtles, don't touch them, and above all give them space so they can find their way to the sea. We saw countless people who almost walked above. Watch these little turtles find their way to their new lives. It's a sublime natural show.£You can go to Tortuguero National Park from the city. For this, you need to take an online ticket "Parque Nacional Tortuguero – Sector Canales" to enter this part of the park. The best is to go there after your canoe trip because the ticket is valid for the day. It's a pretty nice walk in the jungle for 2 hours if you walk slowly. Keep your eyes open to try to spot as many animals as possible. For example, we saw a large curassow on the way. It's huge as a bird, we were quite impressed to see them. For the return, go through the beach to change the landscape. I didn't expect to see so many turtle carcasses and skeletons, and branches on the beach. We quickly forget how nature behaves when man doesn't pass by. I really liked this walk.
Another walk you can do on your own is Cerro Tortuguero. Before going there, you must also take a ticket online on the official SINAC website. For this part, select "Parque Nacional Tortuguero – Cerro Tortuguero". From the port, you ask for a boat trip to Cerro Tortuguero. After about twenty minutes, they drop you off at the entrance. There, someone will check your tickets. Then you have a very simple path that goes up to the viewpoint. You've several stairs and it takes about 20 minutes to get to the viewpoint. Take a few minutes to observe this huge national park and its various canals. I advise you to go there as early as you can so as not to be surrounded by tourists, and to see as many animals as possible. We saw howler monkeys at the viewpoint, several frogs on the way, as well as spiders. When you come back down, continue the path instead of stopping at the point where you arrived. The path is really nice. You come to another entrance. We signaled to a boat which immediately agreed to take us back to the city.
Entrance fee to Tortuguero National Park – Canales sector: approximately US$ 17
Entrance fee to Tortuguero National Park – Cerro Tortuguero sector: approximately US$ 2
One-way price for the boat that goes to Cerro Tortuguero: Costa Rican colón 1,000 
CANOE EXCURSION IN TORTUGUERO NATIONAL PARK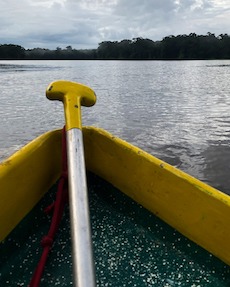 Excursion in the Tortuguero national park
Excursion in the Tortuguero national park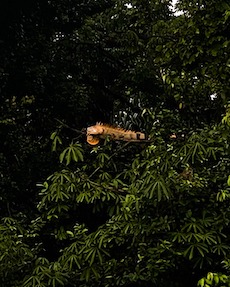 Excursion in the Tortuguero national park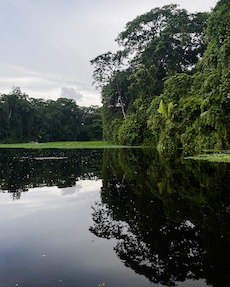 Excursion in the Tortuguero national park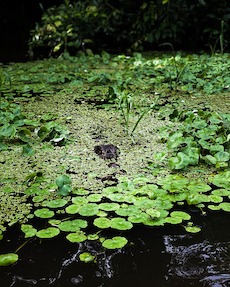 Excursion in the Tortuguero national park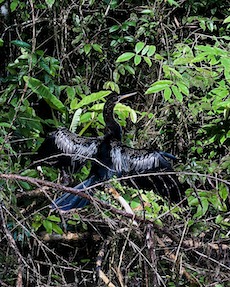 Excursion in the Tortuguero national park
To visit Tortuguero National Park, there are different ways to do it, by canoe, which is actually more of a boat (you paddle for 2h30 / 3h) or by motorboat. I don't know the difference between the two. We chose to do the canoe tour with the Asomeguitour agency. I warn you, the departure of the excursions is very early, meeting at 6am! They give you everything you need, life jacket and paddle. Before going to the excursion, remember to book your tickets online  "Parque Nacional Tortuguero – sector canales". You get on the boat to go to an office where the guide will check that you've taken your tickets for the national park. Then, it's off for about 2h30 of discovery in the national park on the water. I think this is one of the excursions where I could see the most animals, with the one of the Corcovado National Park. While sailing quietly, we were able to see caimans, different types of birds, howler monkeys, turtles, sloths, huge iguanas, frogs, and so on… Our guide was great! He knew the animals perfectly and he spotted them well. Really great! The scenery is really amazing too. I felt like I was in a movie set. We were even able to paddle in the jungle outside the canals. A very good memory and I recommend this excursion.
Price of the excursion with guide and boat: US$ 25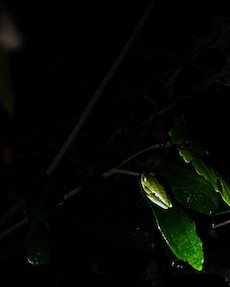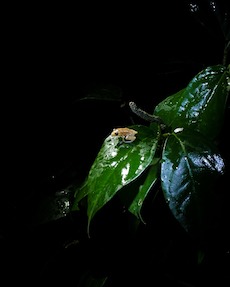 Since the beginning of our trip in Costa Rica, we had not yet seen any night sightseeing animals. So it was in Tortuguero that we decided to do it. Don't be fooled, no night tours are allowed in national parks in Costa Rica. It will often be next to it, but never inside. We also chose to take the tour with Asomeguitour. We therefore left when it was dark to discover the animals. We had the same guide as for the canoe tour. Thanks to him, we saw a lot of species, sloths, geckos, different types of frogs including the well-known green with red eyes, a transparent frog, a green snake perched in the trees, spiders, raccoons, kill bill toucans, and vultures. Frankly we saw a lot of animals and insects in just 2 hours of walking, on a path that is just behind the city. Our guide knew exactly where to go to spot the animals. The path is free to access so you can do it alone if you want. But honestly, I don't think we would have seen all of this without our guide. It was really great! I recommend.
Price of the excursion with guide: 25 US$. If you do both excursions with the same agency, see if you can negotiate the price a bit.
Tortuguero was a great discovery for me. We made beautiful excursions where we saw a lot of animals and the nature is magnificent. Just the journey to get there is super nice. One of my favorite destination in Costa Rica!
We were there towards the end of November and the weather was mixed between sun and rain. We were lucky not to have rain during our excursions and visits.
| Jan | Feb | March | Apr | May | June | July | Aug | Sept | Oct | Nov | Dec |
| --- | --- | --- | --- | --- | --- | --- | --- | --- | --- | --- | --- |
| OK | OK | OK | | | | | | | OK | OK | OK |
2 days minimum is good for visiting and making excursions. You can even stay 3 days to take the time in the national parks and try to see the animals early in the day or late afternoon.
WHERE TO SLEEP? MY ACCOMMODATION
CABINAS TORTUGUERO
Tortuguero, 70205 Tortuguero, Costa Rica
Price: €11 / night / person in a mixed dormitory of around ten people.
Click here to book.
A very good hostel in the city center. Ideal for a few nights. On the other hand there's a dancing bar not very far away so it can be a bit noisy in the evening.
MY 3 TIPS TO VISIT TORTUGUERO
Compare the different agencies and excursions before choosing one
Take a trip to national parks in the early morning or late afternoon for the best chance of seeing animals
Take a good look at the boat schedules to go to Tortuguero