ONE OF THE BIGGEST CITIES IN WESTERN CANADA
WHAT TO DO IN VANCOUVER? MY JOURNEY
Before starting the article, there is little information on this destination because I was only able to stay one day, and it was raining… So here is what I did, but feel free to complete your research with other blogs to discover Vancouver.
A BEAUTIFUL WALK IN VANCOUVER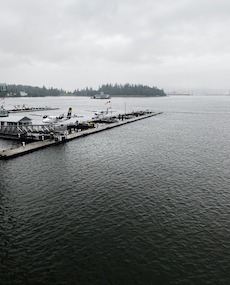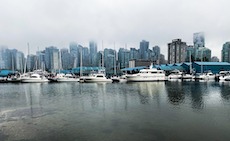 View on Vancouver's skyline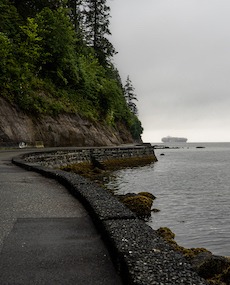 To best discover downtown Vancouver, I highly recommend you to do the Seawall. This long 28km ride can be done by foot or by bike, starting at Marina Bay and ending after Granville Island. Personally, I left from Marina Bay, but I stopped at the bridge to reach Granville Island. By doing this short stretch of road, it still took me 3 hours. I went through Stanley Park which is a beautiful park in the city center. You can see the Vancouver skyline, as well as the Lions Gate Bridge which joins the park and North Vancouver. You will also be able to see huge cargo ships waiting to enter the port.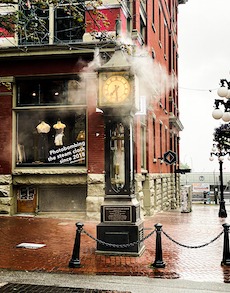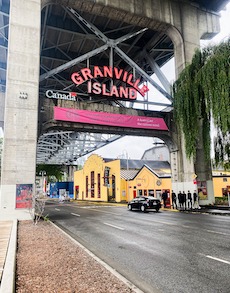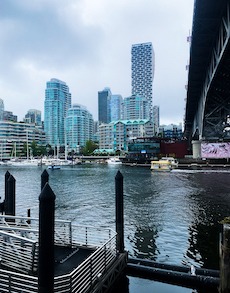 View from Granville Island
During my quick visit, I visited 2 neighborhoods in the city center.
The Gastown district with its clock that has smoke every 15 minutes. This area is very pleasant to walk around. Lots of shops and a few streets where you can get lost.
Another neighborhood that I was able to do was Granville Island. It is a peninsula accessible on foot, under a bridge. Once there, you can stroll through the various small shops and workshops. There are also markets where you can grab a snack. It's quite pretty and very unique as a neighborhood. Do not miss. A good hour is enough to go around and visit it.
At the beginning of July, the weather was not very good for me. But Vancouver is still quite famous for its rainy weather.
| Jan | Feb | March | Apr | May | June | July | Aug | Sept | Oct | Nov | Dec |
| --- | --- | --- | --- | --- | --- | --- | --- | --- | --- | --- | --- |
| | | | | OK | OK | OK | OK | | | | |
I only stayed one day, and that's clearly not enough. I think 3 days would be perfect. Do not hesitate to stay longer to visit the surroundings.
WHERE TO SLEEP? MY ACCOMMODATION
THE CAMBIE HOSTEL – GASTOWN
310 Cambie St,
Vancouver, BC V6B 2N3, Canada
Price: $ CA 61,20 – €47 / night for a bed in a mixed dorm of 4 people
Click here to book a night.
A very well located hostel. Ask to be on the highest floor as they have a bar/restaurant that opens late and when talking to some people the floor just above hears everything.
MY 3 TIPS TO VISIT VANCOUVER
Plan something to protect yourself from the rain, the city is known for its rainy weather.
Lose yourself in the small streets of the neighborhoods to visit.
Take your time doing the Seawall walk.