WHAT TO DO IN VIÑALES? MY JOURNEY
Viñales is a city, but above all a valley known for its traditional agricultural crops, and its famous cigar. The landscapes are just amazing! A mix between mogotes, plains and farmers, who work the land with their animals. This is the only place where you can see this type of landscape in Cuba.
Before talking about the Viñales Valley, let's talk about the town. There are only a few streets. Lots of restaurants and souvenir shops. I didn't find the city very charming. You can visit a one-hectare botanical garden (Jardín Botanico de Viñales). A guide is available inside to explain to you the different plants. He spoke French and Spanish (I don't know about English, but surely he does ). It'slarge and well maintained. If you love flowers and plants, you will like it. The visit is just under an hour long. For the rest of the city, there is honestly not much to do. Do not plan a lot of time to visit it.
Price of the entrance to the botanical garden: free but you give a tip at the end.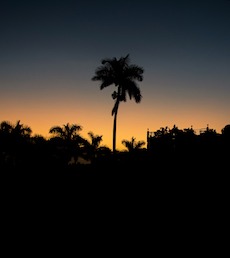 Sunrise in the Viñales valley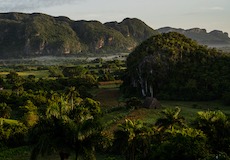 Sunrise in the Viñales valley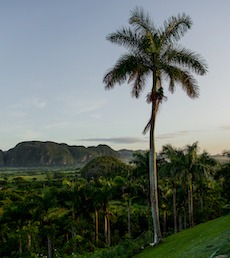 Sunrise in the Viñales valley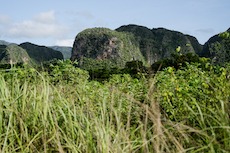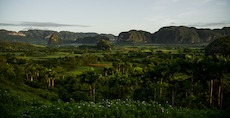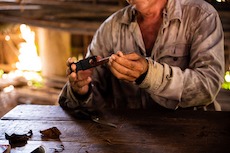 Demonstration of how to make a cigar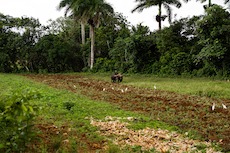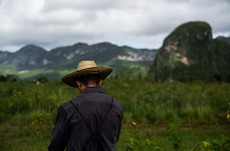 Excursion in the Viñales Valley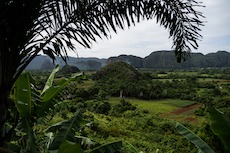 View on the Viñales Valley
If there is one thing to do in Viñales, in my opinion, it's the 3h30 walking tour in the Viñales Valley. I know that they also offer horse riding tours, but I don't know if it's the same tour because we didn't come across any during our visit. I do not have a specific contact for the guide, but you can ask your casa. They will always find someone to do the guided tour. You may be able to do it on your own, but honestly I advise you to take a guide to explain to you the fauna and flora of the region, how tobacco is grown, and take you to the locations listed below.
For 3h30, you'll go to the Viñales valley, right in the middle of tobacco plantations but also vegetables. If you go to Cuba specifically to see the tobacco fields, be aware that the plantations are done around November, and the harvest around February, depending on the weather and the years of course. You walk in the middle of these fields and right next to the mogotes, it is an extraordinary landscape! The guide explains the whole process from planting to selling cigars, as well as harvesting vegetables when they are not planting tobacco. It's very interesting !
During the tour he takes you to a cigar hut which is on the way. We were there at the beginning of September, and what I really appreciated was that they said clearly that it was not the time to dry tobacco, but that it was only for the demonstration. I found that very honest. We didn't feel like tourists who knew nothing about it. In the cigar hut, a farmer will talk about the process of making a great cigar while doing a demonstration. It's super interesting! You can taste one of his cigars. The valley being registered with UNESCO, Cubans cannot add chemicals to their cigars (I am talking here about cigars without brands). If you like, you can buy it. Pay attention to the limits of official and unofficial cigars you can take with you. Look it up on internet in advance. Then, we made our way to a house where we could taste sugar cane juice and fresh coconut. They make the juices in front of you, so no doubt it's homemade. One of their cocktails to taste is honey that you pour into an orange (a bit sour), some sugar cane juice with rum from Pinar del Río. It's so good! The cocktail and the juices are not included in the excursion of course. Then, you have about thirty minutes, or a little more depending on where you are, to finish the tour. It is a really interesting excursion that I recommend to everyone! Don't miss out on this activity in Viñales.
After this excursion, have a drink with a beautiful view of the Viñales Valley, well deserved. For that, I recommend that you go to the restaurants not far from the Mirador Los Jazmines. The view is amazing! We could have stayed there for hours just for that.
Another view that I highly recommend, rather at sunrise, is at the Mirador of the Horizontes Los Jazmines hotel. It is breathtakingly beautiful! To each their own, but I recommend sunrise rather than sunset, because we see the mogotes lighting up, a super beautiful natural show. A magnificent landscape!
If you are still in the area for lunch or dinner, I recommend the restaurant Buenavista. Their specialty is the Cuban barbecue, it's delicious! One of the best meals I've eaten in Cuba. And besides the food, you have a nice view of the valley. Everything to spend a good time!
Walking tour with everything included except drinks: 15€ / person
AROUND THE VIÑALES VALLEY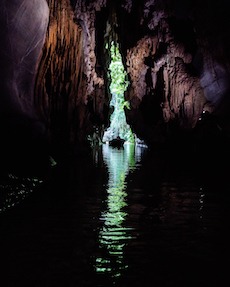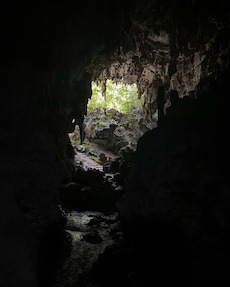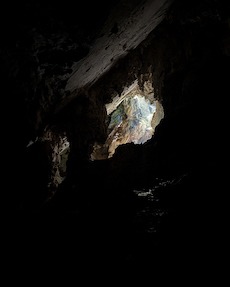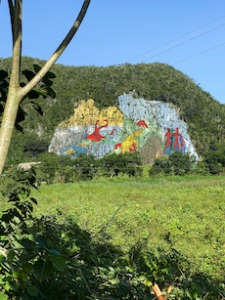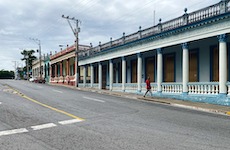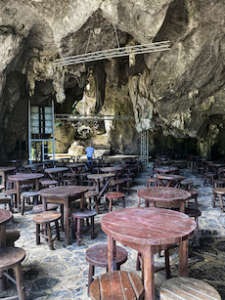 Palenque de los Cimarrones
If you don't necessarily want to take the Viñales Valley tour but want to buy cigars from the farmers, and see how the process of making a cigar works, go to Rancho El Arado. Their explanations are really great. Just like in the valley, if you want to taste the cigars before buying some, you can. They will dip the cigar in honey before you smoke it. I recommend it.
When we think of Viñales, we immediately think about cigars. But there is more to do. Here are some other places you can visit. Viñales has a lot of mogotes. Where there are mogotes, there are caves. There are about forty caves in the region. We saw 3 of them.
The first is Palenque de los Cimarrones. Formerly a cave where African slaves hid, it was partly turned into a bar. You can visit some parts of the cave, but we didn't because we were going to do others in the same day.
The second we've been to is the Indian cave (cueva del indio). It's a short walk in a cave where they have made a path. It's super nice inside, and very well lit. After a few minutes of walking, you take a small boat for a small tour on the river of the cave. At the end of the river, you can see a waterfall in the cave. I've never seen that, it's so pretty! The visit lasts 25 minutes in total. You don't come out in the same place as you entered, so plan it if you have your own vehicle. This is a really cool cave to do.
And the last cave we did, is the Santos Tomás cave. It is the second largest cave in Latin American countries, with 46km of path, you will visit only a small part of this 7-level cave. The visit must be done with a guide, and we understand why, you could easily get lost. Put on your helmets, and follow the guide in one of the most beautiful caves in Cuba. The visit lasts about 1h30 and begins with a small climb to reach the entrance of the cave. Take good shoes for this tour. The guide we had spoke French and Spanish. He took us to some super nice places! The cave is beautiful! There are sometimes holes of light, which makes the place even more wonderful! The path you take has wide open spaces, very little enclosed or locked up space. I'm not claustrophobic so I can't say for sure but there is no place where you have to crawl or get cramped. Some rooms are sometimes 20m high. Along the way, the guide will show you all the animals/insects of the caves such as spiders, frogs and bats. It was the first time I visited a cave with a guide, and I have great memories of it! I highly recommend!
The guide we had for the day insisted we went to the Wall of Prehistory (mural de la prehistoria), despite my reluctance after reading blogs that said it wasn't worth it. I confirm what I read… it's not very pretty… what's interesting is the story and the technique behind it. It is a work commissioned by Fidel Castro. The artist not wanting to do what Fidel wanted exactly, he offered him another work representing the history of Cuba. That's why there are dinosaurs and men painted on this wall. It looks like the painting is 2D but in reality, it was painted on a 3D facade. For that time, the technique was impressive to achieve! It took about 4 years to create this colorful work of 80m high and 100m wide. If you are interested, you can take a closer look, but it costs money. And frankly from a distance, we can see very well what it looks like. So if you don't have the time, or it's not on your way, I don't necessarily recommend.
A place to watch the sunrise over the Viñales Valley that I have seen on blogs and that a guide recommended to us, is at Acuaticós. I don't know if it's with a mandatory guide but you can ask your particular casa how to get there. We didn't because our accommodation already had a super nice sunrise. But why not do it if you can.
There is also the city Pinar del Río which is bigger than Viñales. Honestly there is only the main street to see, José Martí. A mix between facades that are falling into ruins, and very colorful facades. It's still pretty nice overall. It's less touristic than Viñales. We drove there with a couple who had a car. If you're on a tight budget, and don't have a car, I wouldn't necessarily recommend spending the money on a taxi to get there and back.
Entrance to Palenque de los cimarrones: 120 Cuban pesos
Entrance to the Indian cave: 150 Cuban pesos
Entrance to the Santos Tomas cave: 360 Cuban pesos
Guide and taxi to go around the caves, a cigar farm, the botanical garden and the prehistoric wall: 50€ per person, not including admission to the various places. Plan a day for everything.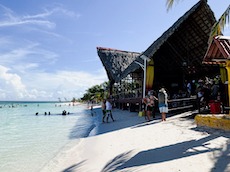 The restaurant at Cayo Jutías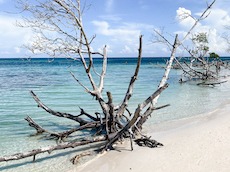 Want to go to a white sand beach with blue / transparent water? Let's go for Cayo Jutías! Getting there is quite simple. Ask your accommodation for a collectivo to go to Cayo Jutias for the day. This way the price will be fixed no matter how many people are in it, and it picks you up from your place (drops you off too). The journey takes about 2 hours, and I warn you, the road is bumpy! It's a good 45 minutes of very bad road, be ready. Once there, it all depends on what time you leave, but you will be there between 4 to 6 hours. So a fair amont of time to enjoy it.
The collectivo will drop you off in front of the only restaurant on the beach. It doesn't look like much, but in reality, it was excellent! The 270g lobster was around 4/5€, and very well cooked! For lunch, there is only this restaurant.
To have a quiet space, go to your right after the restaurant and walk about ten minutes to get away from the crowds. Put your towels in a quiet place, and dive into the water. It's easy to get into it, it's so warm. It's super pleasant! A very nice beach to relax. Our driver told us to be careful with our stuff and always keep an eye on it, so just be careful with that.
Return price for the collective taxi: 25€ (or 20€ if you manage to negotiate)
Havana is a very pretty capital, especially La Habana Vieja. It's nice to walk there. A big bustling city!
We were there at the beginning of September, and we didn't have great weather, a few hours of rain a day. But we also had hours without rain so we were able to do some sightseeing. Depending on your interest in tobacco growing, also plan to go there at the right time for tobacco plantations and/or harvests.
| Jan | Feb | March | Apr | May | June | July | Aug | Sept | Oct | Nov | Dec |
| --- | --- | --- | --- | --- | --- | --- | --- | --- | --- | --- | --- |
| OK | OK | OK | OK | | | | | | | OK | OK |
I think 3 days are enough for Viñales, counting the day at Cayo Jutías.
WHERE TO SLEEP? MY ACCOMMODATION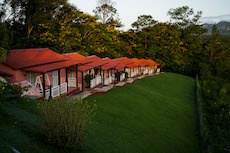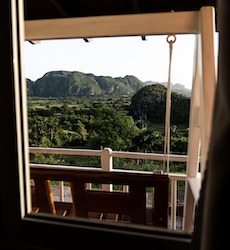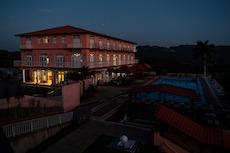 HOTEL HORIZONTES LOS JAZMINES
H7WG+GH, CARRETERA A VIÑALES, KM23, Vinales, Cuba
Price: 100€ / night / room for a private cabin with a view of the Viñales valley, breakfast and dinner included.
Click here to book one night.
If you're not on budget, frankly the private cabins of the hotel are magnificent! Direct view of the valley with a small swing on your private terrace. It's very beautiful ! Otherwise you have casa particulars in downtown Viñales for cheaper.
MY 3 TIPS TO VISIT VIÑALES
Take a walking tour in the valley. The guide takes the time to explain to you the fauna and flora, as well as the cigar production. I highly recommend!
Ask your particular casa to organize your excursions and trips in collectivo. They have quite some contacts in general.
If you like cigars, buy directly from the farms, not on the street. Even though there are cheaper, there are not good.