ONE WEEK TO VISIT ROMANIA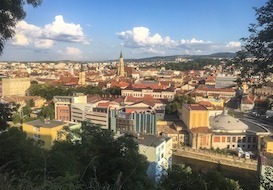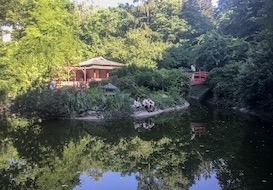 Alexandru Borza botanical garden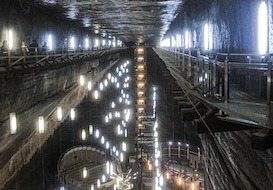 The first city I discovered when I arrived in Romania was Cluj-Napoca. A busy city in the summer with lots of music festivals. The city center is not very big but nice to visit. Do not miss the botanical garden which is one of my favorites in this city, a breath of fresh air. The next day I took the bus (be careful with the company MEMENTOBUS, the pickup points are not very clear …) to go to the salt mines. The bus station is really not next to the salt mine. Having walked it, it's an hour and a half uphill and not practical for pedestrians and apart from the last 15 minutes, there are no extraordinary views. Quite honestly taxis are not expensive. Arriving there, the salt mine is incredible! It has been refurbished for the public with some indoor activities.
Click here to find out more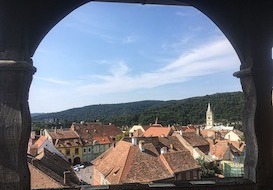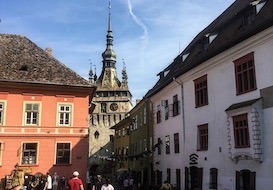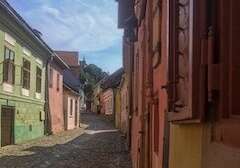 A colored street in the citadel
I took the train to go from Cluj-Napoca to Sighisoara (about 4 hours). The trains are not the fastest but it allows you to take advantage of the rural landscapes. It's not an unpleasant trip. Arriving in Sighisoara, I put down my bag to visit the citadel. A colorful city full of charms. To be honest, it's not very big, I was able to go around in a good half day. But the next morning I wandered around this citadel. There are only dwellings but which are also all colored one after the other.
Click here to find out more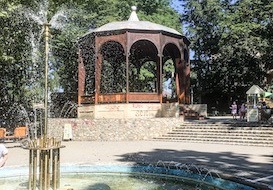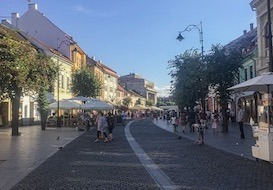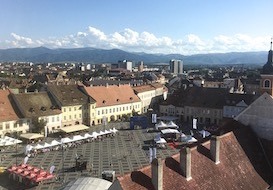 Then, train towards Sibiu (around 3h30). I really liked this fairly lively city (lots of entertainment in the summer). A pedestrian and pleasant city center for walking during the day and in the early evening. Also a large park nearby to take a breath of fresh air.
Click here to find out more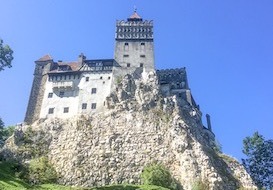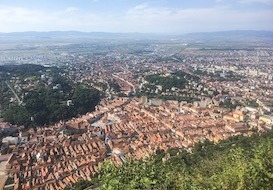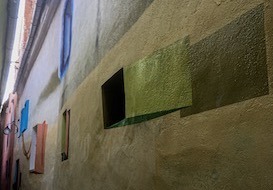 I went by bus to go to Bran's Castle. I first took a mini bus (very early in the morning) which took me to Brasov (about 2h30) then I had to cross the city to go to Brasov bus station and take the bus to Bran ( about 30min depending on traffic). Then arriving at Bran Castle at opening time (which I recommend because there are so many people), I was able to visit the legendary castle of Dracula. A very beautiful castle with many rooms and fairly narrow corridors that you can visit in 2 / 3h. I did a little tour in the city but honestly apart from the castle there is not much to do. You can take any bus and then return to Brasov. I went up the hill to get an overview of Brasov and took a walk around the city center. Lots of buildings and places to visit, even around the city. Brasov is really nice to visit.
Click here to find out more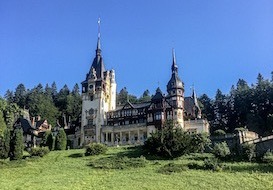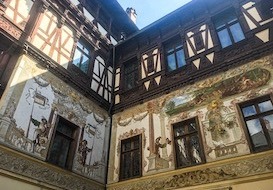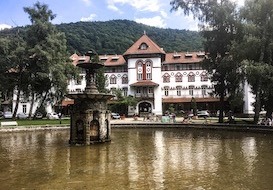 After Brasov, direction Sinaia by bus (about 1h30) to admire the Peles castle. It was a Romanian couple who advised me to go there and I have no regrets about this decision. One of the most beautiful castles I have ever seen in my life. The interior and exterior are super well preserved. In addition, you cannot visit the interior without a guide (included in the entry price) which is really a plus to know the history of the castle. I was then able to take a tour around the castle with dwellings which are in the same style. It took me half a day. I then went for a walk in the center of Sinaia which is very nice to discover.
Click here to find out more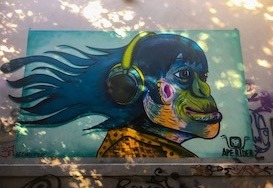 Street art in the city center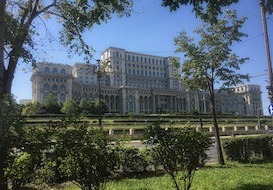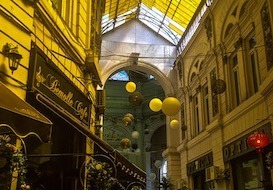 And to finish, I finished this trip by the capital (about 2h30 by train). A capital with incredible architectures. A city center pleasant to visit and full of things to see including museums, pedestrian streets, etc. There are also several large parks in the city for walking. To go to the airport, you have buses from the city center.
Click here to find out more
When I decided to visit Romania, everyone made a face at me and asked me what I was going to do there. Well let me tell you one thing, I have absolutely no regrets about being there! I was pleasantly surprised by the landscapes, the cities, the atmosphere and the local population.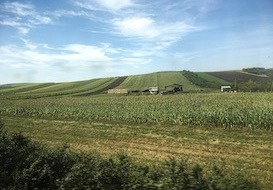 The travel by train from Cluj-Napoca to Sighisoara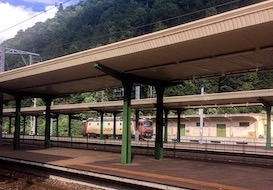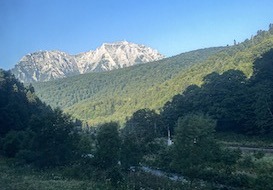 The road from Bran to Brasov
In Romania, it is very easy to go from one city to another by train. Even if the trains are not fast, the trip is still pleasant with the rural landscapes that pass by. The bus avoids changing trains to access certain cities, beware of meeting points that are not always clear. The transport prices (bus and trains) are between lei 15 / € 3  and lei 30 / € 6. To book my train tickets, I used to go on this website : click here. Very easy to use and cheap tickets that allows you to visit Romania easily.
Months with favorable weather to visit Romania.
| Jan | Feb | March | Apr | May | June | July | Aug | Sept | Oct | Nov | Dec |
| --- | --- | --- | --- | --- | --- | --- | --- | --- | --- | --- | --- |
| | | | | OK | OK | OK | OK | OK | | | |
Currency: Romanian Leu
Budget of 1 person, for 9 days in Romania. This budget includes sleeping in a hostel, eating out in supermarkets and takeaways, and enjoying a few activities (eg to visit castles, the Romanian museum village…).
| | Lei | € | % |
| --- | --- | --- | --- |
| TRANSPORTS | 157 | 33 | 12 |
| ACCOMMODATIONS | 406 | 85 | 31 |
| FOOD | 384 | 80 | 30 |
| ACTIVITIES | 234 | 49 | 18 |
| OTHERS | 110 | 23 | 9 |
| TOTAL | 1292 | 270 | |
Peles Castle
The citadel of Sighisoara
Turda salt mine
The Alexandru Borza botanical garden in Cluj-Napoca
Macca-Vilacrosse passage in Bucharest
MY 3 TIPS
Arrive early at the castles to visit them
Ask if you are getting on the right bus or train as this is not often stated
Watch the opening days of museums (often closed on Mondays and Tuesdays)