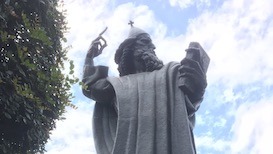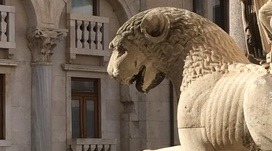 Entrance of the Cathedral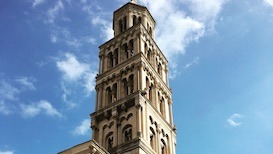 The first day, I waited for the rain to calm down a bit to go directly to the Diocletian's palace. I went to the golden door where there is the statue of Gregory of Nin. The legend says that if you touch his big toe, it will fulfill your wishes and will bring you happiness. I visited the Cathedral of St. Domnius in Split, which is very pretty and well maintained. While I was walking around, I could hear some traditional Croatian songs. By getting closer to the Cathedral, I saw the singers using their vocal cords in the vestibule. This part of the city has a lot of charm and  can be visited in half a day.
Cathedral entrance price : 25kn / 3,50€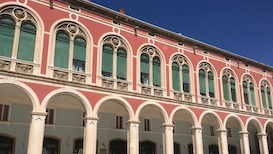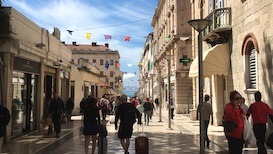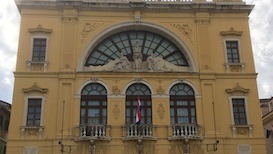 Croatian national theater of Split
After visiting the palace, I went for a walk in the city center. Many shops and avenues to walk around. Marmontova Street is one of the main avenues to go. I also saw the Republic Square and its Venetian building. It is surprising to have a building with this architecture in the city center, but very pretty.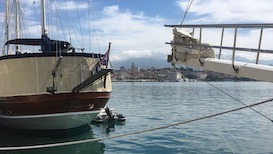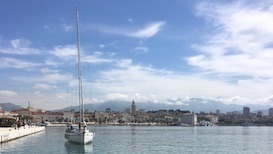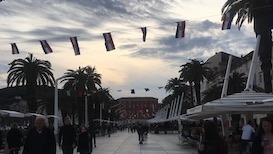 Then, I strolled on the side of the riva along the Adriatic Sea. Many boats to see and breathtaking views of Split and its tower. The walk at the edge of the water is very nice.
SUNSET AT THE TOP OF MARJAN HILL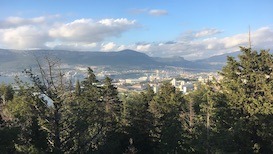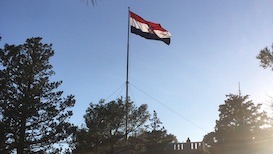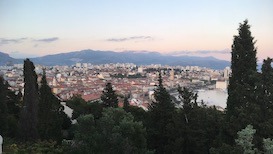 View on Split with the sunset
One of the best views to admire the sunset in Split is at Marjan Hill. It took me about 1 hour to climb and reach the level of the big flag. From there, I could see the colors of the sunset over the city of Split. If you have the time, it is worth it.
TRAIL AROUND THE MARJAN FOREST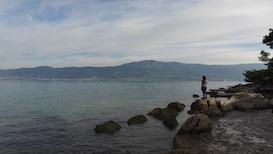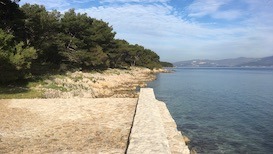 One of the Split's beaches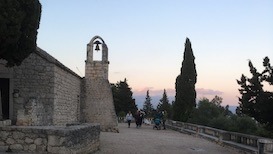 Little church on the hill
The next morning, I got up early to walk on the waterfront trail in the Marjan Forest. This path gives access to different beautiful beaches with the transparent water. The walk in the forest takes about 3 hours. I also saw different small churches up the hill (signs on the trail tell you where to find them and which paths to take).
I personally preferred Split to Zadar. The city is more animated and the new / old mixed city is charming.
Months with a favorable weather to visit Split.
| Jan | Feb | March | Apr | May | June | July | Aug | Sept | Oct | Nov | Dec |
| --- | --- | --- | --- | --- | --- | --- | --- | --- | --- | --- | --- |
| | | | | OK | OK | OK | OK | OK | OK | | |
To visit Split, 2 days are enough. However, if you want to visit Hvar, I advise you to schedule one or two more days.
WHERE TO SLEEP? MY ACCOMMODATION
Outlanders tribe hostel
Ul. Ljudevita Gaja 9,
21000, Split, Croatia
Price : kn67 / €9,00 per night
Hostel website : click here
A great host and a clean hostel. When I went there, there was a cat, beware of allergies. The hostel is close to the center and easy to reach from the city center.
MY 3 TIPS
Walk in the city and not only in the Diocletian's palace 

Wake up early in order to avoid the crowd

Take away and eat near the bay, on the riva