CHASING THE DWARFS IN WROCLAW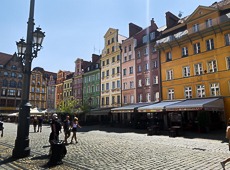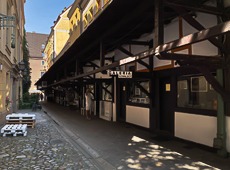 The path of the butchers jatki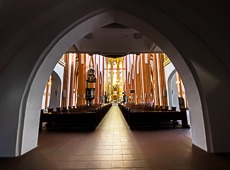 The old town of Wroclaw is very cute and typically Polish, with its main square and colorful houses all around. The old town promenade route takes you around the old town. All around it, there are bridges with very different architectures from each other. It's very cool to see.
In the city center, you have several points to see, like the path of the butchers jatki. Very cute little path with nice little shops. When you go to the central square, you can listen to a melody coming from the top of the church, around midday. This music is very different from the one you can hear in Krakow. From the square, you can observe the Magdalen Church Bridge (Kościół św. Marii Magdaleny). It is possible to go up there to have the view of Wroclaw. I couldn't make it to the top because of the stairs and my scared of heights. I had enough in Zakopane.
To visit the old town, I would say 2 hours is sufficient.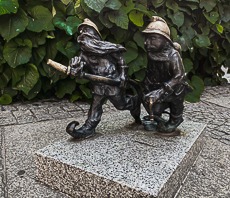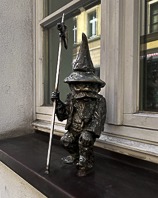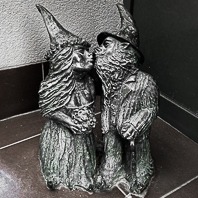 The famous dwarves of Wroclaw (vrotsouaf). The city's most known attraction. These dwarves appeared at the end of the communist regime. Today, there are at least 250 dwarves all over the city, if not more. And every year the city sees new ones appear. If you want to hunt them all down, here's a map with the location of the vast majority of the dwarves. It's quite original to see all these dwarves in the city. Keep an eye out, there really can be some dwarves where you don't expect them.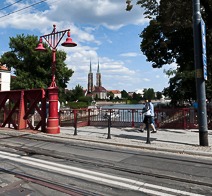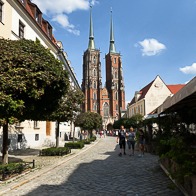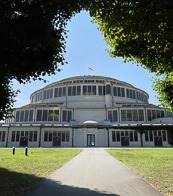 As you move away from the old town, take a walk at the Ostrow tumski district. This is the oldest district in the city. It is a very peaceful and quiet area. It's very nice to take a walk through these streets.
Then, you can go to see Raclawice Panorama (Muzeum Panorama Racławicka). This museum houses a gigantic fresco 15m high and 114m wide. It represents the Battle of Raclawice, which took place in 1794. Unfortunately, when I visited, the museum was closed for renovation. So, I can't give a real opinion on this tour, but the fresco looks really impressive to see.
If you have time, but it is not inevitable, you can go for a walk to the Centennial Hall. The building is part of the exhibition center. It's very interesting in terms of architecture, but nothing more. It allows you to see something other than the center of Wroclaw.
To make the tour outside the old town, it will take you less than half a day.
The months with good weather to visit Wroclaw.
| Jan | Feb | Mar | Apr | May | June | Jul | Aug | Sept | Oct | Nov | Dec |
| --- | --- | --- | --- | --- | --- | --- | --- | --- | --- | --- | --- |
| | | | | OK | OK | OK | OK | OK | | | |
Wroclaw is very cool to visit but there is not a lot to see. I would advise you to stay there for a day maximum, not necessarily longer.
WHERE TO SLEEP? MY ACCOMMODATION
MAX BERG HOSTEL
ul. Marii Curie-Skłodowskiej 1 Piętro 4, Śródmieście,
50-381 Wrocław, Poland
Price: 90zl – 20 € / night / person / female dormitory of 6
Hostel website: click here
It is a self check-in and check-out hostel. It's the first time that I have done this kind of hostel and it's quite special because there is no reception. Once you have booked, you have to wait for the email with all the information to access your dormitory. This is a very large hostel located on the top floor of a building. Honestly, I'm not against hostels like that where you are free to check-in and check-out, but I didn't find it very reassuring that there was no staff.
MY 3 TIPS
Get lost in the little streets to look after the dwarves
Take a tour of the old town to admire the different styles of bridges
Also visit the surroundings of the old town, in particular Ostrow Tumski which is a very pleasant area