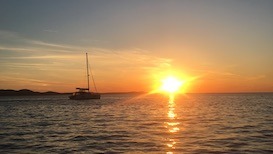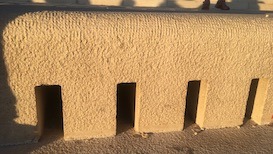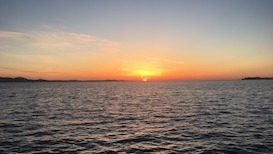 Arriving in Zadar, I let my bag at the hostel and then go to see the sunset at the sea organ. If there is one activity not to be missed in this city, this is it. I could admire the beautiful colors of the sunset while listening to the music naturally produced by the waves and the wind. The holes made in the stairs near the water allow you to hear this natural music. Then, once the sun was down, I could see the lights of the Greeting of the Sun lighting up. A beautiful work made by Nikola Bašić.
The next morning, I left early to see the Sphinx outside the old town of Zadar. I went along the Adriatic Sea and went through beautiful little harbors. The road to the Sphynx gives great views on the islands and also Zadar.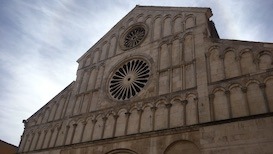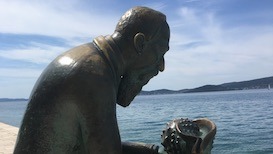 One of the statue in the city center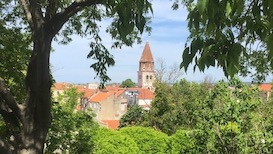 Then, I went back to the old town and walked in the small streets. Zadar is a mix of architecture. I discovered many churches and the Cathedral of Zadar, which are beautiful monuments. Some signs in the city explain Zadar's history, which help to better understand the architecture differences.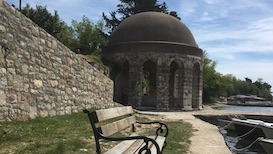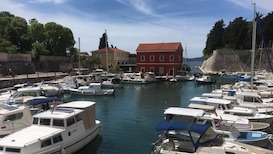 One of the harbor next to the city center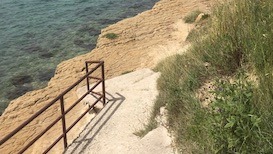 Before taking the bus to the Plitvice Lakes, I walked along the bay on the other side of Zadar. A succession of beautiful beaches with the transparent water. I could see different views of the islands. I walked about 1h30 along the beaches. This allows you to get out of the city.
Months with a favorable weather to visit Zadar.
| Jan | Feb | March | Apr | May | June | July | Aug | Sept | Oct | Nov | Dec |
| --- | --- | --- | --- | --- | --- | --- | --- | --- | --- | --- | --- |
| | | | OK | OK | OK | OK | OK | OK | | | |
In my opinion, one day and one night is enough to visit Zadar, and see the sea organ sunset if the weather is good.
WHERE TO SLEEP? MY ACCOMMODATION
Tequila Bar Hostel
Ul. fra Šimuna Klimantovića 1,
23000, Zadar, Croatia
Price : kn84 / €11,29 per night
Hostel website : click here
A hostel in the center of the old town. The place is not too noisy despite the location.
MY 3 TIPS
Admire the sunset at the sea organ

Walk along the coast outside the old town

Do not be fooled by bike rentals. My host started telling me that I did not have enough time to do everything if I did not rent a bike, which was wrong because I did everything by foot and I had the time