AN UNMISSABLE NATURAL BEAUTY
The Tatra National Park and Zakopane are my favorites in Poland. Following the various searches I did on the internet for my trip to Poland, I couldn't wait to go! And once there, I was not disappointed. I know I will be going back someday, and for a longer time.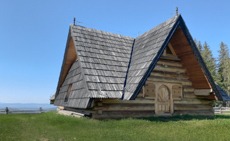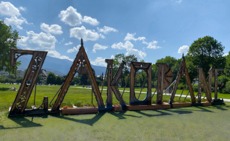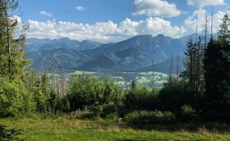 Zakopane is a very charming mountain town. Very popular with tourists, don't expect to be alone during high seasons. The main street Krupówki is a busy pedestrian street. There are a lot of shops and restaurants. There are also a lot of small stands where you can try oscipki, a local food specialty. It's quite nice to walk around the city center and see all these chalets. The central park with the letters Zakopane is nice to walk around. It's a great spot for stargazing at night. From the park, take the opportunity to go to one of the information points to get a map of the Tatra National Park. The person will tell you how to access some hikes and give you a map of the city with a few trails marked.
To get a view of Zakopane and the Tatra National Park, go to Droga Zubka Street. It is a low-rise street with activities and bars / restaurants all along. To get there you can take a cable car from the center of Zakopane. But if you want to walk there, you can. However, do not take the path directly to the right of the cable car because you have to pay for the access. You just have to go a little further and go up Gładkie Street. If you have taken the free map at the information point, the path is shown along this street in black. The hike has a good vertical drop and allows you to prepare well for the big hikes that you'll do the next day. A little warm-up that doesn't hurt. Once there, go to the left and follow the road. You will have a magnificent view of the Tatra National Park and lots of small souvenir shops. You can also go tree climbing. It's quite lively and a very relaxed atmosphere. To come back down, go to the chairlift. You will then have a path to easily get back to Zakopane town center (path in yellow on the information point map). To do this little tour without necessarily stopping up there, it took me about 2 hours.
MORSKIE OKO AND ITS TREKS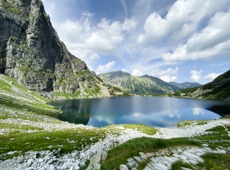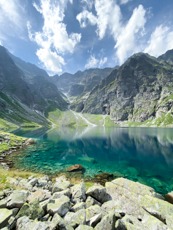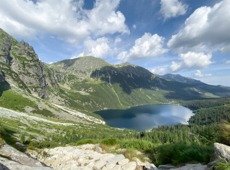 Morskie Oko Lake from the top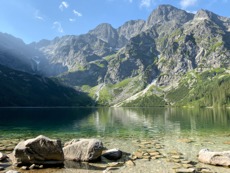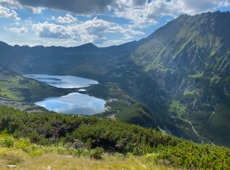 Przedni Staw and Wielki Staw lakes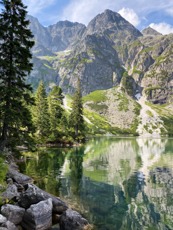 One of the most beautiful and visited lakes in Tatra National Park is Lake Morskie Oko. And to have seen it, yes, it is beautiful and not to be missed! To get there, I advise you to arrive at the Palenica Biaczańska entrance. If you are driving, there is a huge parking lot, but I think you have to get there very early to hope for a spot. Alternatively, from Zakopane you can take a minibus which leaves from the city center (near the central station) and arrives at the entrance of the national park. I took the bus at 6:15 am to arrive at the entrance at 7:00 am (PLN 10 / € 2.25 one way). And there were already a lot of people. Don't think you'll be alone.
At the entrance you have signs indicating the hikes in the area and their average duration. I immediately got it into my head to go straight to Lake Morskie Oko, the largest lake in Tatra National Park (34.5 hectares), as long as there was still a bright sun, and I hoped not too many people. So, I set off at a fairly sustained pace directly to the lake via the red hike indicated on the map and I did the path in 1h30 (instead of 2h indicated). I assure you, I did not run but it is an asphalt road the whole way so easy to move forward. And if you are a little lazy, you can take a horse-drawn carriage. All along the way there are hikes that start to the left and to the right that hikers take. So once I arrived at the lake, there were a lot less people than at the entrance. When I got there, I was immediately amazed by this lake. What beauty of nature! In addition, with the sunrise, I could see the rays coming out from the top of the mountain to arrive on the face of the mountain opposite. It's impressive, you feel very small. The lake is surrounded by huge peaks. And the color of this lake! Transparent and turquoise water. You can see the mountains reflected in the water. It's just so wonderful. And to top it off, being at 8:30 am at the lake, there really weren't many people there, we had to be around fifty. It was just perfect! If there is one place I would advise you to kick your ass off and get up early, it is to go and see this lake with few people. And as I said, with the sunrise, it's really beautiful!
I went around the lake to the right and then continued this red course which goes over a second lake a little higher, the Czarny Staw pod Rysami. You have to take a path on the other side of Lake Morskie Oko for 30 minutes to get to the second, also a beautiful lake. The path gives you a great view from above on Morskie Oko. The second lake has exactly the same colors and reflection as the Morskie Oko. Real natural beauty! Not everyone goes to this second lake and stop, so don't do like them. Go up there, well worth it! I continued the red hike to try to climb to the Rysy summit (2 499m) but had a little failure … My scared of heights caught me and I didn't climb very high. The path is really on a slope and I didn't feel comfortable. The top offers a view of the two lakes which must be very pretty. I still could have seen the second lake from a little height. But I preferred to come back down and do another hike. So I turned around and went back down to Morskie Oko Lake to continue the tour. When I returned to the lake restaurant, around 1 p.m., I saw so many people! Where we were about 50 at 8:30 am, there were at least 600 people. And the information signs say it, the lake is visited by thousands of people a day in high season. I really don't regret getting up early that day.
As it was still early, I wanted to take advantage of it and do a second hike from the lake. So, I took the blue hike (indicated on the signs that are at the national park) to get to Przedni Staw and Wielki Staw lakes. The path is not difficult in itself, but for those who are scared of heights, hang in there! It is not insurmountable but prepare yourself mentally because there are certain passages where it can be scary. There is even a landslide passage that you have to go through, which is really not cool. But I did it so it can be done (My scare of height is pretty high, so trust me). Well, I took a little longer than indicated (3h instead of 2h) but the arrival at the viewpoint of the two lakes is worth it. It is so beautiful to see these lakes surrounded by such beautiful mountains. The lakes reflect the mountains, it really feels like they are mirrors. I met a lot of people who have done this path in the opposite direction, but I preferred mine because the drop is a little less important.
Then once I got to the lakes, it was time to go home even if I really didn't want to. I will have stayed for hours admiring the beauty of these landscapes. To get back to the parking lot where the minibus dropped me off, I took the green hike that follows along a river, then reach the bottom of the asphalt road. At the start of this part of the hike you will be able to see a beautiful waterfall. Then I took the minibus back to Zakopane, my eyes marveling at all the beauty I had just seen. All of these hikes took me the whole day taking a few breaks and going at my own pace. But it was a very busy day and I walked about 31 km.
Entrance to Tatra National Park: PLN 6 / € 1.50
One-way trip between Tatra National Park and Zakopane: PLN 10 / € 2.25
MOUNT KASPROWY WIERCH HIKING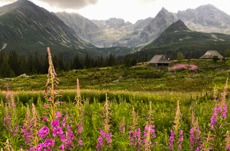 Little houses on the hike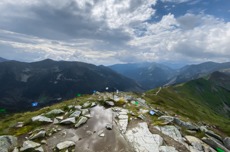 View from the top of Mount Kasprowy Wierch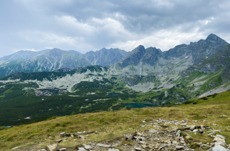 View on Tatra National Park
From the city of Zakopane, you have the possibility of doing several hikes. I did the hike to the top of Mount Kasprowy Wierch at 1 987m. To get there, I started from the Kuźnice entry point. When you get to the entrance to the national park from town, you have a map that shows you the main hikes with the average time to cover the distance uphill and another time for the descent. It's very well done and practical. I took the yellow course (1h25) and then came to the blue course (30min) and I finished with another yellow course (55min) that goes to the top. I'll be honest with you, there was so much drop, it took me a lot longer. I found the last part very hard. But this hike gives very beautiful panoramas that are different from what I saw the day before. There is even a pretty place with small wooden houses lost in the middle of the mountains. And then once at the top, it's so beautiful. To see all those mountains crossing the border between Poland and Slovakia. You can even see the cross on Mount Giewont. I took the same path for the return because it was starting to rain and not knowing the state of the other paths, I preferred to play it safe and not venture too far.
Entrance to Tatra National Park: PLN 6 / € 1.50
The Tatra National Park is truly beautiful. When I posted pictures on social media, everyone wanted to know where it was. And when I told them it was in Poland, they were all surprised that there was this type of landscapes in this country. And I had the same kind of reaction from people I know when I was in Romania. It just goes to show that you shouldn't stop at the places you see everywhere. When you go to a country, spend some time looking at all there is to do. You will have nice surprises.
The weather is very variable in Zakopane. It is hard to know if in two days there will be a heavy rain or a sunny day. But usually in the morning you can be lucky and not have rain even if they forecast.
| Jan | Feb | Mar | Apr | May | June | Jul | Aug | Sept | Oct | Nov | Dec |
| --- | --- | --- | --- | --- | --- | --- | --- | --- | --- | --- | --- |
| | | | | OK | OK | OK | OK | OK | | | |
If you don't have time, I advise you to stay there for a minimum of two and a half days. This will allow you to do the day trek to Morskie Oko Lake (or even a second trek in the same day) and do another the next day. Then the half day to visit the city which is charming. After all there is honestly so much hiking and activity to do that you can easily stay there for a week without getting bored. If you love the mountains, you won't be disappointed.
WHERE TO SLEEP? MY ACCOMMODATION
TARGET HOSTEL
Henryka Sienkiewicza 3b,
34-500 Zakopane, Pologne
Price: PLN 46 – € 10,50 / person / night in a mixed dormitory with 10 beds
Hostel website: click here
A super well-located hostel in downtown Zakopane and really inexpensive. A very good value for money. The hostel is clean. A small negative point for me, I found the mattress too thin, but that's to everyone's taste …
MY 3 TIPS
The real advice is to go early to Morskie Oko Lake. Personally, I arrived at 8:30 am at the lake, there were 50 people max and coming back at 2:00 pm, they were at least 600, without exaggerating. Take the closest entrance to get there and get there right away. The view with the sunrise over the mountains and the lake, it's so beautiful!
Provide adequate equipment for hiking, especially good shoes.
The weather changes every day or even every hour. Pack what you need in your bag just in case.